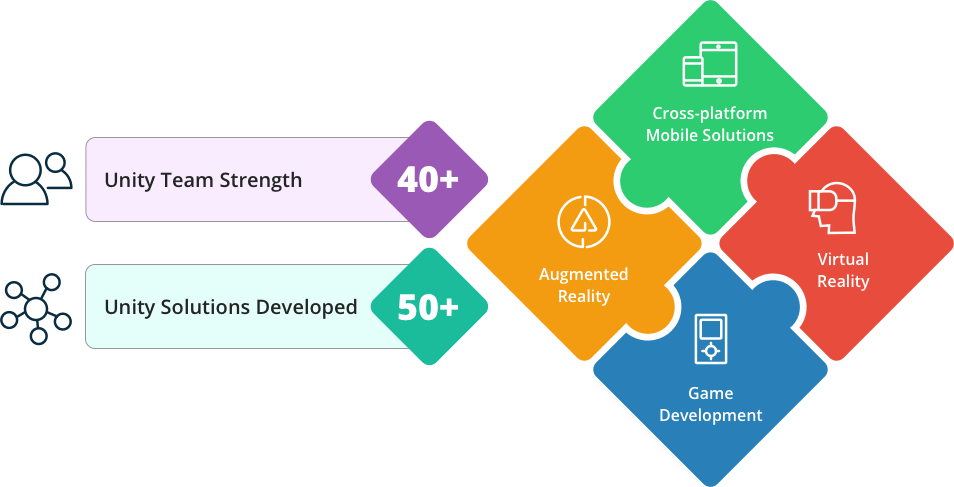 Unmatched Unity development capabilities

Diligent Pre-production and Scoping
We pay careful attention to detail, ask every possible question and solve most problems during this stage to ensure smoother development cycles. This goes for each individual feature we plan for the product.

The Highest Coding Standards
User friendly as Unity is, there's no getting away from the fact that great programming skills are essential to create truly awesome products. Our developers have been through strict assessments and selection criteria for us to be confident of their coding excellence.

Only The Best Tech Practices
Be it elements of physics such as layers, collision matrices and Raycasts, Reptology, VR approaches such as the right rendering, GPU Instancing and post-processing, other features, including control rigs, asset bundle management and more, we are in total control.

Optimisation for Unmatched Performance
Great products are meant for the widest possible audience. To that end, we pay obsessive attention to ensure the application/game runs on as wide a range of devices as possible. We make skilful use of texture atlases, bake lighting, low poly models and object pooling systems to ensure the best performance per available hardware.

Design and Art Production
With our acclaimed art team which has won several prestigious awards, rest assured your solutions will stand out with outstanding aesthetics and user experience. From concept art to production, 3D modelling, animation and videos, we've produced some of the best work in the industry.
Hire skilled unity developers

Quick Setup

Flawless Execution

Stringent Selection Criteria

Skilled Scrum Master

Strong Communication Protocol
Drive great results as you leverage our unity services

Unmatched Cost Savings
Enterprises spend a lot of time scouting for the right talent, training them and coordinating between teams. Add high development costs to it and the picture is daunting! Take all these overheads off your mind with a proven partner.

Build and Scale Faster
We follow a DevOps approach which allows you to quicken release cycles by as much as 60%! This results in rapid feature updates, feedback integration, greater customer satisfaction, loyalty and revenue.

Leverage Cutting Edge Methodologies and Get Ahead
Our teams feature high-quality developers skilled in the latest technologies and scrum execution methodologies. Also, get a dedicated Scrum master capable of managing multiple teams.
More About Mobile Strategy
Accelerate and Multiply Your Business
Build Winning Products and Achieve Incredible Customer Loyalty and Revenue with our Unity Development Teams