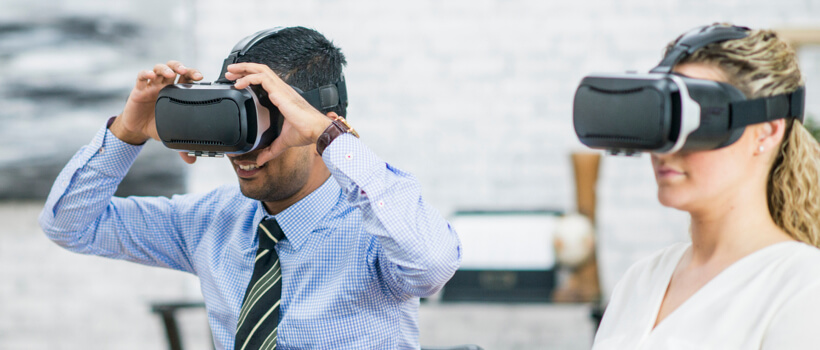 Table of contents
Introduction
For many, virtual reality (VR) likely summons images of game-obsessed teenagers wearing goggles and admiring the feeling of riding a rollercoaster or gliding through space from the comfort of their couch. But the most potent future virtual reality applications will go beyond pure entertainment, drastically changing the way people think about their work and workplace.
It started with Zoom/Oculus, then came Webex, and then Microsoft began their Microsoft Mesh, and now; Slack. Four giants collaborated to join the Metaverse, a newly-coined phrase used to represent the concept of a forthcoming variant of the internet.
Facebook changed the direction of the virtual reality industry in 2014 through a $2 billion acquisition deal with Oculus VR. Before this deal, the notion was that virtual reality would exclusively fit only in the world of video games. The value showed Facebook's confidence in the technology and established that  the future of VR is promising: Within two years, the total amount invested and the number of venture capital contracts tripled. While the widespread adoption of virtual reality is still  distant, many companies have already incorporated the technology into their business practices to create innovative, sustainable workplaces.
According to a report by PWC, Virtual reality (VR) and augmented reality (AR) can strengthen the global economy by nearly $2 trillion by 2030. In no time, these technologies will be familiar in the workplace.
Even with the onset of remote working due to the pandemic, the workplace transformed as new technologies pervaded work. One of the technologies that stood apart was X-Reality.
Extended Reality (X-Reality) defines the merge of digital technologies with the real world.
The "X" in X-Reality consists of four technologies:
Augmented, Virtual, Mixed and Assisted Reality.
VR in X-Reality helps make a user's interaction with the digital world more intuitive and seamless. The new human-technology interaction can add value for companies while also gaining a competitive advantage. We can use VR for work meetings, training, and customer service experience in the workplace.
A report by PWC predicts that by 2030, nearly 23 million jobs worldwide will use AR and VR. According to ARtillery Intelligence, by 2023, VR usage in businesses is expected to grow to $4.26 billion.
In 2021, Facebook's VR headset brand Horizon, an Oculus for business platform, was released. This platform will assist workers in interacting digitally in a more immersive form, without the need to go to any location, thus supporting the hybrid work model. Facebook Horizon will permit its users to share and build collaborative online worlds to work together on projects, hang out, or play games.
Increased Connection and Collaboration Virtual reality allows individuals to unite regardless of physical distance. However, VR users can feel like they are inhibiting the same space, which results in good collaboration. VR provides the medium for users to view and manipulate data together in real-time. While some companies prefer installing mixed-reality rooms to execute VR meetings and collaborative work sessions, others distribute VR headsets that can be used in the office or remotely. This technology is readily available and intuitive, helping people collaborate and connect.
Four ways where VR has the potential to impact the workplace:
Human resources will transform drastically with the effortless global connectivity that VR provides. Corporates can use VR in a variety of interactive HR workshops. With access to workers worldwide, hiring techniques will grow to recruit top talent. As part of the interview process, forthcoming employees will have the opportunity to virtually shadow their potential standing to understand the day-to-day responsibilities better.
Upgraded Training Methods 
Putting individuals into a fully immersive real-life scenario forms the perfect training tool. VR training is beneficial in high-risk situations as it allows employees to gain experience safely. The armed forces and NASA currently use VR training to minimize risk and costs. Walmart also has taken advantage of the technology, using simulations to train employees for Black Friday rush. Regardless of the industry, VR shows an engaging, educational experience.
More Efficient Product Development
Within a computer-generated environment, product development will evolve more efficiently than ever. Organizations can use Virtual reality to test products in different scenarios, eliminating the necessity for expensive physical prototypes. Modifications can be made virtually and compelled immediately during trials, allowing the final product to be refined faster than ever. From spacecrafts to cars, large scale manufacturers are already using VR to test everything:
Ford uses a popular VR headset, the Oculus Rift, to create and refine virtual prototypes, generally used for gaming.
Creative Marketing Practices 
Virtual reality will give the old fashion test drive an altogether new definition. From cars to vacations, VR gives the opportunity to test every product and experience before purchasing. And when customers are keen to make a purchase, they can do it virtually. The immersive experience that VR provides is impactful, creating a personal connection between consumers and brands influencing purchasing decisions.
For most, virtual reality (VR) is an alien concept, a technology limited perhaps to gaming. However, the industry is about to grow from $27.9 billion in 2025 and due to the pandemic, there is a rise in VR products and services.
Could VR move from a futuristic concept to reality for remote employees? Yes, it will, as Experts anticipate that nearly 23.5 million jobs worldwide will be utilizing augmented or virtual reality by 2030.
Facebook disclosed its plans to invest over ten billion in funds to help create significant progress toward an unexplored (iteration) of the internet.
It will consist of constant shared, 3D virtual spaces connected into a (perceived) virtual universe like (metaverse) improvements in technology that could take away hurdles for workers soon. It will also unfold many benefits related to training learning that boosts safety awareness, employee engagement, and mitigating expenses related to workplace training.
Examples of Future in VR
Check out Zukerburg's vision for the Metaverse.
With Metaverse, future employees will likely have more immersive work experiences for remote workers. The companies should adopt technologies with VR that help in viable future-leaning workplace collaboration. The Metaverse that exists is finite but looks like it will transform the internet. Facebook has invested a massive amount of funds into the future of the internet space, where you can interact with coworkers, collaborate and co-create.
Zoom-Oculus Workplace AR/VR
Zoom and Oculus, a Facebook/Meta company, joined Zoomtopia in 2021. The duo squad revealed the launch of the new app that expands virtual collaboration by incorporating VR users and video chat participants together. Thus, leading to a collaboration market.
The duo's goal – is to let users access Zoom meetings and Zoom whiteboards within virtual workroom environments leveraging Horizon Workrooms obtainable on Facebook's Oculus Quest headset. Set for availability in early 2022.
Comprehending the power of augmented reality (AR), Cisco stated that it wants to bridge the gap between virtual and in-person collaboration. Cisco showed the world its new forward-thinking AR/VR tech application, the Webex Hologram.
The platform integrates the rich features of Webex meetings and calling; with the functionality of immersive 3D holograms.
It plans to tackle the problem with its photorealistic, real-time, holographic experience for any method that includes remote or many remote employees. Taking a cue from its research, which suggests in Cisco's Hybrid Work Index – 64% of employees said that they would resign their job if they did not have the option to work remotely.
Conclusion
With technological origins in the early 20th century, Virtual reality is not new, yet its applications are still in infancy. We are only at the surface of virtual reality, and its most significant applications have likely not been developed yet. While some have stated that there is a sort of technological contest between AR and VR, implying only one will emerge as dominant, it appears probably that both will play roles in navigating the future of enterprise and entertainment.
Historically, virtual reality has always wedded entertainment with practical use. Today's virtual reality applications and those in the future will continue to lead the trend. The gaming industry will undoubtedly profit from the advancement of VR. Still, it will come as a bit of a surprise to see virtual reality play a game-changing role in the way businesses – and industries – work.