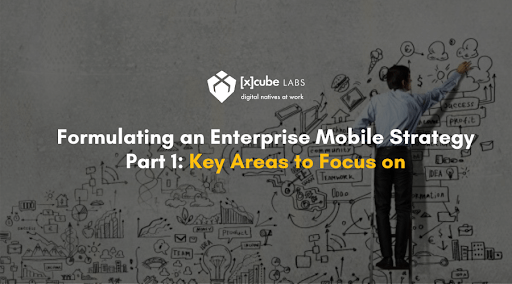 Table of contents
Mobility- a top priority for CIOs and CTOs across all industries.
The enterprise mobility market has witnessed a year over year growth of 9% over the last three years and is expected to grow to $2.2 billion by 2022! As mobility continues to be an essential element of personal and corporate lives, enterprises worldwide are brainstorming to identify and implement strategies that enable them to mobilize their operations. Over the last decade, we observed an increase in demand from both customers and employees to modernize back-end operations so that they can access data and perform functions on their mobile devices and eliminate their dependency on desktops. As a result, companies are accepting mobility as an integral aspect of their enterprise infrastructure and implementing an enterprise mobility strategy has become a top priority for CIOs and CTOs across all industries.
What is an enterprise mobile strategy?
An enterprise mobile strategy is a framework that encompasses business, technology, projects, people and processes into one unified sphere. It integrates mobility as a technology with the rest of the ecosystem to allow organizations to define and practice their mobile engagement. A mobile strategy aligns mobility efforts with business goals, lays out a roadmap for its successful implementation, enables achieving near and long-term goals, provides policies and best practices for governance and helps in accurately measuring its success. Moreover, it also gives you the flexibility to tap future technological advancements and adjust your strategy in accordance with the shifts in the business environment.
Levels of enterprise mobile maturity
The evolution of enterprise mobility over time has been noteworthy. Initially, as smartphones became mainstream, enterprises started to upgrade their websites for optimal performance on mobile screens. With the launch of the app store, enterprises got an opportunity to further enhance their customer experience by building their own applications. These applications, however, were static in nature and just another replica of their website, with no added value. This led to the evolution of dynamic apps which enabled customers to exercise more control over what they could do and thereby simplified customer engagement. For instance, medical insurance companies allowed customers to file claims through apps, avoiding queues.
The next stage of evolution is powered by emerging technologies of artificial intelligence and the Internet of Things-giving rise to "intelligent apps" that are not only faster but more context-driven. Companies now see value in AI-driven apps and offer them to their employees and customers.
Why is it needed?
67% of CIOs and IT professionals believe that enterprise mobility has a massive impact on their business.
35% of business ROI is generated when companies invest in feature-rich enterprise mobile apps.
82% of employees access their work emails even after working hours when they have enterprise mobile apps
Restricting employee functioning to a desktop unit limits their efficiency. Further, lack of a robust mobility strategy can lead to poor adoption rates, lower engagement, higher hidden costs and failure to achieve the desired ROI. Mobilizing the operations not only increases their productivity but also gives employees and customers faster and efficient access to backend systems. A study by VMWare reported that overall IT operational costs reduced by as much as 29 percent, and total management costs dropped by 20 percent after the implementation of a mobile strategy. Adopting an enterprise-wide mobile strategy enables you to achieve:
Smarter and faster decision making: Mobile adoption enables you to collect data at every touchpoint in your operations chain- internal as well as external. With an inflow of data stream, you can derive valuable insights that make informed decisions
Improved business value: With streamlined operations, you can save on operational costs and increase profit margins. Additionally, improved productivity means greater RoI, resulting in an overall improvement in business value.
New revenue streams: Unlock new revenue streams by leveraging innovation as a service and discover new ways to retain existing customers and acquire new ones through unique value propositions.
Improved customer experience: Enterprise mobility empowers you to respond to complaints and inquiries of customers at any point of time from anywhere, which ultimately increases customer loyalty
Brand awareness: Mobility tools can present your company to millions of potential customers, leading to improved brand awareness and conversions. Having a mobile responsive site, around-the-clock customer support, and optimized app, are all ways to further your brand reputation and get an edge over competitors.
Key areas to focus on
Despite its advantages, creating mobile systems that are deeply integrated into existing enterprise infrastructure can get challenging if you overlook some of the basics. Creating an effective mobile strategy involves a through coverage of certain critical aspects to ensure that post-implementation of your strategy, there is consistency throughout your enterprise, the integration is seamless and data sync happens in real-time.
We have listed seven such aspects and listed questions linked with them, each following the other, that will help you assess your current blueprint and give insights that will help you in formulating an effective enterprise mobility strategy.
Changing consumer preferences

Consumer preferences change with time and to stay abreast of the changing preferences, you need to have a mobile strategy that can evolve with it. Here are some questions you can ask:

Who are my consumers?
What are their pain points?
How have their preferences changed over time?
Which channel do they prefer for communication?

Channels under threat

Once you define your customer segment and their pain points, you need to decide on the right channel to reach out to them. With new tech innovations and alternatives available, your current channel can become obsolete, it is essential that you assess your current channels and keep yourself updated about the new ones.

Which are the channels that are under threat?
Which channels are fast catching up among my target audience?
Can I upgrade my channel to meet customer expectations?
Can I integrate my existing channel with the new ones?

Current inefficiencies

One of the primary reasons why enterprises adopt a mobile strategy is to streamline processes and eliminate inefficiencies. Identify which processes you want to mobilize, what are the possible challenges and pick the right tools to resolve them.

Are the inefficiencies people-oriented or process-oriented?
Which are the areas that have maximum blindspots?
Can I eliminate bottlenecks or middlemen?
Is the information accessibility difficult?
Is there consistency across the enterprise?
Does everyone have access to real-time information?

Opportunity areas

Having identified your audience and improvement areas, you can leverage mobile to convert challenges into opportunities.

What are the market segments I can effectively capture?
Where are my new customers coming from?
How can I innovate out of problems?
Which areas can provide maximum RoI?
How can I provide more value than my competitors?

Security & Compliance

Mobile security shouldn't be limited to the app or device alone but rather, you should take a more holistic approach.

How will the backend integration be secured?
How will the transactions happening between client and back-end servers be monitored?
Does the development process follow any review standards?
Are you trading security for a better user experience?

Identifying functional priorities

While there'll be plenty of functions across the organization that you can mobilize, it is important to prioritize just a few, considering the cost of development and ease of implementation.

Does it help the entire organization immediately?
Does it improve services only for a particular department?
What are the quick-wins?
Which initiatives can show signs of early success?

Measurement

Identify the right set of tools and metrics that will help you to evaluate or assess your deliverable.

How much cost savings were you able to achieve after your mobile initiative?
Which channels are adding to profits?
Did the customer satisfaction level improve?
How much man-efforts did your initiative save?
What are the business benefits?
Creating an enterprise mobile strategy can help you to solve complex challenges with scalable solutions and acquire new user base. It also streamlines business operations and empowers you to enhance user experience. With an effective mobile strategy, you can achieve:
More efficient and effective workforce
Better and faster customer service
Increased revenue and profitability
Improved communication across all stakeholders in the organization
Enhanced data security across all devices
Real-time analytics that allow data-driven decision making
Reduced operational costs with streamlined processes
A competitive edge within the industry
Conclusion
Mobile is no longer an option for your company; it has become a business imperative. It provides you with a long-term strategic vision and empowers you with flexibility to adapt to changes that come with shifts in the business environment. It's not just about having an app but about driving value within your company. A robust enterprise mobile strategy can help you optimize results and maximize ROI by simply integrating processes, functions and people. Further, you can utilize data infrastructure to attract new customers and offer more value to existing ones. The gains of implementing a mobile enterprise strategy are enormous to stay afloat in a competitive environment you need to get started right now.