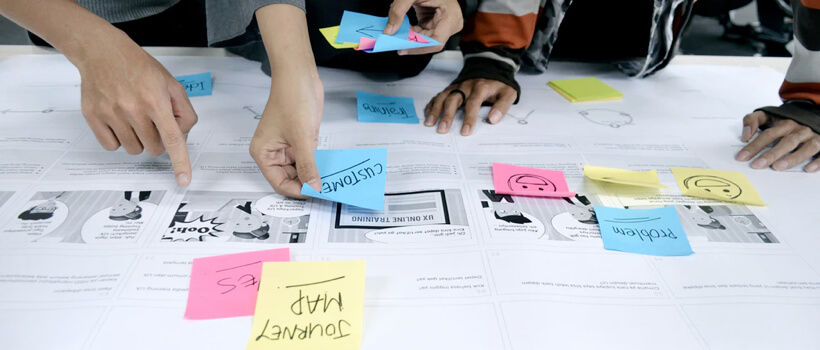 Table of contents
Customer Journey Map
A customer journey map is a visual representation of the customer's paths via various touchpoints to achieve a goal with your company. The map breaks down the entire customer journey into phases. It aligns with a goal, action, and touchpoints to improve the quality of your customer experience, ensuring consistency and seamless experience across all touchpoints and channels. There are five types of customer journey maps, depending on the purpose you have:
Current state: This map is best used for improving customer experience. These maps assist you to visualize the actions, thoughts, and experiences while interacting with your company.
Future state: This map represents the ideal journey you'd like customers to have as they experience your products or services. This map allows you to conceptualize and visualize new experiences for the customers. Future state mapping can only exist once the current state map is understood.
Day in a life: Day in the life mapping represents all of the day-to-day activities your ideal customer takes in their daily life, not just those where they use your product or service. This is a helpful map for understanding the broader context of your persona and identifying new places to provide value.
Service blueprint: This map is best used for determining the current customer journeys with steps needed to attain desired customer journeys
Competitor's journey: Competitor's journey is a benchmark journey map. It helps you to determine and visualize how you should compare to other competitors in your field.
What is Customer Journey Mapping?
A customer journey map (CJM) analyzes how customers experience your product or service throughout the journey. It involves identifying and visualizing the experience across all the touchpoints and channels. Customer journey maps are built on empathy and research. Mapping customer journeys allow you to understand your business to improve customer experience and enable you to:
Improved customer retention
Allow the business to drive a customer experience strategy
Reveals gaps between desired customer experience and the actual customer journey
Recognize development opportunities
How to Create a Customer Journey Map?
Step 1: Define your persona and goals
Before you can dive into creating your map, you need to define your goals and target persona. Persona is a fictitious customer with all their demographics, goals, and motivations of an average customer. The persona should be defined in real-time collaboration with your teammates and should include all customer data such as demographics, skills, touchpoints, goals, motivations, and pain points.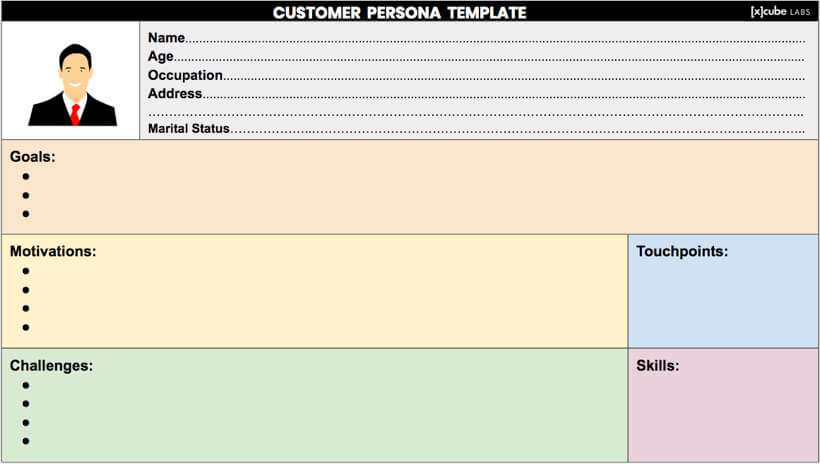 Click here to download.
Step 2: Define stages in the journey map
Based on the persona, define how, when, and where customers discover your company, research your products or services, choose you over competitors, purchase from you, and maintain a relationship with you. Stages are the backbone of the customer journey. You can define steps by understanding customer goals.
Let's take a customer journey in a retail store. Put yourself in the customer's shoes and think of all the possible touchpoints and channels that are likely to go through in the store. Having a list of touchpoints and channels, you can quickly come up with the names for the customer journey stages.
Touchpoints and channels are essential elements when it comes to mapping the journey. A touchpoint is a moment in time when an interaction happens between a customer and your business such as product demonstrations, signing up for a newsletter, booking a flight, etc. while channels are the medium of communication between the company and the customers such as phone calls, social networks, website, live chat, etc.
Step 3: Conduct market research and stakeholder interviews
Data can be collected via interviews with users and customers, online surveys, team discussions, and observations. Typically, a customer journey map is created using data from primary research, such as personal interviews, focus group sessions, brainstorming and shadowing, and secondary research such as gathering and collaborating over information from databases within the organization, websites, social media, and so on. Techniques used are brainstorming, usability testing, business model canvas, experience mapping, mind mapping. The important thing here to consider is to reach out to the actual customer with the right questions to ask. Some of the questions can be:
How did you hear about our company?
On a scale of 1-10, how easy is it to navigate around the store?
Did you ever require customer support? If so, how was your experience?
How long do you typically spend in our store?
Have you ever interacted with our website? If so. Did you purchase it on a website?
Step 4: Look for Moments of truth
Moment of truth (MoTs) is an essential element of the customer journey map. MoTs represent points in a customer journey when an event occurs, and that shapes the opinion about your company. These can be touchpoints where your customer either forms a positive or negative perspective about the company. These moments define whether the customer will retain or not.
Step 5: Visualize and draft the journey
Once you have all the information required, visualize, and add the information on the map. You now have an inventory of resources and highlight the points you'll need to add in the customer journey. Combining all the data into the map, you will have your first draft of the customer journey. Your map should be constant work in progress. Review it on and make necessary changes. This will help you identify the gaps and opportunities for improvement. Using a customer journey map can allow you to predict how these touchpoints impact your business and derive value.
Best Practices
There is a lot to consider when you are creating a customer journey map, but the best way to map the customer journey is to take a walk in their shoes. Some of the tips to consider while mapping is:
Customer journey mapping works best when done as a group workshop.
Build a map on a wall or whiteboard that is easily visible to all the stakeholders during the interview.
Be aware of your bias that could influence your customer's feedback.
While brainstorming goals in customer persona, ask why the persona needs it; this will assist you to go deeper and find real high-level goals.
Motivations in persona generation should not include product features, but what drives your persona to start or explore your product or service.
Validate your journey map with customers, if possible.
After identifying the gap areas, communicate it with your teams, and drive the strategy to provide a delightful experience.
Make more than one customer journey map.
[x]cube LABS Free Customer Journey Map Template
With our expertise in providing customer experience services and creating customer journey maps for our clientele, we have put together a clean and easy to use template for you.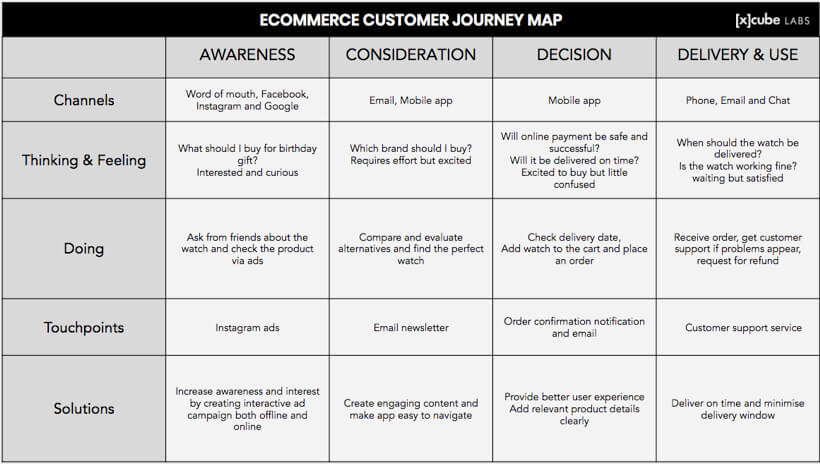 To get started, click here to download a free template.