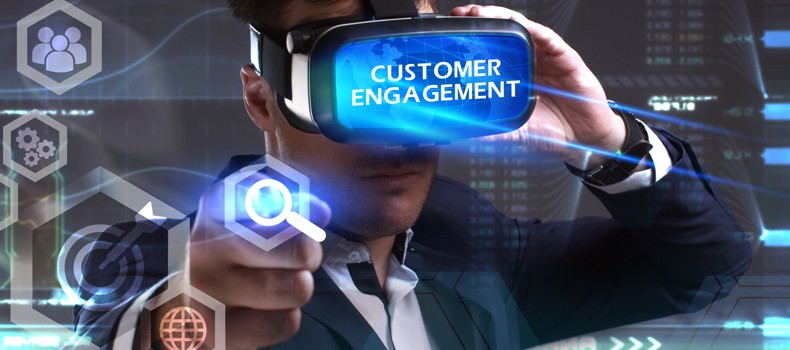 The adoption of AR and VR technologies allows companies to explore new and creative ways to step up the customer engagement game. AR garners considerable attention, especially from a customer-facing perspective, but retailers should not discount the effectiveness of VR, the more immersive of the two. Let's explore how these immersive technologies are enabling new ways for organizations to drive innovation in customer experience and engagement.
Augmented Reality
AR provides users with a composite image which consists of a view of the real world around them overlaid with a digital information layer designed to enhance the user's experience.
Virtual Reality
VR, on the other hand, creates a totally immersive experience which transports the user from the real world to a simulated one.
1. Customer Experience & Interactive Marketing
AR/VR provides a host of benefits for marketers to create differentiated value as they promote experience over products and services. By stimulating brand awareness, and communicating the values, they help the customer relate to the identifiable stories. AR/VR can be an effective tool to personalize the offerings. For instance, De Beers started a "My Forevermark Fitting" campaign. This campaign uses a 3-D virtual try-on for ForeverMark diamonds. Women customer can visualize themselves wearing the ForeverMark diamond with the help of a webcam and decide to purchase, without actually trying them on physically in the store. This paves the way to create an everlasting meaningful experience–personalized, interactive, and memorable.
2. In-Store Shopping
AR/VR can be strategically integrated into the overall in-store journey to offer fulfilling, helpful, and efficient experience for customers. For example, indoor navigation can be aided with the help of AR for customers to find their way through the aisle to the shelf. IBM has developed an AR app which provides instant information on products which are on display. A cosmetic brand like Charlotte Tilbury put the magic of AR onto the wall mirror and have entered the arena of AR powered cosmetic experience. Using AR-enabled mirrors customer would sit in front of the mirror to scan the image of their face and under a minute they would see their face with a couple of the brand's iconic looks — without physically wearing any makeup. Timberland and Topshop have also come up with AR mirrors to let customers try out their new products. The list is ever growing, as more and more companies start to use AR/VR technologies in their line of business to completely reimagine the face of shopping, AR/VR is definitely the next biggest differentiator to boost engagement.
3.Enhance Online Shopping Offerings
Companies need to offer solutions that mimic in-store experience and take advantage of rising online sales, especially those assisted by knowledgeable store associates, by gathering the knowledge possessed by an associate and using these technologies to reproduce an effective virtual product demonstration. Formex Watches recently moved their business from a brick and mortar operation to a completely online business model. Willing to enhance the online buying experience for their customers, Formex developed an app that projects a realistic image of their watches onto the user's wrist. This gives a real-life "feel" and look that the customer is wearing one of their timepieces and allows them to interact with the product. AR/VR has the potential to act as a bridge between the consumers' conflict of the desire for personal service and unwillingness to visit a store by enabling experiences and create a more engaging encounter with the brand, which boosts conversions and revenue to make shopping fun again.
Both augmented reality and virtual reality offer immense potential to transform retail by offering new and innovative ways of interacting with customers, boost customer engagement, generate value, and drive growth. By leveraging these new technologies, retail companies will be able to achieve effective customer engagement. [x]cube LABS with its core focus on strategy, creativity and technology help organizations with innovative customer engagement strategy to transform business operations by bringing digital to the core. Connect with us to know more.