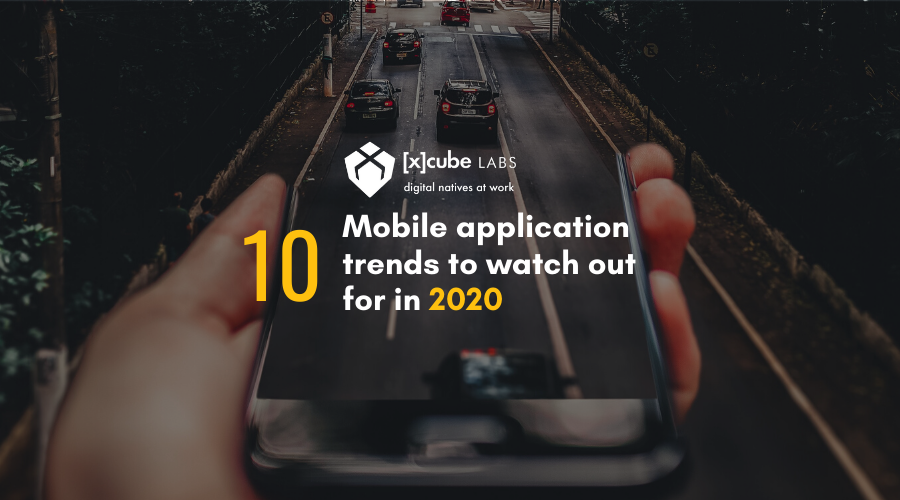 Table of contents
The growth in app development trends: unprecedented and ongoing
According to Statista, the number of smartphone users worldwide today surpasses three billion and is forecasted to grow further by several hundred million in the next few years. China, India, and the United States are the countries with the highest number of smartphone users, with each country surpassing the 100 million user mark. With the increasing usage of smartphones, mobile app development trends are also growing and have made it essential for developers to stay updated and relevant.Businesses globally are keeping an eye on the latest trends to reap the maximum advantage and create a stronger, more engaged user-base. While we saw unprecedented growth in app development trends till 2019, this year is set to witness a similar trajectory of growth, with more promising trends. We have listed the top ten among them that businesses and developers must watch out for in 2020.
10 Mobile application trends to watch out for in 2020
IoT

2019 witnessed brands like Amazon and Google leveraging IoT and strengthening the competition by introducing the "Echo" range of devices and "Home voice controller" respectively. The investment of hardware companies like Cisco and Dell in IoT and Google's move to acquire wearable company Fitbit and its collaboration with Nest, a home security camera manufacturer, further hints at the fast movement of these companies towards IoT technology.

So far we have seen various use cases of IoT in real-life such as continuous supply chain management in retail, connected homes and savvy healthcare monitoring. We are yet to see more and with the increase in demand for IoT solutions, the demand for IoT-enabled apps will grow simultaneously. Forbes magazine predicts that the IoT market would double by 2021. App developers, therefore, will be looking to develop apps for connected products.

Instant Apps

Unlike native apps, you don't need to download and install instant apps to run them, they can be accessed via a shared link. Instant apps give you access to limited features or a fundamental features-only version of the app. One of the prime reasons they are gaining traction is app demos. These apps provide a look into an app's complete version and make it easier for you to decide if it's useful for you before choosing to download. It has become a better way of reaching out to target audiences and convince them for installation. Another advantage of instant apps is that they are smaller in size when compared to regular apps which reduce the page loading time and bounce rate. Vimeo reported an increased session rate by 130% with instant apps.

With users continuously demanding a better experience and shorter load times, instant apps are something to look forward to in 2020.

AR/VR

Many eCommerce stores, realtors and apparel brands have integrated AR/VR technologies in their applications- Sephora and IKEA, for instance. This not only enabled them to boost and enhance user experience but also increased conversion rates. New use cases are underway as technological giants like Apple and Google are investing heavily in innovation using AR. This year, Google plans to introduce a new AR feature for Google Maps, which would provide people with directions from their camera phones in real time.

According to Statista, the augmented and virtual reality (AR/VR) market is forecasted to reach 18.8 billion U.S. dollars in 2020. Looking at the growth drivers and potential use cases, we can confirm that this year, AR integration will be one of the significant mobile app development trends that would shape the mobile industry.

Chatbots

Initially, only apps like Facebook, Skype, and Slack used chatbots at large but now we see most of the businesses leveraging chatbots for customer interactions. With nearly 50% of customers preferring self-service chatbots over human representatives, it has become imperative for every major product and service sector business to deploy a chatbot. Till date, there are approximately 2.5 million apps in the Google Play Store and nearly 1.8 million in the Apple App Store. However, there are very few apps that have deployed chatbots to enhance customer experience.

As per Gartner, chatbot interaction is set to increase from just 20% in 2017 to 93% in 2022. With 80% of enterprises expected to use chatbots by 2020, the integration of chatbots to mobile apps will escalate quickly.

BYOD

Bring Your Own Device is a trend under which companies allow their employees to use their personal smartphones and tablet devices for work. This way, enterprises save the cost of device purchase. This comes with security challenges such as employee frauds and industrial spying but they can be averted by deploying a BYOD app. They can install the app on their personal devices which can have different features and rights.

According to Insights, BYOD market will reach $367 billion by 2022. Many companies are expected to follow the trend set by large enterprises and build company app for their employees.

Apps for foldable devices

With Samsung coming up with its foldable phones, the operating systems are getting ready to make use of this technology to improve smartphone experiences. Google, in 2018, officially announced the foldable support on Android phones by using its 'screen continuity' API. According to Samsung, many android apps such as Amazon prime video, Twitter and Facebook have already been optimized for their Galaxy fold. Video streaming and gaming apps can also reap more benefits from foldable technology by simply increasing their screen size or using the extra space for additional information and controls.

Since foldable phones are the next big thing of 2020, developers must plan their strategy in a way that their applications are poised to run seamlessly on foldable devices.

Beacon technology

A beacon technology-enabled app on your device shows you where you can have your preferred products, their costs, and other specifications. Beacons utilize BLE (Bluetooth Low Energy) signals. When your device enters a beacon's zone, the particular app instantly gets this signal and offers appropriate notifications and instructions for the users. Industries like healthcare, museums, and hotels have already included beacons in their services. After Apple's iBeacon and Google's Eddystone, now beacon is a part of both iOS and Android app development.

Beacon technology has been around for some time now, and 2020 will make its presence even stronger. Beacon-based notifications are increasingly helping many businesses and industries to connect with their customers in a highly contextual manner.

According to GeoMarketing, by 2020, the number of beacon deployments is expected to reach 400 million globally, thereby generating $56,554M by 2026.

5G

The introduction of 5G networks will not just strengthen network performance but create a data-intensive environment, facilitating new opportunities. By providing lower latency and speeding up data-sharing by upto 10x , you can automate more core processes and deliver improved applications for capturing and sharing data. 5G services offer an extensive range of opportunities, app developers should design the apps that can handle volumes of data being transmitted without compromising with performance.

It is anticipated that the transition from 4G services to 5G wireless network will be completed by the end of 2020.

Blockchain

Blockchain technology, launched many years back, became a buzzword in 2018, and it was 2019 when we witnessed its many use cases across various industries. With data breaches and security becoming major challenges for business leaders worldwide, blockchain as a trend is growing fast. A large number of fintech companies have already reaped the benefits from blockchain app development.

According to Transparency Market research, the blockchain market will reach $20 billion by 2024. This clearly indicates that app developers must get ready to capitalize on this technology.

Low code/no-code development

Businesses looking to have an in-house app development team sometimes lack the resources needed to effectively plan and develop a mobile product. Low-code or no-code development is increasingly becoming popular among such businesses as it eliminates the need for in-house personnel to have a thorough knowledge of coding. In case of no-code development, they can develop the product with no coding knowledge at all. These platforms are easy to use; where users can simply drag and drop visual components and compile an app.

While low-code/no-code development platforms are not here to replace traditional coding, this trend will get a boost in 2020, especially among enterprises where budgets are a constraint.
Conclusion
As the trends change and new technologies evolve, it is important for business leaders to stay abreast of the latest trends and technologies and stand out in the highly competitive mobile app development space. The evolving app development trends would drive the need for enterprise mobile app development services. Make sure you keep up with the technologies and trends we mentioned here and try to implement them as much in your mobile app. You can also leverage the expertise of mobile app development companies such as [x]cube LABS to scale your businesses through mobile applications.
Tags: 5G, AR, beacon, Blockchain, BYOD, chatbots, digitaltrends, enterprisemobility, IoT, list, mobileappdevelopment, mobileapps, mobiletrends, trends, VR