Background
AdvoCare is a leading health and wellness company which believes in "building champions" and offers world­class energy, weight­loss, nutrition, and sports performance products to help consumers reduce weight, look radiant and lead a healthy lifestyle.
The wellness brand approached [x]cube LABS to lead the development effort and provide consulting services for developing an app to promote their 24­Day Challenge to end­customers using an overall approach for higher ROI, increased interactivity and engagement.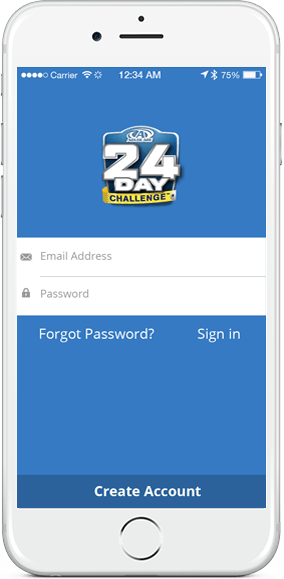 What is AdvoCare 24­Day Challenge?
24­Day Challenge is AdvoCare's official app that lets its customers keep track of his food, water intake and workouts in addition to providing health tips and product suggestions. Integrated with community page, a user can connect with his friends, create/join groups and interact with other people completing the 24­Day challenge.
When users sign up for the challenge, they need to use AdvoCare products at stipulated times for the next 24 days. This challenge has been developed by reputed dieticians and if the user wants to lose weight, then s/he needs to strictly adhere to whatever is specified in the program. AdvoCare has its own set of guidelines, rules & regulations on when can one take up the program and what is the time gap between each challenge.
So, what does the app do?
Once the app is downloaded, users need to complete their profile by entering details like height, weight, and measurements (tummy, chest) thus measuring everything on Day 1. Once registered, the app will also show users which products (supplements) they need to take before/after breakfast, lunch, dinner, etc.
However, it doesn't track calorie­intake. Though there's a suggested list of food items for users, they are free to choose whatever they want to eat. The app basically helps user consume the AdvoCare products regularly. And everyday, the user has to sign in and tick off food, supplements and water intake. After 24 days, users enter their measurements again and check the result ­ be it inch­loss or weight­loss ­ and share it within their community.
Why is 24­day Challenge an app?
Though AdvoCare has a manual for people who sign up for their program and purchase the products, there's no guarantee that the person actually opened the manual and followed everything prescribed there diligently.
However, the app would not let go of the user once s/he signs up for the program. It keeps sending notifications and reminders on a daily basis, and makes sure that the user marks the supplements taken at breakfast, lunch and dinner. If someone doesn't login for two consecutive days, push notifications will be sent.
That way, people are more inclined to keep up with the challenge. Also, it's easier to feed the info on the meal eaten and supplements consumed into a mobile app immediately after it is done.
How Did We Make It Possible?
The client provided us with a manual of his products and asked us to make a digital app based on that. We took it as a challenge and gave a couple of iterations. He liked our initial pitch and our work­around solution. Once we got a go­ahead from him, we did everything ­ from development to design to deciding the look & feel of the app.
They provided us feedback on UI and UX, but left everything else to us. As experts in the field, he trusted our judgment and gave us the flexibility to do whatever we could to make the app appealing, useful and user­friendly.
As we were managing the backend also, we uses analytics to check the metrics on how many people completed it. The app tracks user presence on the app ­ login details, screens accessed, what was done, etc. So, on Day 24 when the app is opened, it launches the final assessment screen which is tracked by analytics.
KEY FEATURES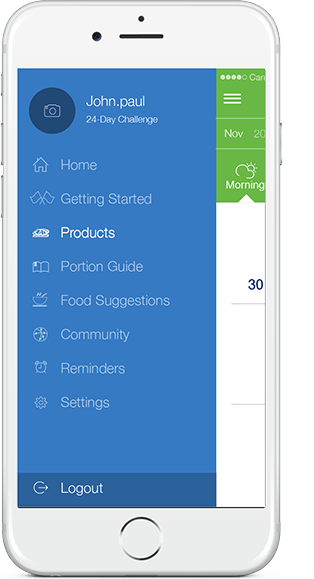 Log and track your food & water intake, and workouts.
Benefit from the tips of a Coach who will be able to guide a user or group of users.
Choose the food you may want to eat from the portion guide and food suggestions, along with the predefined/ planned medications and products.
App ensures you lose weight or inches in 24 days by sending reminders, push notifications to help users keep up with the challenge.
Be part of the AdvoCare community ­ share your progress, success stories & pain points with and provide great tips to other people.
Use forum to discuss the benefits of products like meal­replacement shakes and flavored energy drinks. Find out when the stock will come in, check inventory and asksupply­chain questions.
Export the data and share it with your coach or mentor who oversees your daily fitness/diet­related activities.
The mini­Facebook kind of feature enables users to search for people, send friend requests, create/join a group, invite others to your group, chat, add a coach, etc.
CHALLENGES
There's a very thin line between conversion ratios and completion of the challenge. And, the stickiness element was missing initially ­ getting people to open the app regularly and follow the program was challenging.
The app has a mini­Facebook kind of feature and this community part was challenging as a number of feeds keep flowing into the system and we had to do a lot of indexing in the database ­ if someone wants to pick a course from 6 or 8 months ago, we had to crawl the database to find the right details. So we needed to maintain the database too, and archiving old data in the backup server proved challenging.The PR and marketing events used to impact the app positively by increasing downloads. As we handled the app's scalability, we were on our toes always to face any sudden spur in activity.
On the technical front, a few database queries became challenging ­ as these had to be designed like a union where users had friends, feeds, groups ­ especially when a user is part of different groups, the data needs to be picked from various tables, combined, compiled and sorted out based on user's preference.

SOLUTION
We did a few updates wherein if a person doesn't open the app for two consecutive days, notifications will be pushed to him asking if he is following the program. That helped get the stickiness to the app and people started coming back after those updates.
To archive old data, we increased and scaled out databases in such a way that we could hold about 6­8 months' chats, and anything beyond that would go into the archives.
To tackle scalability, we requested the client to give us a heads up if any promotional event or activity was being planned.
THE RESULT
The app got a massive response from AdvoCare customers as within the first 3 months of its launch, it was used more than a million times. Thanks to the client's marketing and promotional activities, there were over a million users in a short span. Around peak season inJanuary/February, the app gets 1000+ app usage per second. Our biggest achievement: there were over 10,000 downloads on a single day.