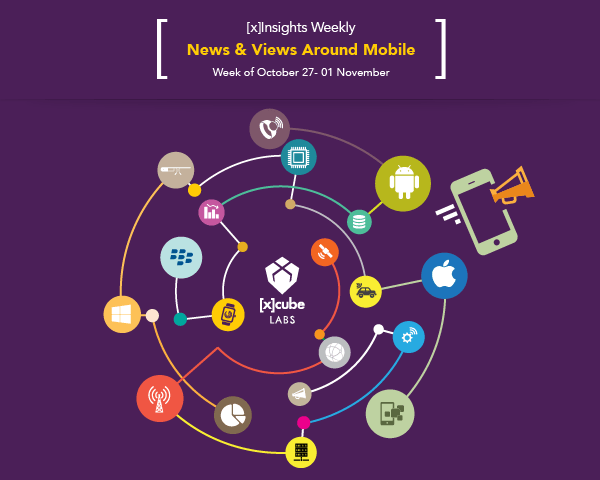 Welcome to  [x]insights weekly! Here we bring to you a weekly roundup of interesting news, views and insights, that you are interested in from the mobile world. From enterprise app development, big data to Internet of Things– we have it all covered here.
When faced with- shape up or sink challenge, what should enterprises do to 'wow' customers?
2015 saw major disruption and innovation in the market that made existing customer service models dated and redefined customer engagement. 2016 will be no different. As customers expectations move up, businesses face the hard reality: shape up or sink. In the disruptive world, businesses need to not only need to think digital and mobile first but also be customer-obsessed, get better insights on buyers, personalize their experiences and offer new experiences every time. Read more
How to use mobile referral smartly to cut down costs & add virality to your user acquisition campaign?
Customer acquisition  is key to success of your mobile app or product. However, in these times, when it's raining apps and every business going mobile, acquiring users is tough and expensive.  A well-planned mobile referral program can do wonders and bring virality to your promotional campaign. However, market segmentation and product-fit mix will be the decider. Read more:
How understanding the inextricable relationship between big data analytics and cloud can help enterprise maximize RoI?
Enterprises are turning to big data analytics to make sense from volumes of data and gain insights from it.  However, it is the cloud that is offering greater flexibility and cost-effectiveness to big data analytics. Tying their analytics strategy with cloud strategy can further help enterprise in maximizing their RoI and gaining new efficiencies. Read more:
From key fobs to jewelry – Mastercard turning everyday objects into smart payment devices.
Wearable and Internet of Things is changing the way business is done. Smart Home, Connected Car, Smart clothes and so on. The payment industry is also not left untouched by the disruption of tech. In what could revolutionize the payment industry, Mastercard plans to transform everyday objects into payment devices. The new move has the potential to disrupt not only payments industry but also retail POS, making life easier for shoppers. Read more
6 technology trends revolutionizing the financial services industry
Financial services industry is facing key challenges like reduced margins, higher customer churn, service/product accessibility and regulatory compliance.  Technologies like mobile, wearable, big data and Internet of Things can help the industry effectively address the challenges and keep their business strategy aligned to changing customer expectations. Read more: