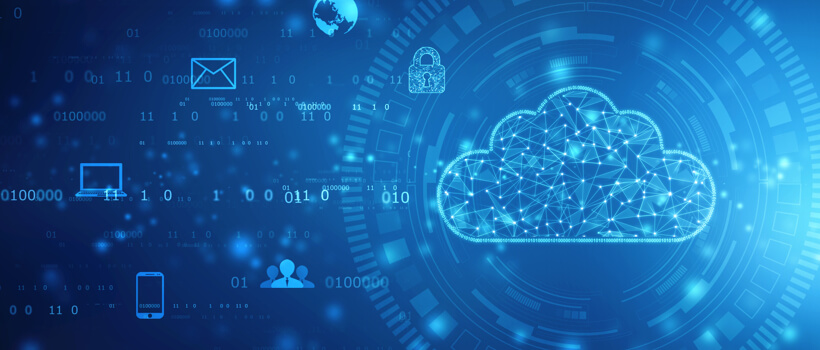 Table of contents
Cloud computing is the delivery of on-demand computing services, but it is not just that. The rapid rate of adoption of cloud computing by firms of all sizes has reiterated the fact that cloud computing is here to stay. The industry is growing exponentially qith 76% of enterprises looking to adapt to cloud apps and platforms to accelerate their IT service delivery. The glocal cloud migration market is expected to grow to USD 8678.73 million by 2023, at a CAGR of 23.67%.
Companies are making use of cloud computing to enhance their overall processes since they have accepted the fact that cloud computing is here to change the world from what we know. We're looking at a much faster and cost effective way of running their IT infrastructure. The advancements in cloud computing has led to more and more dependence on it. Cloud computing is much more cost effective, flexible and scalable than it was during its inception and it has advanced so much, that it is the new normal for the IT industries. According to a report by Gartner, by 2023, leading cloud services providers will have an ATM-like presence to serve a subset of their services. In this post we're going to provide our take on the future trends of cloud computing.
Hybrid cloud infrastructure will lead the way

One of the major trends in cloud computing in the adoption of hybrid clouds, firms are now moving towards a more multi-cloud verse to cater to their needs, the advanced cloud strategies and technologies have made applications more portable. Organisations are exploiting the progressive and differentiated services that are being offered by several cloud providers. Once an organization has an understanding of what they want to achieve, they can choose which cloud service to adopt instead of an ongoing legacy cloud provider.

According to a survey run by Flexera, 93% of the respondent companies said that they have entirely embraced a multi-cloud strategy. It clearly reflects on how the traditional way of buying a specific set of infrastructure from a single provider isn't going to make the cut in the future, organisations have become agile in terms of their cloud buying behaviour.

Partnering with Third Parties

The survey done by Flexera also shed light on the fact that organisations waste 30% of their overall cloud spend. In order to curb the costs, firms are reaching out for partners who specialise in managing clouds, this reflects a vendor agnostic approach. We're talking about partners who have the resources that can actually make out if there are any bottlenecks in an entire cloud infrastructure. A hybrid cloud infrastructure, though cost effective and flexible has led to elevate certain complexities that should be looked into by firms.

These third parties have clear insights on how to keep the cloud spend by a firm under control and make the most of the services without any lag in between their processes. Major services providers are verifying vendors for this purpose specifically, so that the growing cloud management needs of their clients are being met.

Cloud providers and their response to the Pandemic

Cloud providers with robust infrastructure have responded well to the crisis that the pandemic has brought upon the world. Due to this sudden surge in data points coming left right and center putting a lot of stress on the cloud infrastructures of organisations, the resilience of several cloud providers was brought under check and the ones with a crisis management plan already in place have proven their mettle. A well run cloud can handle a sudden surge in demand or traffic coming in. A proactive approach towards handling the crisis has led cloud providers to stress-test their data centres for the future to keep themselves prepared for the worst of the worst to happen.

In response to the financial instabilities brought in by the pandemic to several small and mid sized organisations who are cloud customers, cloud providers can form a customer centric approach and maybe try and give them a benefit of the doubt by reducing the prices charged. This could be an opportunity in disguise for several cloud providers to form a more responsible and compassionate image of themselves in these times of crisis.

Cost optimization

Cost effectiveness is one of the major factors that drives the adoption of cloud computing and the cloud providers have taken a good note of it. They will have to work more and more on their native capabilities since firms are looking for more cost effective infrastructures to work on. The recent trend shows how firms are not sticking to a single cloud vendor, they are more focused on the job at hand and which provider suits the best for it since the growth in usage of cloud will also drive up the costs incurred.

Different cloud providers have different pricing and billing models so firms need to find what suits the best to them and that is how they can come up with the best cloud computing strategy by keeping the costs under control and reaping all the required benefits, We at [x]cube LABS have a proven track record of managing several cloud computing projects. SpotWorks, our proprietary cloud management and optimization platform, can reduce your cloud spend anywhere between 40-80%!
Conclusion
Technological advancement, agility, interoperability, customisation, collaboration, scalability are the concepts that are driving cloud computing and will continue to do so in the new decade. CIOs and CXOs are rethinking their business processes and accelerating business change by adopting the best cloud practices . Not just experts but the companies themselves are on a lookout for cloud computing trends in 2021 and how the industry might unfold in the coming years. Firms of today have realised that the possibilities with innovation in cloud management are immense and dynamic. Some firms have already gained momentum by becoming early adopters of best cloud practices in industries and others are beginning to be a part of the game. Cloud computing has become a major driver in the digital transformation journey for organisations and cloud infrastructure has become the most vital aspect of it. The trends mentioned here are the ones that are going to influence their cloud migration and adoption plans as organisations plan on making their cloud even more cost effective, agile and scalable.