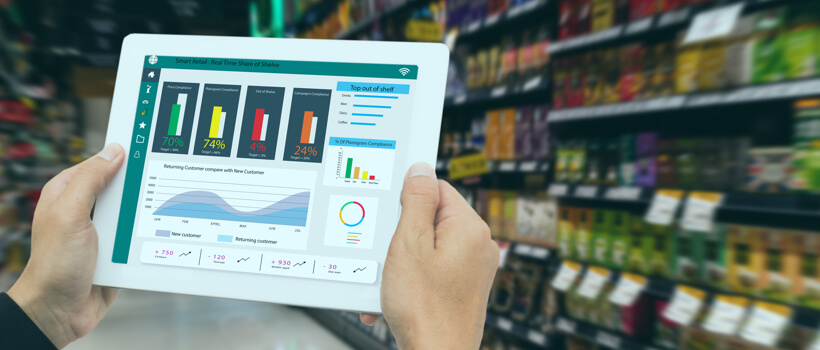 The retail industry is the actual litmus test for any country's economy, and this industry is the first to get affected during the time of any crisis. Thus, it is imperative to advance the Retail sector and make it even more profitable by using digital means. In this current era, there is cut-throat competition among various retail stores. The ones adopting new edge technology in their system are benefiting and bound to achieve more remarkable milestones in the future. One such new edge technology is the Internet of Things or simply IoT.
IoT is a collection of small sensory devices connected to the internet. These devices help to gather and exchange data in real-time with the help of embedded sensors. People and even businesses have started adopting IoT technologies, from the small infrared blaster in your phone to control remote devices to fire alarms in skyscrapers; all use sensory devices. According to Statista, the number of IoT-connected devices worldwide will increase to 25.44 Billion in the year 2030, so if someone wants to grow their business, it's high time they implement IoT in their system.
How can IoT help a retail business?
The retail industry can achieve astonishing growth by embedding IoT in its system because it caters to a vast population, from general departmental stores to massive convenience stores. The benefits of IoT in retail are countless, and it can help take your business one level up. Some of the benefits are as listed: –
Enhanced Supply Chain Management
Optimizing the supply chain is imperative for a retailer because it improves efficiency and saves crucial business time. IoT is an ideal and cost-effective way to optimize the supply chain. Embedded with technologies like RFID and GPS, it provides the retailer visibility, and hence they can now track the location of the product and monitor movements. Because of the greater visibility, the accuracy of projecting delivery time has also improved.
Implementing IoT in supply chain management allows retailers to select vendors, delivery partners, and even the delivery route based on operating cost and safety.
Predictive Equipment Management
Equipment failure during any time, be it shipping or storage, leads to significant capital loss; it can also adversely affect the business operations. When coupled with IoT, equipment in retail become more effective and works for a longer duration. Any deviation from the ideal, such as temperature change or random vibrations, triggers an alert, and the store gets notified. Accordingly, it will help the retailer to make better decisions, and hence the equipment can be managed and used profitably for longer, saving unnecessary business expenses by using IoT.
Smart Shelves
A primary element to boost sales in a retail store is to focus on customer engagement; Smart shelves are such innovative IoT technology that grabs customer attention. When a customer roams in a store and has a list of items he needs to buy on his mobile, the cell phone starts vibrating when they reach the shelf where the item is placed. Such personalized experiences build a strong brand image and increase the popularity of a business.
Besides increasing customer experience, smart shelves consisting of RFID tags and readers also help collect customer buying. The store manager can later use this insight to manage stock accordingly.
Automated Checkout
After completing their purchase, customers often have to stand in long queues for payment and checkouts. No one likes to wait, and sometimes it may go downhill in customer experience; automated checkouts help tackle this situation. With IoT-enabled automated checkouts, customers only have to scan the product's barcode without assistance, making the process quick and boosting customer satisfaction. Even retailers can save their excess costs as automated checkout needs less assistance. Only 2-3 individuals can guide the customer if they need help; this means retailers can reduce the workforce size.
Food safety monitoring
Maintaining the freshness of food items is critically important in the perishable goods business, and a minor failure in doing so may result in a considerable revenue loss. IoT here can be a lifesaver as a retailer can control the temperature of storage spaces, and installing sensors will notify the retailer if the temperature rises or falls down the threshold limit.
IoT in food safety reduces the chances of error and saves cost as it will require less human interaction. Further real-time monitoring will eventually increase the life of perishable food items.
It is clear that the retail industry is changing, and IoT will be crucial to leverage its true potential. Apart from the mentioned benefits, IoT also helps in: – tracking the most sold product in a convenience store, analyzing consumers' buying patterns, providing better customer service, installing beacons, and much more.
A retail business can also create a brand image by using numerous IoT sensors that keep track of temperature, location, humidity, etc. They can modify them to serve customer needs better. Not only that, managing the inventory smartly, logistics enhancement with embedded IoT devices, even controlling and managing the energy using IoT gadgets, increasing customer engagement with smart shopping carts, and much more.
Conclusion
The bottom line is that the Retail industry is changing, and implementing IoT-embedded devices is crucial for a business to grow. Most stores will adopt IoT technology in the coming years and witness how it has improved customer satisfaction, product handling, and supply chain management. On the contrary, the retailers who don't innovate may experience a loss in their customer base.
Any retail business that requires handling a wide variety and range of products must embed IoT to keep real-time track of its products. Business leaders can choose a digital solutions partner to implement IoT as it will help them save costs and time.