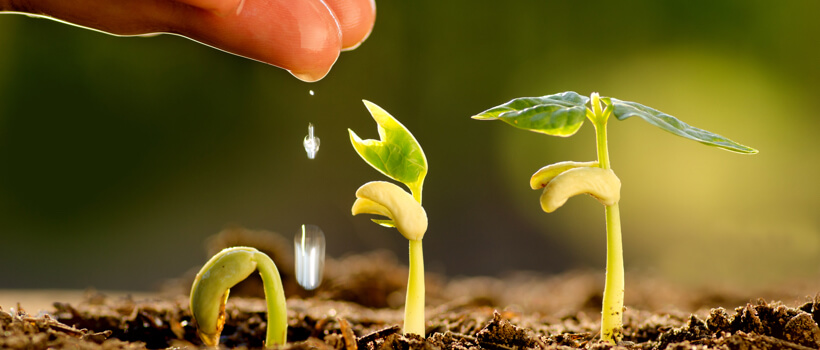 Table of contents
With food grain production of 69.3 million tonnes in the fiscal year 1960-61 to 264.35 tonnes in the fiscal year 2013-14, Indian agriculture has come a long way. The growing population became a key driver for agricultural products and with time, rising urban and rural incomes also gave a boost to attractive opportunities in the Indian agricultural sector. In this article, we talk about how the Indian agriculture industry transformed since the 1950s by diving into different policies and reforms, particularly over the last 5 years- where the transformation took place at an unprecedented pace and witnessed disruptive breakthroughs.
The Evolution of Indian Agriculture Industry(the 1950s- early 2000s)
The1950s: Era of stagnation in agriculture
A period marked by limited or insignificant growth, agricultural production during this period witnessed:
Low growth in crop and grain production (0.4 and 0.1 percent p.a.)
Foodgrain production of 59.2 MT in 1952–53, with a yield of 579.8 kg/ha
Foodgrain production of 59.2 MT in 1952–53, with a yield of 579.8 kg/ha
The 1960-1980s: Green Revolution
A good transition from stagnancy to high agriculture production, this period was characterized by:
Pioneering work of agricultural scientists and efforts of farmers that led to the Green Revolution
High Yield Variety (HYV) of seeds, increased use of fertilizers and irrigation, resulting in a significant spike in production
Food security and reduced import of food grains
The 1980-2000s: Surplus production and exports
During this period, India transitioned from achieving just food security to surplus production. The key highlights of this period include:
Expanding cereal production
Economic reforms introduced that provided greater encouragement to exports
Surplus of production of agricultural commodities over domestic demand
India emerged as a net exporter of agricultural products
Increase in population and strong income growth
2000 onwards: Economic reforms, technological advancements and disruptive transformation
2000 and beyond saw a great push to agricultural production with the introduction of supporting reforms, new policies and adoption of technology. Some key highlights from this period include:
Better technology adoption
Rise in institutional credit for agriculture
NFSM to increase the production of commodities
Schemes like National Horticulture Mission (NHM) and Bringing Green Revolution in Eastern India (BREI) that helped achieve record production.
The National Mission on Oilseeds & Oil Palm
Commodity exchanges that helped in fair pricing of commodities
The early 2000s
As mentioned earlier in this article, the last decade or so has been remarkable in terms of supporting policies and reforms, adoption of digital technologies and significant investments in the sector. In this section, we'll take a closer look at the most striking policies and reforms that contributed to the growth of the agricultural sector in India.
BOOK A CONSULTATION FOR FREE!
We are a digital partner of choice for multiple companies across industries with a deep focus on Agri-tech.
Avail a FREE consultation to know how your business can achieve greater customer satisfaction and profits with digital solutions.
Small Farmers Agribusiness Consortium (SFAC) [1994]
The consortium focused on creating wider linkages for FPOs to reduce transaction costs, improve access to technology and services and ultimately link them to better market opportunities for higher returns.
To meet the above objective, an ICT backed platform was provided that electronically linked all the FPOs in the country and leveraged their collective bargaining power.
Horticulture Mission for North East And Himalayan States (HMNEH) [2001-2002]
The main objective of this mission was to improve the production & productivity of horticulture crops.
Special emphasis was laid on "Low Volume, High Value, Less Perishable Horticulture Crops"
Provided employment opportunities especially for women by developing horticulture farming
Agricultural Technology Management Agency(ATMA) [2005]
ATMA technique facilitated the retrieval of data from internet-based web portals offline by using a simple mobile phone.
Over 12 services of innovative technology like USSD(Unstructured Supplementary Service Data) were operationalized for farmers and other stakeholders.
National e-Governance Plan in Agriculture(NeGP-A) [2006]
The NeGP-A was introduced in the last phase of 11th plan for ensuring timely access to agriculture-related  information for the farmers through the use of ICT
The services include information on pesticides, fertilizers & seeds, soil health, crops, farm machinery, good agricultural practices, weather advisors, prices, arrivals, procurement points, irrigation, fishery inputs, infrastructure, drought relief, and more
National Food Security Mission (NFSM) [2007]
The National Food Security Mission was launched in FY08 with an outlay of USD1.2 billion during the 11th five-year plan. It aimed at increasing the production of rice, wheat and pulses by 10 million tonnes, 8 million tonnes and 2 million tonnes by FY12
Rashtriya Krishi Vikas Yojana (RKVY) [2007]
Rashtriya Krishi Vikas Yojana (RKVY) was launched in FY08 with an outlay of USD5.3
billion during the 11th five-year plan. It aimed at incentivizing states to increase outlays for agriculture and allied activities, thereby encouraging growth opportunities in the agriculture sector
2014-15
National Crop Insurance Programme (NCIP) [2013-14]
Modified National Insurance Scheme aimed at ensuring food security, crop diversification and enhancing the growth of the sector
Weather-based crop insurance was introduced that aimed to minimize the financial loss of the insured farmers on account of anticipated crop loss resulting from unfavorable weather conditions
Coconut Palm Insurance Scheme aimed at minimizing the risks faced by the coconut cultivating farmers
Pradhan Mantri Krishi Sinchai Yojana [2015]
Allocation of USD830 million for the development of micro-irrigation, watershed and Pradhan Mantri Krishi Sinchai Yojana
State government are compelled to fund the agriculture sector, take appropriate measures to achieve the targeted growth rate and address issues of farmers
Paramparagat Krishi Vikas Yojana (PKVY) [2015]
This scheme ensures the promotion of organic farming
Adoption of farming will promote the balanced use of chemical fertilizers and enhance the quality of farm produce
Other policies:
Foreign Direct Investment (FDI)
100 percent Foreign Direct Investment (FDI) was allowed under automatic route in storage and warehousing
2016
Pradhan Mantri Fasal Bima Yojana (PMFBY) [2016]
The existing National Agricultural Insurance Scheme (NAIS) and the Modified National Agricultural Insurance Scheme (MNAIS) were replaced by PMFBY, from April 1, 2016.
In 2016, the central government launched a crop insurance policy, Pradhan Mantri Fasal Bima Yojana, for providing financial support to farmers and covering their crop losses. The premium was payable on the principal amount to the farmers.
eNAM [2016]
National Agriculture Market (eNAM), a pan-India electronic trading portal networks the existing APMC mandis to create a unified national market for agricultural commodities. It aims to promote uniformity in agriculture marketing by streamlining of procedures across the integrated markets, removing information asymmetry between buyers and sellers and promoting real-time price discovery based on actual demand and supply
Regional Rural Bank Credit Refinance Fund 
The government announced the set up of a Regional Rural Bank Credit Refinance Fund with a capital of USD2.1 billion to enhance the capacity of RRBs to disburse short term crop loans to small and marginal farmers
Pilot Unified Package Insurance Scheme
The scheme aimed to cover all the insurance needs of farmers including crop and tractor insurance
Agricultural center for excellence 
The government announced plans to establish centers of excellence in agriculture in Assam and Jharkhand, agriculture universities in Andhra Pradesh and Rajasthan, and horticulture universities in Telangana and Haryana
2017
APMC farmers go cashless
In January 2017, Indore Agricultural Produce Market Committee (APMC) adopted a cashless payment policy and farmers started accepting alternative modes of payments such as cheques and RTGS.
Contract Farming Law
In February 2017, as an effort to protect the farmers against price volatility, Niti Aayog came up with a law on contract farming to protect the farmer's interest.  The NITI Aayog observed that market fees and other levies are paid to the APMC for contract framing when no services such as market facilities and infrastructure are rendered by them. In this context, the Committee of State Ministers on Agricultural Reforms recommended that contract farming should be out of the ambit of APMCs.  Instead, an independent regulatory authority must be brought in to disengage contract farming stakeholders from the existing APMCs.
As per the draft Model Act, contract farming will be outside the ambit of the state APMCs.  This implies that buyers need not pay market fee and commission charges to these APMCs to undertake contract farming.
Tax incentives and other sops
The import duty was scrapped on capital goods and raw materials for 100 percent export-oriented units.
Full excise duty exemption was provided for goods that are used in the installation of cold storage facilities.
Services like pre-conditioning, ripening, waxing, retail packing, precooling, labeling of fruits and vegetables were exempted from service tax.
2018
Agriculture Export Policy, 2018
The Agriculture Export Policy was framed with a focus on agriculture export-oriented production, export promotion, better farmer realization, and synchronization within policies and programs of the Government of India. It lifted all restrictions on organic and processed food, to help the government's efforts to double farmers' income by 2022.
Pradhan Mantri Annadata Aay SanraksHan Abhiyan (PM-AASHA) 
In September 2018, the Government of India announced a Rs 15,053 crore procurement policy, under which states can decide the compensation scheme and can also partner with private agencies to ensure fair prices for farmers in the country
National Mission on Food Processing 
Ministry of Food Processing Industries launched a new Centrally Sponsored Scheme (CSS) to promote facilities for post-harvest operations, including setting up of food processing industries in India
2019
Pradhan Mantri Kisan Maan-Dhan Yojana (PMKMY)
A minimum fixed pension of Rs 3000 to be provided to eligible small and marginal farmers on attaining the age of 60 years
The beneficiary is required to make a monthly contribution between Rs 55 to Rs 200 to the Pension Fund depending on the age of entry into the scheme
The scheme aims to cover around 3 crore beneficiaries. As of 14th November 2019, 2 million farmers in the country were registered under the scheme.
A budgetary provision of Rs 900 crore was made for the year 2019-20
Pradhan Mantri Kisan Samman Nidhi Yojana (PMKisan)
Prime Minister of India launched the Pradhan Mantri Kisan Samman Nidhi Yojana (PM-Kisan) and transferred Rs 2,021 crore to bank accounts of more than 10 million beneficiaries on February 24, 2019.
Eligible farmers received Rs 6,000 in three installments
Pradhan Mantri Kisan Urja Suraksha evem Utthan Mahabhiyan (PM KUSUM)
Ministry of New and Renewable Energy (MNRE) launched the Pradhan Mantri Kisan Urja Suraksha evem Utthan Mahabhiyan (PM KUSUM) Scheme for farmers for the installation of solar pumps and grid-connected solar and other renewable power plants in the country.
The scheme aims to add solar and another renewable capacity of 25,750 MW by 2022
2020
2020 saw reforms in agricultural policies and financial boost through government investments, primarily driven by the motive to reduce the adversity caused by COVID19.
Amendment of the Essential Commodities Act (ECA) & Agricultural Produce Market Committee Act
In June 2020, India's Union Cabinet made amendments to the Essential Commodities Act (ECA) which will help farmers get better prices for their produce and more discretion over who and where to sell. The proposed changes will allow Indian farmers to sell their products to anyone outside the Agricultural Product Market Committee (APMC) mandis. Also, the prices of essential agricultural produce will now be controlled by market forces, thereby liberalizing the farm economy – a move that is expected to give a major boost to the agriculture sector.
Key Highlights
Deregularization of agricultural commodities like cereals, pulses, oilseeds, onions and potatoes.
Unless it is a case of emergency, under the amended regulations, there will be no requirement of storing certain stock of these commodities.
Amendments to ECA will allow farmers to engage in inter-state trade, which was not allowed earlier.
Changes will encourage creating a legal framework for allowing contract farming to boost the incomes of producers.
Reforms will liberalize Indian agriculture, encourage free markets and reduce government intervention.
The ordinance will allow farmers to engage with processors, aggregators, large retailers, exporters passed.
Expansion of federal eCommerce platform e-NAM app
The electronic-National Agriculture Market (e-NAM) platforms will witness another round of expansion. The digital agriculture market that enhances the scope of inter-state trade will add 415 more 'mandis' to the e-NAM platforms. This will take the list of electronically connected wholesale markets in the country to 1,000 this year. The trade on its portal has already reached Rs 91,000 crore. Using this portal, the farmers can access all information on the e-NAM platform easily through their mobile phones from anywhere. This trading platform intends to reduce transaction costs, bridging information asymmetry and helps in expanding the market access for farmers so that they can get better prices of their produce.
As per eNAM data of June 2020, about 585 APMC markets in 16 states and 2 Union Territories (UTs) have been integrated into the e-NAM platform. More than 1.65 crore farmers and 1.27 lakh traders have been registered at the portal, launched in April 2016.
Investment of Rs 1 lakh crore for strengthening agriculture infrastructure
From the Rs 20 lakh crore economic package that was announced by Indian Prime Minister to combat the impact of coronavirus, Rs 1 lakh crore will be allocated to the agriculture sector and its allied activities. The fund will be used on the creation of agricultural infrastructure like cold storage chains, post-harvest management, warehouses.
Key highlights
Rs 10,000 crore fund will focus on the micro-sized food enterprises to increase the production, marketing, and branding of those agricultural outputs which are specific to a certain region
Rs 15,000 crore will be used to support dairy infrastructure in the country which will help the private segment of this industry, creating plants and exporting niche products.
Rs 4,000 crore will be used to promote herbal plants focused agriculture which is expected to generate Rs 5,000 crore of income for the farmers
Rs 500 crore will be used towards beekeeping.
Union Budget 2020-21
The Budget 2020-21 has identified the agriculture sector as one of the key drivers of the economy.  As per Union Budget 2020-21, the Government will work with state Governments to allow farmers to benefit from e-NAM.
The Government announced plans to launch Krishi Udaan on international and national routes.  Fish production is expected to increase to 200 lakh tonnes by 2022-23.
PM-KUSUM scheme has expanded to support 20 lakh farmers for setting up stand-alone solar pumps and will help another 15 lakh farmers to set up their grid-connected solar pumps.
Viability gap funding will be provided under Union Budget 2020-21 for setting up warehouses.  The coverage of artificial insemination will be increased to 70 %from 30 % at present.
Rs 1.34 lakh crore allocated to the Ministry of Agriculture and Farmers' Welfare.
Rs 8,363 crore allocated to the Department of Agricultural Research and Education.
Digital Initiatives by the Indian government
With the objective of providing government services to farmers in rural and urban areas electronically, many digital initiatives have been launched by the government of India. These include:
E-sagu: One of the latest digital initiatives, it provides expert suggestions to the farmers. By leveraging the internet and audio-visual communication, insights from experts are provided to the farmers regularly on the various techniques to increase farm productivity
Community Radio (CR): Community Radio fulfills the information needs of the farmers using radio station facilities by providing latest information on weather, farming practices and more
Digital Green: The initiative disseminates agricultural information using online videos
National Agriculture Market (e-nam): It provides an e-marketing platform at the national level and supports the creation of infrastructure to enable e-marketing. The platform also ensures better price discovery, brings in transparency and empowers farmers to get fair remuneration for their produce
The Kisan Call Centre (KCC): initiative provides information to farmers through a toll-free telephone helpline. Under this project, call center facilities have been extended to the farmers by establishing call centers in different states so that farmers can get the information in their native language
Conclusion
India has seen robust demand for agricultural products over the last few years and it continues to grow with the increasing population. Other than growing population, the rising urban and rural incomes, changing lifestyle and increasing expenditure on health and nutritional foods have also added to the growth in demand for agricultural products. The increasing demand has created a way for attractive opportunities, primarily in the areas of agricultural inputs such as hybrid seeds and fertilizers, storage facilities and overall food infrastructure and supply chain. Lured by the size and returns of the Indian agriculture market, foreign firms have also strengthened their presence in India and the government is ensuring that the resistance to growth opportunities is minimized by supporting policies such as the rationalization of tariffs and duties related to the food processing sector, providing a boost to the agri-inputs market, introducing farmer welfare schemes and a lot more. In the pursuit to scale up agricultural production and achieve the objective of doubling farmer income by 2022, the government has started to leverage digital agriculture services and technologies. The digitization in agriculture is catching up fast. From platforms like eNAM to projects like Agri Udaan, the commitment to the use of technologies in agriculture is strong and clear. It is now important for investors and stakeholders to utilize this opportunity and ride the tide of long-overdue digital transformation in the agriculture sector.