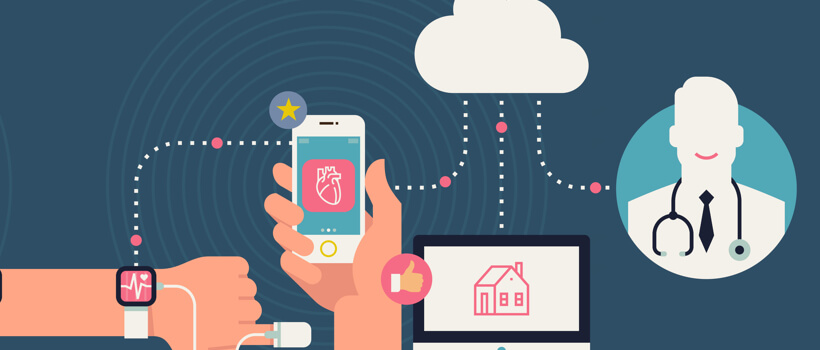 Table of contents
Emerging technologies are fundamentally transforming how we interact with medical devices. In the past couple of decades, technology has gone from being contributors of interesting features to product standards. According to a report published in Sept 2020, the total medical technology revenue globally is expected to be nearly 600 billion U.S. dollars by 2024. Hence, medical devices are increasingly being built around technologies. The scope of innovation and accuracy they come with, has changed the entire landscape of the medical device industry.
Doctors themselves have realised the consistency and efficiency that comes along with introducing technology in medical devices. The innovative minds working in the industry have taken a deep dive into understanding the needs and wants of the customer. The medical device Industry has something for everybody, we're talking about right from a wearable heart rate monitor to a painless brain activity monitoring device. As with every year the MedTech landscape widens, here we will talk about how digital technology has been disrupting the medical device industry and will continue to do so in the coming years.
On-demand healthcare services

The need for on demand healthcare has seen a major upheaval in the past few years and the 2020 pandemic has just elevated that very need. The conventional way of booking an appointment and going to see a doctor is facing stiff competition from virtually driven healthcare services. the convenience and flexibility that comes with these services, not just the patients but the doctors as well have been found to openly advocate the use of medical devices that can assist in on-demand healthcare services.

This is just a piece of the puzzle, the success seen by Doctors On Demand in the US is a primary example on how the healthcare industry is transforming today. According to a report by review42, There will be 2.87 billion smartphone users worldwide in 2020. This forms a huge chunk of the entire world's population, by engineering products made for mobile devices, several healthcare organisations have been able to proactively service their patients with greater efficiency. One such Fortune 500 company Magellan Health Inc. reached out to [x]cube LABS to make their application more customer centric. With our expertise and understanding of the MedTech Industry, we provided them with a tailored CBT application that helped 80% of their patients sleep better.

Constant check on vitals

With the devices becoming optimized and accessible, the customers, not necessarily patients in this case have realised the benefits of involving these devices in their day to day routines. Several technology companies ventured into Medical Devices to leverage upon their already existing capabilities and gradually evolved themselves into fitting the needs of the customers. Companies like Fitbit and Apple with their products FitBit Fitness Trackers and Apple watches respectively are turning out to be the market leaders in wearable technology that assist their customers into keeping a check on their health. With their robust fitness technology and understanding of the consumer, organisations like these have carved a niche for themselves.

Apple on a different note has also been very successful in enabling an IoT ecosystem with a variety of connected devices. [x]cube LABS has also worked with 24 hour Fitness into enabling their IoT ecosystem by developing an application for their wearable fitness tracker, back when fitness wearables were relatively new to the market, we developed an extensive application called Bodybugg which garnered a lot of attention and success by their customers.

We have a device to combat snoring, an automatic drug dispenser, constant BP monitor, etc. With lifestyles getting more dynamic and busier, the health risks involved are also increasing. There's a great amount of research and thought that is being put into coming up with devices that can make healthcare more convenient and accurate and the pace isn't slowing down anytime soon. The sheer mobility and utility of these devices have made them so popular, there has been an immense boom in the acceptance of these medical devices with people becoming more and more aware of the health benefits they provide.

Predictive healthcare is the future

With an increase in the number of digital touchpoints a patient interacts with, the possibility of predicting what illness could become a major problem for a patient in the future is also increasing. The enormous amount of data that is being logged into these medical devices helps in profiling their patients and better understand their anatomy. The push given to the maintenance of electronic health records has made predictive health analysis hassle-free and will continue to do so.

By making sense out of data that is being acquired by these smart medical devices, healthcare companies can make recommendations on how to remain fit and maintain a healthy lifestyle to their customers. A digitally driven analysis of a patient's health records can spot any inconsistencies in his health condition. From an organisation's perspective, with the right analysis, a healthcare organisation can also predict where they should deploy their resources, how to assign the budgets and take several staffing decisions. Medical devices are the perfect digital touch points and with crunching of the data, both the healthcare organizations as well the patients reap the benefits.

Emerging technologies leading the way to innovation

According to a Stanford University press release, the active number of AI startups has increased 14 times since the year 2000, this clearly indicates how a lot of early age start ups have identified the scope for emerging technologies in several industries. There's a lot of money that is being put into emerging technologies for the Medical devices industries, lately we've seen a lot of medical companies employing chatbots and AI assistance to help solve patient's queries, these assistants are versatile and play a lot of roles at one.

Moxi is a pinnacle in emerging technology for the healthcare industry, it is a one of a kind hospital droid designed to help human nurses in their routine tasks. Emerging technologies like AI have also solved one of the biggest challenges the industry faces, providing genome based therapies and treatments to patients to get a better success rate. The use of emerging technologies has also cut down the discovery cycles for several drugs as well, making them available in an early and efficient manner.
Conclusion: in what ways have mobile devices reshaped the healthcare industry?
As we saw above in the article, not just healthcare companies but a lot other industries as well, are looking towards investing their resources to use technology in developing Medical Devices to bring about a favourable change in how they serve their patients/customers. We at [x]cube LABS possess expertise in the Healthcare and Medical Devices sphere, we build transformative experiences and help organisations realise how they can attain their full potential using technology.