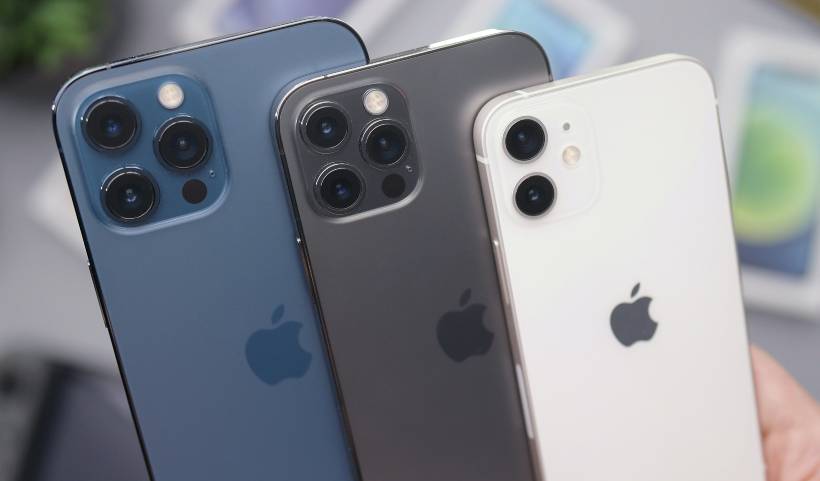 Table of contents
It's almost September. We're at that time of the year where Apple fans wait for the launch of new Apple products, anticipating exciting features, guessing the specifications, predicting costs, and a lot more. And Apple, as always, doesn't fail to build up the hype until the new products are unveiled. Last year, the iPhone 12 series came equipped with 5G connectivity, an A14 bionic chip, and claimed to be the "toughest" and "brightest" iPhones yet- with the ceramic shield technology, living up to the excitement by Apple enthusiasts. But if rumors are to be believed, then Apple is planning a major leap in innovation with their upcoming iPhone 13 series, outdoing themselves yet again.
The iPhone 13 might feature hardware that can allow it to tap satellite communications
Reports predict that the new iPhone 13 will feature satellite connectivity. This means that you can make calls and send texts in areas that lack cellular coverage. Yes, you heard that right. The hardware of the new lineup is ready to support communication via low earth orbit (LEO) satellites even in areas where 4G or 5G network isn't available. This news comes from iPhone noted Apple analyst Ming-Chi Kuo. Speaking to investors, Kuo also mentioned that the LEO satellite connection might also arrive on Apple's other products, including AR/VR headsets.
How does the Apple iPhone 13 satellite connectivity work?
Reportedly, Apple is working with Globalstar, an American satellite company to enable satellite communication on the new iPhone 13. Qualcomm is reportedly working with Globalstar to provide satellite connectivity over the n53 band on mobile devices using their X65 chip. However, the iPhone 13 series might get the same experience through the X60 modem. The new iPhone models may come with the availability of LEO satellite communications alongside mmWave and sub-6GHz 5G connectivity.
What can't be confirmed at this stage is whether the satellite communication feature will support regular voice calls and messaging or would it be limited to Apple services such as FaceTime and iMessage. The reason this appears dicey is that to be able to support regular voice calls and messaging, individual telecommunication operators would need to work with satellite companies as well, to enable satellite communications.
Who can benefit from Apple's mobile satellite communication?
If we take a look at the global network coverage statistics, we can see that many regions globally do not have the privilege of network access. A lot of regions, especially the "remote areas" have little or no access to mobile networks. A solution such as iPhone's reported satellite connectivity can help resolve this problem.
Besides, there are many industries that work in remote areas of the US that could benefit from satellite connectivity due to lack of access to proper cellular network coverage. Enterprises that seek private communication systems off the public grid can also benefit from this advancement.
If satellite communication is actually introduced with the iPhone 13, as we expect, it would definitely create many opportunities in existing markets that are exploring technology and the ones that plan to do it in the future.
What are the possible hindrances in the adoption of satellite communication-enabled iPhones?
Primarily, the cost. The innovative feature may not attract urban users who never face network accessibility issues but would be great to have for users and enterprises that work in remote areas with limited connectivity. However, the price of the iPhone 13 is likely to shoot up given the costs involved in the hardware that enables this feature. Experts predict that if this feature is launched, the price of the higher-end model might go up to $2400. And let's face it, not many users will be willing to spend that much money only to send messages and make calls when in a limited connectivity zone, given the fact that there is a usage cost too- Globalstar plans cost about $8.95 per month for a single text message per day and $199.99 per month for unlimited calls.
iPhone 13 release date, price, and expected features
The Apple iPhone 13 series is expected to debut on September 14th, 2021 but Apple is yet to officially confirm the date. Similar to the iPhone 12 series, the iPhone 13 series is expected to come in four variants – a lower-end iPhone 13 mini, a basic iPhone 13, a higher-end iPhone 13 Pro, and the most advanced iPhone 13 Pro Max.
iPhone 13 specs could include an A15 Bionic chipset, up to triple cameras, 25W fast-charging, and 256GB storage. Other major upgrades the iPhone 13 series is expected to bring is the "Always-On display," feature and high refresh rate displays. The feature can surface notifications, time, date, and more when the iPhone is shut. Additionally, extended battery life and face unlock feature with mask on are also some interesting upgrades that we can expect.
While Apple is expected to largely keep the same prices as last year, the satellite connectivity feature, if implemented, could escalate costs, and consequently, prices.
The Apple iPhone 13 satellite connectivity will pave new way for everything tech
As we mentioned, this feature from Apple would definitely be of interest to enterprises that seek private communication systems or to deploy satellite communications across their international workstations. So that's one major benefit that we can foresee from this innovation. But the advantages would go a lot beyond that. This connectivity feature will also become a bridge that supports IoT deployments on a global scale, overcoming challenges of limited connectivity. This would extend to cars and AR/VR glasses, and so on. Successful implementation of this feature would also mark a turning point in mobile advancements as well as the mobile app development landscape. This move from Apple that is intended to develop "innovative user experiences that can be integrated with new products' seems exciting, but we're yet to see how this pans out.