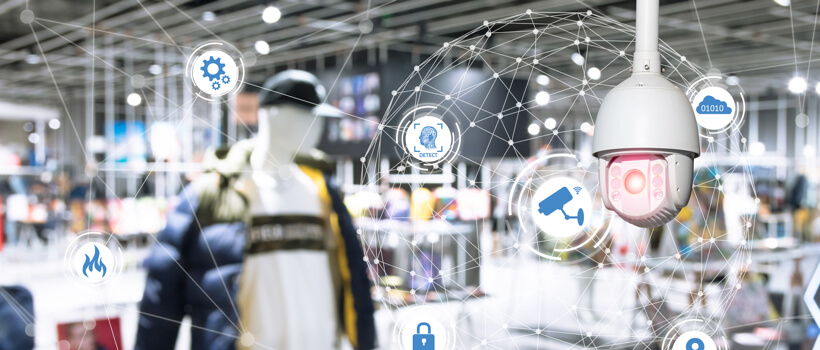 Table of contents
Why is a transformation required?
Retailers are struggling to cope up with challenges, such as the ever-changing customer expectations, declining customer loyalty, internal communication gap, employee retention, and management of operational efficiency. With eCommerce growing in popularity and more brick-and-mortar stores bringing their customers online, retail business leaders should look to leverage technology to transform customer experiences and stay ahead of competition. Among the emerging technologies, IoT is increasingly helping the industry reduce costs & inventory error, drive growth, optimize supply chain management, and improve overall performance.
The global Internet of Things (IoT) in retail market size is expected to reach USD 94.44 billion by 2025, according to a new report by Grand View Research, Inc., exhibiting a 21.5% CAGR during the forecast period.
The technologies that retailers are currently using (and spending on) reflect the omnichannel nature of today's retail businesses. Systems that can help retailers track inventory and fulfill orders across multiple channels are becoming more critical as consumers engage with brands across a variety of touchpoints, often in a single purchase journey. The chart below reflects that trend, with inventory management systems, order management systems, and order fulfillment software the top choices among respondents as per Total Retail's 2020 technology report. 
Among the many potential differences IoT can make in the retail industry, here are 10 of the most relevant ones.
Smart ShelvesSmart shelves can perform multiple tasks that can save your employees a great deal of time and increase their efficiency. They can keep track of products both on display and in stock shelves and notify employees to replenish when running low. Not just this but these smart shelves can also identify misplaced items and help employees put them back in place.Smart shelves use weight sensors and RFID tags to automate both of these tasks, while simultaneously detecting potential theft.This way you can make sure that you don't run out of inventory and reduce possible losses by smartly protecting yourself against theft.
In-store Layout OptimizationKnow where your customers spend most of their time in your store and what they like. You might find out that your store isn't optimized for your customers' behavior. By employing aisle-analytics software with infrared sensors, you can use IoT technology to improve your retail layout. Shift the items that your customers are most interested in to the front where they can gather more attention. This important consumer behaviour knowledge can be very important for your store
Automated CheckoutLong queues and waiting times could possibly lead to customer churn. On the other hand, maintaining a larger workforce to deal with congestion may not be economically feasible. With IoT, you can set up a system to read tags on each item as the customers appear at the checkout or leave the store or even as they put items into their shopping basket/cart.You can further automate the billing and payment process by directly generating the bill to your customers' mobile phone or email and deducting the payment from their payments app. This seamless process can result in high levels of customer satisfaction and end up saving your customers a lot of time which would likely make them return to your store more often, even when they are in a rush.

BOOK A CONSULTATION FOR FREE!

Transform your business with IoT. Talk to our tech architects and start today!

Digital signage and IoTWith the modern consumer's attention being pulled in multiple directions at once, retailers and enterprises have to change the way they engage their customers if they want to stay competitive in the digital marketplace. The Internet of Things (IoT) is transforming the way that companies connect with consumers through advertising. Smart signage solutions allow companies to deliver more targeted ad campaigns and dynamic marketing based on real-time, geographic data.Enhance the in-store experience by delivering targeted advertising related to the products that your consumers are already shopping for.Keep customers up-to-date with the latest product news and promotions by delivering information straight to buyers in retail locations.
Personalized DiscountsLoyalty programmes are quite common in the retail segment. But right now, personalization is key. Your customers are more likely to react positively to personalized offers and discounts.If you have frequently returning customers, we bet you'd like to reward them for their loyalty. With IoT, you can set up sensors around the store that send loyalty discounts to certain customers when they are at set locations around the store with their smartphones if they have signed up for a loyalty program in advance. You can also use IoT to track what the customer has been looking at online or during their other visits or the current one and make offers or provide discounts based on them.For example, imagine if your customer had previously viewed a pair of sneakers online but didn't purchase them due to a high price. Instead of running general offers, you can offer that customer a discount on the item of their interest, increasing the possibility of a purchase. Consider another scenario where a customer has bought paints in their recent purchase. You can offer them a discount on a canvas or a sketchpad or sell them as a combo pack.
BeaconsBeacons, first introduced by Apple in 2013, are small, cheap Bluetooth transmitters. Apps installed on iPhones listen out for the signal transmitted by these beacons and respond accordingly when the phone comes into range. In the retail industry, this means customers can receive discounts, special events, or other reminders when they're near a shop and have previously downloaded the store's app.Not just within stores, but beacons can also be configured to send alerts to people passing by. This can be used to advertise the currently running offers or in-store events.
Predictive equipment maintenancePredictive equipment maintenance is used for energy management, estimating equipment failure, and preventing other problems before they occur. For example, every grocery store houses a lot of complex equipment, such as refrigeration units and HVAC systems. When these units are fitted with sensors, you can forecast maintenance issues that may impact the power consumption for savings or even monitor the temperature fluctuations to ensure food safety.Here's how Coca Cola Hellenic Bottling Company used smart refrigerators to ensure the optimum performance of their coolers while increasing sales by the use of beacons and managing their supply chain using sensors.
Optimizing Supply Chain ManagementYou can use IoT sensors to monitor goods throughout the entire supply chain. RFID and GPS sensors with IoT can help you obtain more precise and accurate data. With the help of tracking systems, you can get valuable data such as location, temperature, and humidity, among others, thereby providing insights for quality control.If you've got a long line of suppliers, truck drivers, and vendors handling your products, it's imperative for you to accurately keep track of how your product is handled and where it's located in the supply chain. This information helps you ensure your process is running as efficiently as possible, and can help you get your product into your customers' hands faster.
Demand Alert WarehousesDemand-alert warehouse fulfillment is about warehouse automation driven by in-store and online shopping demand. IoT permits you to monitor sales and opportunities in real-time. It even allows you to track missed in-store sales. It's necessary to note that RFID is a well-tested part of IoT that can be used for more accurate service level optimization and for inventory management. With the power of technology, the warehouse of the future will be an open space in which the automated pallets will self-organize depending on real-time demand.
Customer satisfaction monitoringWe've been talking about numerous uses of IoT in your retail store and how they can help you increase efficiency and drive sales. Another metric that all these efforts lead to is customer satisfaction. IoT has proved to help retailers provide customer satisfaction to a great extent. The IoT sensors have the capability to collect feedback quickly so you can work on them and provide a better customer experience.Customers tend to give feedback when asked for it. With IoT, you can send notifications to customers asking for feedback right when they step out of your store. This way you can gather fresh insights. Even if customers choose not to give feedback at that moment, you can always ask again, when they return to your store.
Conclusion
IoT can reduce inventory error, optimize your supply chain management, and decrease labor costs. Ultimately, IoT can help your traditional brick-and-mortar shop compete with today's online-first shopping world, by exponentially improving customer experience and decreasing unnecessary expenses.
The market conditions and consumer behavior are changing dramatically. So are you informed and equipped enough to face this change and sustain?