The Internet of Things (IoT) is not a buzzword anymore. It is gaining significant traction and is all set to become the dominant technology in the enterprise space. According to a report by BI Intelligence, it is estimated that by 2019, IoT will be double the size of the smartphone, PC, tablet, connected car, and the wearable market combined. It will result in $1.7 trillion in value added to the global economy in 2019.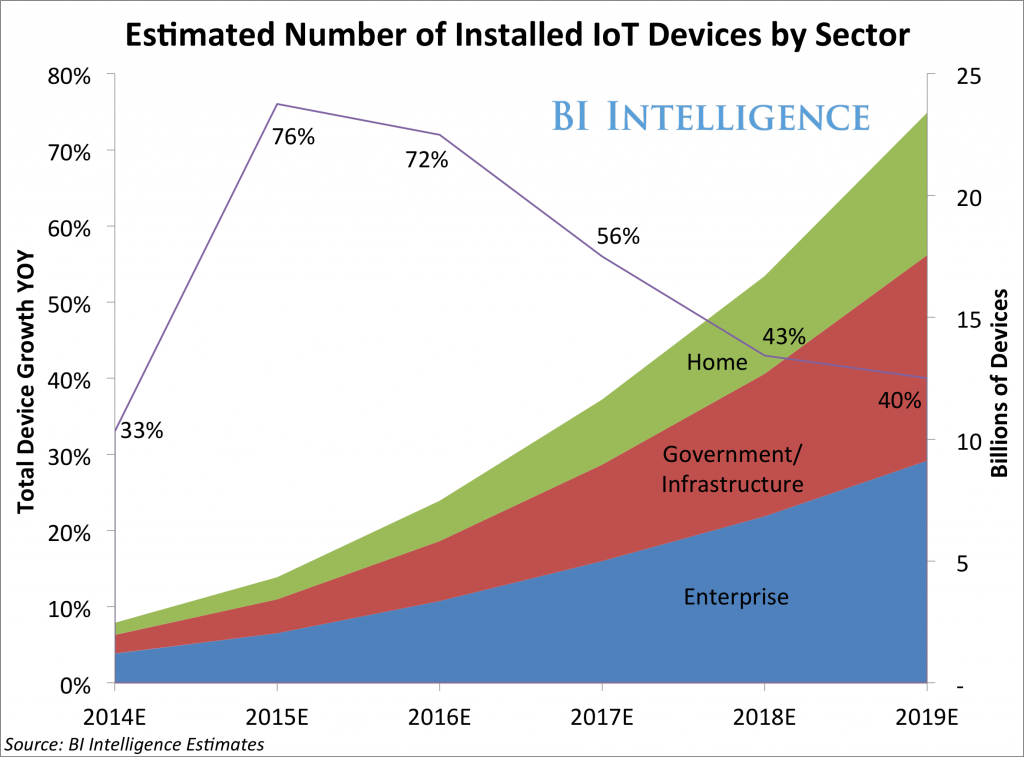 Image Credit: BI Intelligence
So, what's driving IoT growth in enterprises? Here are the 3 drivers that is pushing growth of enterprise IoT–
1. Helping enterprises build competitive advantage and boosting operational efficiency
Many organizations are looking for new ways to differentiate themselves from their competitors and to fend off threats from new entrants. The ability to use and capitalize on the data collected by IoT is helping firms build and sustain competitive advantage. Companies are using IoT to find new revenue streams and improve margins. For example, industrial equipment manufacturers are selling outcomes, like machine hours, rather than just products.
IoT is also helping companies increase their operational efficiency by enabling them to monitor assets in a real-time basis. For example, monitoring shipping containers for temperature changes that could affect the quality using battery-powered sensors and 4G LTE connectivity.
2. Better understanding of customer behavior resulting in improved customer experience
IoT is helping organizations improve the customer experience by providing organizations with data necessary to better understand customer behavior. Organizations can use data to understand where the customer is and what they are doing. This makes it possible to understand what the customer needs.
IoT is transforming the delivery of goods and services. For example, major retailers are leveraging telematics and asset tracking solutions to speed-up order delivery. And the same data can be used to offer customers the ability to see exactly where their delivery is via a smartphone app or a website. IoT is also enabling organisations to reach out to tap new markets.
3. Improving safety and reducing risks
IoT is enabling organizations to improve environmental standards, improve efficiency and cut waste. IoT can help employees working in hazardous areas by alerting them to hazards. Automobile and train companies are also fitting vehicles with IoT-enabled systems that can predict and help prevent accidents.
IoT is also enabling organisations to remotely monitor sensitive inventory, equipment, and plant & machinery. Connection motion sensors with locks and alarms can help detect unauthorised access and automatic activation of countermeasures.
It's still early days for Internet of Things in enterprises. As the adoption of IoT grows more in enterprises, we will see businesses leveraging the technology in discovering new benefits for them and optimizing it.
To know about enterprise IoT in detail and how your business can benefit from it, download our latest eBook 'Building a Connected Enterprise' here.