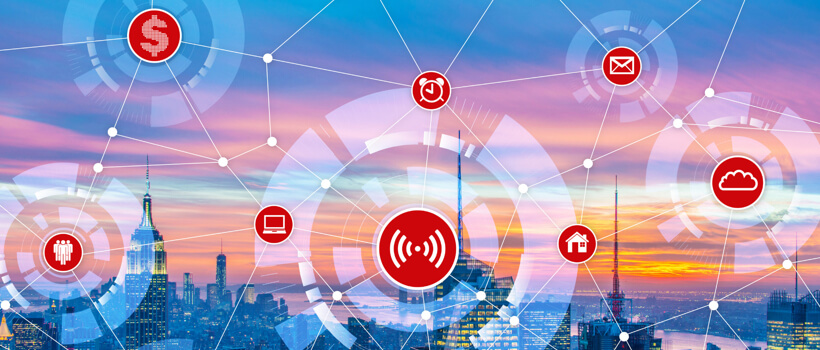 Table of contents
Speaking about the Internet of Things, have you ever wondered how your devices communicate with you on multiple levels?. From school to offices and from healthcare centers to industries, there are tons of devices that operate on the same system that interconnects them all.
In this, we will be offering a guide to what the Internet of Things is and how it operates on sop many levels in our day-to-day life. To understand the system, we must first know the actual meaning of IoT and what does it make of?.
What is IoT or the Internet of Things?
IoT or the Internet of Things is a system of multiple interconnected physical devices that communicate through the internet in our daily lives. Their primary task is to collect data and transfer it to other applications and devices that too function on the same system.
This data can somewhat communicate with us, either to offer services or to answer our queries. These devices are also able to communicate with their other counterparts and transfer data from one device to another in no time.
The devices that operate in the IoT system are called IoT devices and they can generate sensory data, biotelemetry data, and various other forms of data to transfer or receive information. These devices have their mini processors like in normal computers. These processors act based on machine learning and collect further data due to their sensory abilities.
Defining IoT Systems: the [x]cube Way
The Internet of Things system is based on its four main pillars, these pillars are commonly used in our day-to-day life and perform various operations on the internet. These four integrated parts are,
Devices or Sensors, help in transferring data to the cloud.
Connectivity along with wit Data Collection acts primarily to transfer data to the clouds, methods are, HTTP/S, Bluetooth, RFID readers, and FTPs. These methods require a host to collect the data.
Machine Learning, is a stage where all the devices process the collected data and then perform actions according to the data they collected. All of this happens based on preferences.
The user-Interface is a medium for users to decide on their actions using the traditional user interface. 
Why Does IoT Matter to Your Business?
 As the world is growing its need for technology is also growing to prominent levels. We can see that there are almost 50 million people that are using devices that solely function on IoT. All of these devices is interconnected and strongly perform their tasks of generating and communicating data with each other.
This helps both consumers and business owners to completely trust IoT and its IoT-centric devices with their functionality and operations. This lets humans understand the possible strategies and ideas one can have while using an IoT-based system, allowing for better and more precise decision-making.
There are tons of benefits of IoT in our day-to-day lives that we can experience multiple times a day. There was a time when only consumers used IoT for their entertainment and daily activities, however, things have changed now and now businesses are also moving towards this system. 
What are the Advantages of IoT
Just like we mentioned above there are multiple cases where IoT is currently performing in a revolutionary and innovative way that might have not been possible a decade ago and the continuous advancements are making the world of IoT more and more stable for the upcoming times.
Here are some of the benefits that IoT offers us in multiple sectors,
Automation in Industrial Sector
Multiple industries are using the internet of things to increase reliability and sustainability in their production and growth. This is more common in automated industries where you see multiple robots building or manufacturing things and not humans.
If such industries adopt any traditional medium such as manufacturing through humans, it will slow down the production and will increase multiple requirements such as labor wages for the company. Manufacturers want to gain as much as they can, and this is why they use devices that communicate through the internet and perform multiple tasks.
Companies contain the data of sensory motions of these robots to utilize them on their own. Furthermore, this also opens the door for scientists working on data to modify these machines with features that the industrial sector will be able to detect when the so call IoT-based robots or infrastructure has reached its limit.
This will reduce the risk of sudden expense on repair and management and will require fewer management efforts by the company. It will increase the production level, and efficiency of the product and will be able to build a trustable reputation for the company. Manufacturers are also having the advantage of checking the health points of their devices and also predicting the maintenance time. 
Collection of Data
It is no surprise that now we as humans are having a lot of data scattered around us. There was nothing like this some 20 years ago, but as we move from platform to platform exposing ourselves to the never-ending realm of the internet we are now more exposed to tons of data that never stops flowing. The speed of this data is also increasing day by day without ever stopping.
There is no doubt that the future of the human race will be enriched with data. And the puzzling factor related to the data is that humans are unable to decide and analyze the data that they are exposed to now and then. So the answer to process it was the Internet of Things, along with analyzing and processing it for humans to utilize it for their betterment and growth.
IoT has a very unique approach to collecting data and then transferring it to its integrated devices. It collects the data from several places and then processes it to perform multiple tasks on various mediums wherever these devices are performing.
Personalized Customer Experience
Since it is a system based on multiple integrated devices all to communicate and share data, it offers a personalized customer experience to humans. Customers are getting a level of support and trust from these devices and can communicate with them without any hindrances.
Customers have the perks to enjoy these services on air, sea, and land. These devices provide continuous improvements to users as they collect data based on what their consumers or client prefer. This makes their link with their clients or consumers stronger than ever while fulfilling their needs.
Greater Revenue
The better the experience the better the revenue, whether it industrial sector or health, if consumers are getting personalized experiences and are happy to be offered services by IoT devices, it will automatically turn the Internet of Things into a profitable and great revenue-based system for multiple sectors.
It is a great alternative for small businesses that are struggling to reach certain business heights and are trying their best to elevate their reputation in challenging market conditions.
Stable Public Sector
Whether it is the public sector or private sector, IoT-based devices offer notifications related to water, energy, and many other essentials and utility-related elements. They collect the data on the area where their clients or consumers are living and notify the government based on their consumer's need to enhance living standards.
This means that IoT devices massively improve the conditions of their consumers both in the private and public sectors.
Progress in Healthcare 
Last but not the least, IoT devices are strongly embedded in the healthcare sector. We see tons of machines and labs that operate on such devices and perform pretty well for their consumers. From sensors to trackers, the internet of things in healthcare is resolving many issues that were a massive pain in the early technological years.
Furthermore, they also help in improving the financial systems of these health care centers to avoid consumer outrage.
Concerns Regarding IoT
It doesn't mean that if IoT is progressing in multiple fields there won't be any reservations or concerns related to it. Everything has its flip side and so does IoT, there are two major concerns related to IoT that we usually witness on a massive level. Both of these concerns are elaborated below.
Security
If there is progress then that means there will be some challenges parallel to the progress that the world s experiencing and this is the case with IoT. With the internet of things, cybersecurity implementation has to be beefed up, and uncertainties around this have resulted in many business leaders delaying their implementations.
The alarming increase in the number of devices is a threat to security and can lead to possible security breaches in the future. Hackers can access the consumer data on multiple levels, on the other we might collectively experience security or software glitches that can occur due to any malware in the IoT system.
Standards of IoT
With more and more growth, consumers tend to demand more and more modification. And the current demand from consumers is to define a set of uniform standards for both industries and for consumers who regularly use IoT devices for daily tasks.
This will expose companies that can alter consumer data for their benefit and can use that data to create traps for consumers. This means that in the future manufacturers ay have to provide liability and security to their consumers so that their consumers can enjoy a safe IoT-based sphere.
The Future of IoT According to [x]cube LABS
It is no surprise that the future belongs to technology and advancements and the internet of things is a  powerful system that is slowly and continuously building its reputation for a more digital future for the human race. Companies such as Tesla are now recognizing the potential of IoT and are now working to introduce IoT-based projects for their consumers. This means we will be able to witness more tech-based companies adopting the same approach.
However, like any other growing technology, the risks and threats are inevitable and can have drawbacks in the future. Currently, IoT-based devices are working and offering three main services to their consumers, maintenance, integration, and data procession.
After performing all three services they can communicate it to multiple mediums making it easy for the consumers. Perhaps in the future, this might include more revolutionary features for the consumers and lead up to efficient outcomes for all sectors in general.
Conclusion
We can safely say that currently, IoT is serving multiple sectors with ease and there is a possible drawback to the system but without IoT, it is almost practically impossible to meet the communication conditions and challenges meet.  However, there is always room for improvements and for better features that can be installed to make the realm of IoT more convenient and effective for its consumers.
Multiple enterprises are also curating ideas and projects that can eliminate the security and safety threats that come with IoT devices and are moving towards uniform standards for their consumers.