[x]cube LABS received the prestigious HITRUST CSF Certification
[x]cube LABS has received the prestigious HITRUST CSF Certification for implementing the highest levels of information security across multiple products in healthcare. HITRUST CSF Certified status demonstrates that the organization's designated healthcare apps have met key regulations and industry-defined requirements and is appropriately managing risk. This achievement places [x]cube LABS in an elite group of organizations worldwide that have earned this certification.
Through our experience of working with more than 30 Fortune 2000 companies and developing over 850 best-in-class digital solutions which have generated tremendous value, we have always been committed to excellence across every vertical we've been in, as our work and the recognition we've received can testify. This certification is a further testimony to [x]cube team's hard work and commitment to delivering the best in industry solutions.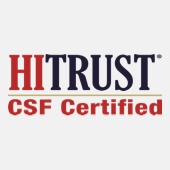 HITRUST CSF CERTIFIED ORGANIZATION
Recognized for following a stringent approach to regulatory compliance and risk management
View More