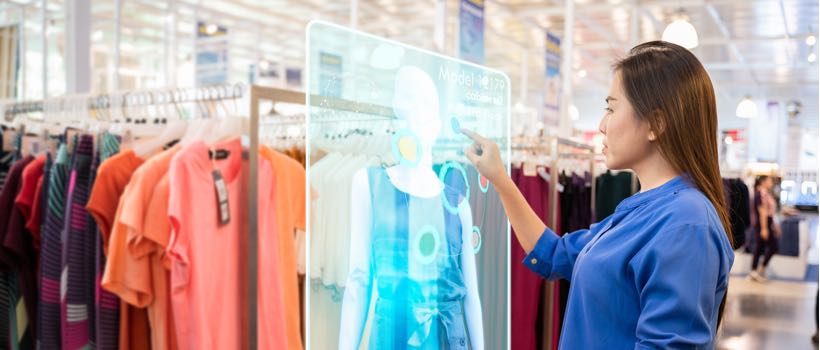 Augmented reality (AR) and Virtual reality (VR) have come a long way from being immature technologies to creating a massive impact completely. With over 8.9 million AR/VR headsets sold in 2019 and AR enabled smartphones, it can be seen that consumers are acknowledging these technologies. These groundbreaking technologies are also referred together as Extended reality (XR) due to the similar nature of use and functionality.
Retail is one of the most competitive fields of the economy. It is common knowledge that no matter how niche your market might be – you have to fight for the place under the sun, you have to persuade customers. That makes retail businesses particularly interested in finding new and more elaborate ways of engaging customers and establishing new brands.
Lowe's, a major North American retailer of home improvement goods, has dreamt up an interesting in-store use of VR. Using an HTC Vive and a specially made controller, the 'Holoroom Test Drive' allows anyone timid around power tools to put on a VR headset to learn how to use the tools in a safe virtual space.
Ikea came up with the Ikea Place ARKit app, which avails users a 3D preview of the chosen furniture at the desired spot in their homes/offices. The users can look for the fit and preferences in the furniture items.
Topshop, for instance, partnered with AR Door and used Kinect motion sensing technology to create a virtual fitting room for customers in their Moscow store. By standing in front of the camera, customers were able to see how clothing items looked on their bodies without physically trying anything on.
The key challenge is developing software that works with AR/VR devices for these specific use cases. According to a Goldman Sachs report, AR/VR retail software revenue is expected to reach $1.6 billion by 2025.  
Retailers can use this technology to fundamentally change the way consumers shop, creating deeper engagement, increasing customer delight and efficiency to drive sales and maximize ROI.
Retailers must also anticipate the changes in consumer behavior due to the spread of the coronavirus pandemic globally. While consumers are largely dependent on CPG manufacturers and retailers for a constant supply of essential goods, retailers are facing a tough time catering to the surge in demand while keeping up to safety standards and living up to customer expectations. On the other hand, retailers that cater to durables have temporarily closed their brick and mortar establishments and are continuing to engage customers on various online platforms and through other initiatives.
Now, more than ever digital transformation will play a critical role for retailers. Implementation of AR & VR in retail helps retailers and consumers alike have a better shopping experience while reducing operating costs of retailers and offering an immersive, engaging and safe experience to consumers.
While AR and VR fall under the same realm, there is a significant difference in the hardware and software that goes into enabling these technologies and the experience that they create. While AR layers digital information into real world scenarios, VR offers a whole immersive experience. A multitude of devices such as smartphones which a vast majority of consumers possess are already AR enabled making it more accessible, economic and easier to execute. Over two billion smartphones are capable of displaying high quality, true-to-size AR content. VR on the other hand requires specially configured devices that are rather costly and not possessed by the average consumer. Although the number of VR devices being sold has seen a significant increase over the years. Hence we'll be discussing both these technologies individually in the coming sections.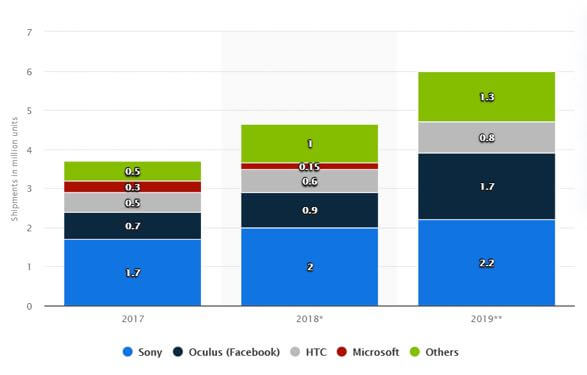 Here's how AR can benefit retailers and improve shopper experience:-
How VR is transforming shopping experience:
Creating virtual encountersVR can help overcome the hassle factor of shopping. Here's one example: according to a McKinsey study, the average car buyer today visits 1.6 auto dealerships, down from five dealerships 10 years ago. Many call the experience boring, confrontational and bureaucratic, according to The Economist. But given how complicated cars are becoming, customers also want a knowledgeable person to talk them through all the features like entertainment systems, navigation services and automated parking.

On the other hand due to the global pandemic situation, consumers wouldn't prefer visiting multiple showrooms or interacting and coming into contact with many people.

VR can bridge consumers' seeming conflict between the desire for personal service and unwillingness to visit a store by enabling experiences virtually. For a car purchase, this might mean exploring the cockpit or taking a virtual test drive.

V-commerceAs consumers are now more comfortable shopping online instead of visiting physical stores, you should focus on making your e-commerce channel more powerful and experience driven.

The potential for using virtual reality in online retailing is obvious: it allows retailers to create much more immersive and engaging experiences that mimic those of physical retail stores, as well as adding enhancement not possible in the real world.

In-store VRVR can be used to make the in-store experience much more compelling and interesting for the customer, and add real, tangible benefits for the retailer. As the design of retail spaces becomes much more intelligent, focusing on maximising footfall in the right places at the right times, VR can have a measurable impact on key metrics.

Because it's still a relatively novel technology, having a VR installation in-store can drive footfall by creating a buzz around a particular part of the shop. In turn, this can lead to increased dwell times – and if the plan for the VR area is well thought out, this can mean additional sales for key items and more browsing of important product categories.

Toms shoes company chain is one nice example of VR for retail. The company follows a One-for-One giving model, in which it gives a pair of free shoes to a child in a developing country for every pair purchased by a customer. To bring that to life, Toms developed a 360-degree Virtual Giving Trip campaign to give customers the opportunity to experience first-hand the impact of their purchase.

Facilitate employee trainingTraining employees is a complicated process. This exercise can prove costly if the employee makes some mistakes during the training process resulting in a financial loss for the employer. The use of VR can minimize the risk involved in the training procedure. Using Virtual Reality technology, employees can be trained by simulating real-life environments and situations.

Walmart adopted VR to help identify employees for management positions. Wearing Oculus Go VR headsets, associates are immersed in real-life situations, such as calming an angry customer or taking new employees on a store tour to test their decision-making, leadership capabilities, and soft skills in challenging situations.

Conclusion

Retailers that already have AR and VR capabilities in place are better prepared to adapt to the changing customer behaviour. AR and VR collectively offer a unique shopping experience to your customers that helps them make better decisions while saving their time and keeping them safe by either reducing contact in stores or enabling an immersive experience while shopping from home.

That's why it's a good time to think about how you can use AR and VR in your online and physical stores. Customers will return, not just for a bargain, but for the experience your store offers.