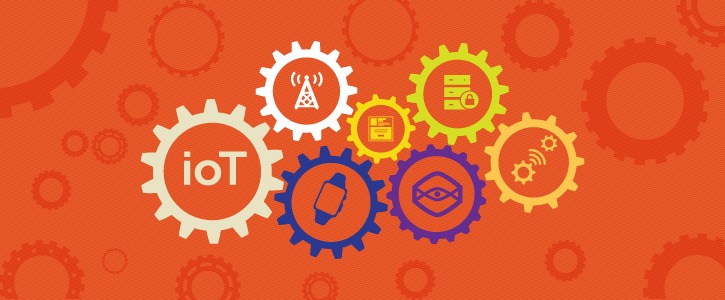 2015 turned out to be a huge and impactful year for mobile technology. With increased integration of devices and a phenomenal increase in the number of smartphone users, 2016 is going to be even bigger.
Analysts predict a much more extensive demand for mobile apps and solutions among enterprise in 2016, fuelling an optimistic growth curve for app development companies and mobile solution consultants.
Here's our take on what would be some of the defining trends in the mobile technology space for 2016
1. Internet of Things (IoT) Will Connect Over 35 Billion Devices
As more and more devices get connected and there is a steady improvement in the links between different gadgets/equipment and mobile apps, 2016 promises a tremendous potential for IoT. Wearable tech is not the only thing that can change your life – even your vehicle, electronic devices, hardware and home tools will witness transformation. Analysts predict a substantial increase in the number of devices connected to the internet (mobile especially) – while Gartner puts it at a whopping 35+ billion by 2020, 'the INQUIRER' envisages a 285% increase. By 2020, 250k connected vehicles are likely to hit the market.
According to a Gartner study, "the IoT will bring into the digital security architecture dozens of new platform options, hundreds of variations on hybrid IT/IoT integration, new standards per industry, and a new view of an application… and IT leaders will need to balance digital business requirements with digital security realities."
The increasing demand for connected objects – home improvement tools, domestic appliances, toys, and home security systems – will make smartphones/tablets a hub of information and communication. So, be prepared to usher in the new era of digital disruption.
2. From Gloves To Jackets, Anything Can Be A Wearable
Fitness, sports and healthcare sectors continue to be benefited by wearables. With big players like Motorola and Intel entering the fray – especially in the Android segment, companies are now spending millions into improvising their wearables. Move over smartwatches and fitness bands – now anything from your gloves and socks to jackets, sneakers and caps can be converted to a wearable device. Consumers can probably expect better, efficient, useful and cheaper wrist-wear with long-lasting batteries, more sensitive touch screens and better sensors.
Having undergone a major makeover, the redesigned version of Google Glass boasts of better battery life, faster processor and improved connectivity. However, this version is available only for enterprises and is not up for grabs in the commercial marketplace for individual users, yet. Nevertheless, companies which experimented with connecting Glass to healthcare, retail or other industry segments will likely see a greater impetus and reap major benefits in 2016.
3. AR will Witness Tremendous Growth in New Sectors
Though relatively in its nascent stage, Augmented Reality is expected to witness a rapid growth by 2020. According to Industry analyst firm CCS Insight the amount of AR and VR devices sold will rise from 2.5 million this year, to a whopping 24 million in 2018. It forecasts that the market will be worth more than $4billion.
[Tweet "AR and VR devices sold will rise from 2.5 million this year, to a whopping 24 million in 2018"]
Another study puts the revenue generated by AR apps in just two sectors – enterprise and entertainment – at a phenomenal $1+ billion each year. So, it's not just gamers and movie-goers who will enjoy the AR/VR experience. Even in sectors like retail, transportation, real estate, hospitality, healthcare, and architecture, AR is likely to see innovative application and growth.
Oculus Rift is not the only thing to be excited about; other VR devices that aim to deliver a richer experience of the world around us are likely to flood the market in 2016. With the biggest players in technology investing millions of dollars into developing AR devices (Google Cardboard, Hololens, HTC Vive, Samsung Gear VR, Magic Leap, etc), AR ceases to be a distant dream and is all set to take the consumer world by storm.
4. Beacons Will Change The Way Companies Engage With Customers
Location-based customer communication is not a new concept but with increasing deployment of beacons in retail industry, more retail stores – big and small alike – started exploring their potential to target customers with timely push notifications. We cannot ignore the way this trending technology is influencing a consumer's shopping behavior and experience.
It's now the turn of hospitality, advertising, airlines, and sports sectors to leverage beacon tech in a big way and revolutionize the way businesses engage with consumers at a personal level but in an unobtrusive manner.
With shrunken hardware, improved Wi-Fi and Bluetooth technologies, beacons are the way to go as they certainly provide the essential tools to entice customers. The BI Intelligence report indicates that beacon technology has the potential to drive $44 billion in retail sales in 2016.
[Tweet "Beacon technology has the potential to drive $44 billion in retail sales in 2016."]
5. Businesses Will Focus on Consumers & User Experience
Companies will be forced to make their presence felt in the mobile space in years to come. As consumers are increasingly turning to their mobile devices to carry out transactions, you're likely to be swept aside in the tide of digital disruption if you're not already prepared.
Mobile-centric solutions will become inevitable for all businesses, and conversion rates & ROI on mobile will significantly increase. With users on the go, mobile searches are believed to convert better than searches on laptop/desktop for many verticals.
The current tech environment is conducive for the development of varied mobile apps which needs to be the focus of enterprises this year. Consumer apps have increased user expectations and their demand for better UI and UX elements. So, enhanced user experience, consumer-centric approach, and unique products & designs will be key to ensuring stickiness and loyalty.
6. Security Architecture & Enterprise Mobility Will Go Hand In Hand
As enterprises are increasingly encouraging BYOD, the complexity of handling security threats and challenges is one area that needs focus. Traditional security measures of blocking attacks and rule-based security will prove useless in today's era of Cloud Services and Public API platforms.
With more companies letting employees bring their own devices to work, accessing company-wide data and syncing it with their devices, sharing files over unsecure networks poses a serious threat to security. It's, therefore, essential for enterprises to think of new and effective ways of managing enterprise mobility and ensure that its security tools work well across devices, operating systems and networks.
7. Simplification Will Be The Key To Success
Right from building apps to improving security measures, from infrastructure to technological systems, from functionality to scalability – enterprises need to aim at simplifying stuff. This not only ensures flexibility both to consumers and developers but also positively impacts the app development process.
Integrating software and applications with cloud-based services has given rise to 'serverless computing' and will surely help enterprises move away from CapEx model to OpEx model in the ensuing years.
With Cloud becoming the most secure way of storing data, more enterprises are going to migrate data from their servers/data centers to cloud and leave the security aspect to providers. Similarly, using Public APIs and Open Source software will not only help companies increase scalability at a lower cost but also enable small businesses to grow rapidly.
So, based on the predictions, do we believe that these trends are going to be game-changing for mobile technology? Yes, 2016 will be huge for enterprises and will make them a cut above the rest provided they are ready and willing to gear up and ride on this new wave of digital disruption, and be part of the immense growth curve.