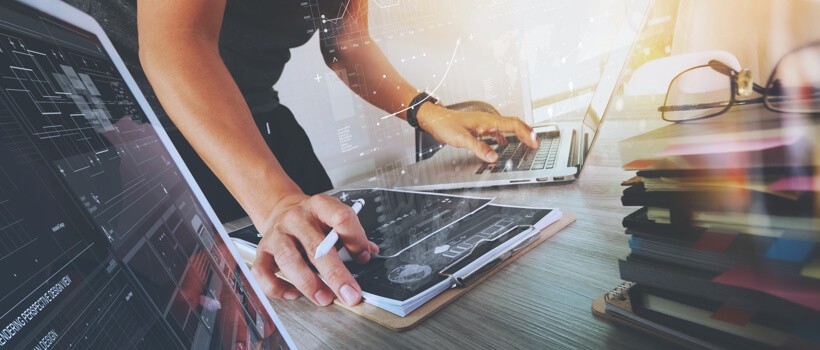 "90% of CEOs believe the digital economy will impact their industry, but less than 15% are executing on a digital strategy" – MIT Sloan
Simply focusing on the technology is not enough. The first step towards digital transformation begins with a solid strategy. A strategy that can haul the real value of digital technology to create competitive advantage and business growth.
This includes business strategy, customer experience strategy, product, and services strategy, digital technology strategy. Also, digital information and digital investment roadmap are required to provide a great user experience.
What Is Digital Strategy?
Enterprise Digital Strategy is a blueprint of digital technologies for digital initiatives to achieve business goals. A strategy that is focused on deploying digital technologies to improve business performance by creating new products or reimagining current processes. As per Mckinsey's case study, a correct digital strategy can reshape every aspect of the enterprise and bring benefits. It will lead to high-level policies, business priorities, investment limits, innovative problem solving, and long-term goals. To build an enterprise digital strategy, an organization must prioritize the integration of technologies and adopt digital solutions into their business strategies to survive in the digital world.
Become An Instinctive Enterprise
The focus here needs to be able to use technologies to transform the businesses. As per the Interxion and IDC report, they have defined digital transformation as the use of digital technologies such as cloud, social media, Big Data, mobile apps to fundamentally change an existing process or to do something new that was previously unfeasible/impractical. A digital enterprise is defined as an organization that uses multiple digital technologies to transform a part or all of its business. On that basis, it is clear that companies appreciate how significant enterprise digital strategy is today and to what extent it will be in the future.
An organization must have an enterprise digital strategy to become an instinctive initiative and use the analytics and data to sense and reshape the opportunities to win over their competitors.
50% of CIOs believe that their business is experiencing digital disruptions from competitors through innovations in products/services and new forms of customer engagements in their sector.
17% of CIOs admit to not knowing where the digital disruptions are coming from.
35% of CIOs have developed an enterprise-wide digital strategy.
[Source: Harvey Nash / KPMG CIO Survey 2016]
Often, enterprises are mistaken by the buzzwords and they intend to use all the latest and most exciting technology to create strategies. This approach may provide short-term fuss, but if the strategy is not strong enough it may collapse soon. Always remember that digital is a tool and strategy is a fence to foster the business goal. It includes digital customer experience, digital marketing, digital analytics, etc., that help the organization to provide a consistent digital experience across all the digital channels.
Like any other, enterprise digital strategy comprises of –
It includes people who are of digital natives, like developers, designers, marketers, strategists, etc., who can reinvent your entire business.
Once the right team is placed, you need to integrate the strategy into their work and depending on your organization's goals, you need to select platforms like cloud servers, content management systems, data analysis systems, or artificial intelligence.
Now once you have selected your platform it's time to identify your digital products like apps, wearables, responsive websites, IoT smart products, augmented reality experiences and much more that will help you identify your digital strategy.
Considering the user experience it is important to streamline your employees, customers, business partners in your digital strategy framework. At the end, it's all about people.
Digitalization is far more complex than we think. It becomes challenging when it comes to implementation of digital transformation strategies and of course, it's not an overnight thing. For example, A store wants to increase its sale. The common strategy would be to pull out data analytics from the consolidated data to determine which buyer generated the highest invoices. This would capture the real data along with digitizing customer interaction. It doesn't end here, new capabilities, and teams are required to process and maintain the consistency across the organization.
Enterprise Digital Strategies seems to work best when the customers are the point of focus. Enterprise leaders require a process to strategize and determine how to invest and become a competitive differentiator in the industry. Today customers are expecting a flawless digital experience every day, whether large or small, and one way to satisfy them is to have an omnichannel sales strategy. This will enable customers to have more options to place orders from any place, any time, any device and in any quantity. This becomes quite challenging for the manufacturers and service providers to have the efficiency of mass production and to customize it.
Let's See How DBS Bank Leveraged Enterprise Digital Strategy
Singapore-based DBS bank was awarded the best digital bank. In the year 1968 Government established DBS bank and now it has around 22,000 employees. Their journey of the extraordinary digital transformation started when they brought Paul Cobban who is now Chief Operating Officer, Technology, and Operations for DBS in 2009.
The bank was at it's worst when DBS CEO Piyush Gupta initiated a strategy that emphasized on the concept of 'Asian-ness.' According to Paul, they spent 6 months narrowing down the definition of 'Asian service' to respectful, easy to deal with, and dependable. This led to the acronym 'RED,' an adjective that became part of the corporate vocabulary. They adopted a customer-centric approach to understand the customer at a whole new level. The third digital strategy was to make the banking invisible. Paul says, "digital is all about the business model, enabled by emerging technology and data. Great user experiences based on ecosystem plays to make the banking component invisible." he also added, "as banking becomes commoditized, we need to control the ecosystem. That's how any bank avoids being a dumb balance sheet."
The third approach was to identify the blockers and take actions like weekly decision-making meetings to discuss problems and present ideas. Paul noticed that the digital transformation is more about culture. He changed the culture to drive innovation within DBS. He says, "We recognized innovation was all about culture and behavior. So we took our leaders and put them in 'hackathons' with startups. Hackathons replaced the executive training budget."
DBS recently launched Digibank in India, a mobile-centric banking service. In order to employ a small fraction of the back office staff, they utilized artificial intelligence-driven automation. This has helped Digibank to span across the subcontinent with virtually no additional investment.