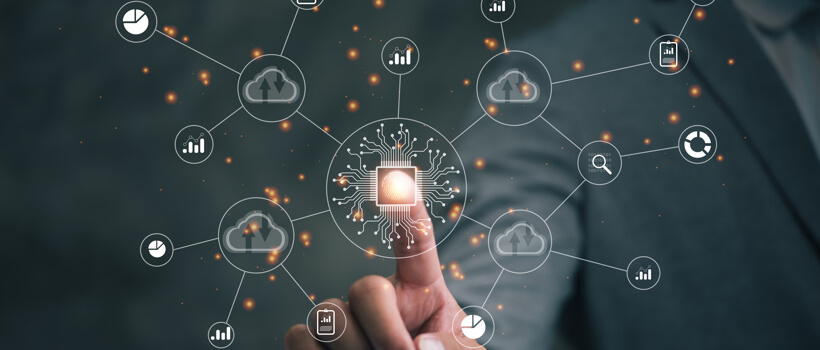 Table of contents
Data at the core of superior Customer Experience
Data is foundational to CX and creating a seamless, friction-free customer journey. In a survey conducted by Deloitte, 49 percent of respondents said data analytics helps them in better decision making, 16 percent said that it enables key strategic initiatives, and 10 percent say it helps them improve relationships with customers and business partners. How, you may ask. Data helps businesses to identify potential customers and reach them across every platform and channel. Effective data analysis empowers businesses to get valuable insights into every customer interaction along the journey. Meaningful data helps brands strengthen their omnichannel experience delivery which in turn helps customers feel heard and understood.
Insights from extensive datasets also helps brands navigate risks such as placements of unsafe or inappropriate content based on geographical context. Above all, the most significant benefit is a unified customer profile that contains all the information related to customer transactions, behavior and more. This way, a brand gets to truly know their customers whenever they're interacting with them. Results? Customer retention, engagement, revenue growth, increased profitability and higher customer lifetime values.
2020 accelerated digital transformation and focus on CX but "clean data" remains a challenge
As we witnessed the largest transformation in almost every industry, we realized that capabilities that were just in the works until a year ago, were developed and deployed quickly. To meet emerging customer needs and keep business afloat, new digital capabilities developed overnight. But one thing that didn't catch the attention of many businesses was data-more precisely, clean data. Digital capabilities were in place, CX became a hot topic, but dirty, unstructured, disconnected and irrelevant data became a challenge. This reason made it challenging for many businesses to realize their digital capabilities to full potential and deliver the CX they had hoped.
Don't let bad data topple your CX goals
Imagine an unsynchronized CRM that relies on past data entries. Now if a customer calls up to check the status of, say, their credit card application, and the CRM shows different entries from different moderators, which one would you use to tell the customer the latest and most accurate information? In another instance, imagine if a customer shipment is in Dallas but the customer service shows that it's still in Houston.
Data may not be the easiest part to work with, but it is definitely a critical component of any digital transformation initiative and even more important from a CX perspective. Businesses might be launching new CX initiatives but they won't be fruitful in the long run if the data in isn't clean.
What's the fix?
Disconnected and dirty data doesn't show itself through net promoter score surveys. Your customers won't explicitly tell you that data is the reason behind their negative experience either. The first step isn't to get into data clean-up or create cross-system connections or even establish usage standards. The first step is to understand and highlight the limitations of current data and then see what actions are needed. Businesses also need to understand that data collection and management is a company-wide initiative. Every department collects specific pieces of data about the customer which later help in giving them an overall experience at every touchpoint.
Here are some ways in which you can maintain clean and up-to-date data:
Data integrity must be part of the company culture since it spans across all departments
If your current data is all over the place, start by consolidating it into one organized centralized space such as a spreadsheet before you start importing it
Maintain data uniformity by setting standard input guidelines
Identify and remove duplicate records
Regularly review and clean your data
How can clean data be leveraged to deliver new-age CX?
CX was already projected to be a brand differentiator, surpassing price and product. In fact, more than two-thirds of companies now compete primarily on the basis of customer experience – up from only 36% in 2010! But with dynamically changing customer needs, behavior and expectations, even CX excellence has become an arena of competition in itself.
At [x]cube LABS, we helped one of our clients, Dr. LalPathLabs, solve the customer problem of having to wait for the reports by leveraging machine learning to predict the estimated time of Report, including the estimated time of various phases of the lab testing and exceptional delays. Like any other learning model, this one was dependent on the availability of clean data, too. The prediction was dependent on multiple parameters that were closely interconnected and influenced each other in more than one way, implying the need for relevant and standardized data as input.
We also enabled Mann+Hummel to improve their filtering solutions with smart capabilities which gathered information on customer experience and based on that, added features which removed a bunch of manual tasks the customer had to perform. Reiterating, we used data to eliminate customer pain points as far as possible.
This is just one of innumerable examples of how we leveraged the power of data, coupled with emerging technologies, to drive CX transformation. We also have our in-house customer analytics and engagement platform, Upshot, that combines actionable analytics, campaign management and powerful tools to shape user behavior. The platform delivers new insights into user segments and enables fine control over the user's in-app experience.
In current times, it is critical to get an all-round view of your customer behavior to design great experiences for them and clean data is what enables it. Once you have a good hold on the quality of your data, you can explore the potential of CX in different ways.
Real-time CX

As businesses utilize more and more data to understand their customers better, it's about time that real-time CX becomes the new in-thing. Customers today have a strong desire for instant gratification, which means increased expectations not only of the product but also the overall experience provided associated with it. This is where real-time CX comes into the picture. It's about serving customers at the very moment they engage with your business. This can include any activities that meet the needs of a prospect or customer as immediately as possible. A very common example of real-time CX is offering customers a support channel like live chat that allows for a nearly instantaneous response.

Consistent customer journey experience

A study found that 45 percent of CX leaders define CX as "the customer's aggregate perception of your company based on all their interactions with your brand, product or service." In simple words, this implies experience throughout the customer journey from initial interest and purchase to customer service and every touchpoint in between. 65 percent of consumers say that a consistently positive experience through their entire interaction would make them a long-term customer of the brand. And this can be achieved only if there's relevant and up-to-date information about consumer preferences is available. You can teach each touch point, gather necessary information, analyze the data and provide them contextual and personalized experience.

Integrated and streamlines CX approach

According to a report, one out of four CX executives say not having the right people involved is a constraint that prevents their team from implementing a streamlined CX approach. In order to succeed in CX strategy, businesses should look at CX as an essential part of the whole business, not just a part of it. To excel at delivering seamless experiences, understanding and drawing insights from individual-level customer data is a must. This essentially requires reimagining processes and taking a data-driven approach to break down silos across the organization.

Customer data platforms

Customer touchpoints are spreadout across multiple systems such as CRM, social media and more. To securely unify all the data and eliminate redundant records, a customer data platform can help. The data managed this way can be used to decide what will encourage customers to stay loyal and even assess the potential LTV of a customer. Going one step ahead, clean data can also be fed to AI models for predictive analysis that can compare usage patterns of new customers with longer tenured ones can help project the ones which are more valuable..

Hyper personalization

Hyper-personalization takes personalized marketing a step further by leveraging artificial intelligence (AI) and real-time data to deliver more relevant content, product, and service information to users. While personalized experiences are mostly confined to addressing the customer by name and keeping track of preferences, hyper-personalization takes it to a much higher level. It deciphers and acts upon customer data in real-time. Some features of hyper personalization include: instant identification, immediate access to information about every interaction, on every channel, understanding customer issues and knowing how to solve it, based on the captured data. But transitioning to a hyper-personalized model requires infrastructure with new technology that captures customer data in real-time, across all channels, in a unified way.
Conclusion
56% of the companies now turn to data that captures the interactions of their most engaged customers to nurture their experiences. In fact, the most successful companies differentiate themselves from their competitors by creating a cycle of data-driven improvement and capitalizing on it to deliver new-age experiences to their customers. This requires having the right tech stack as a minimum investment that directly enables the data capabilities and applicable skill sets. But before implementing that, taking control of data should be at the forefront of the customer experience strategy.