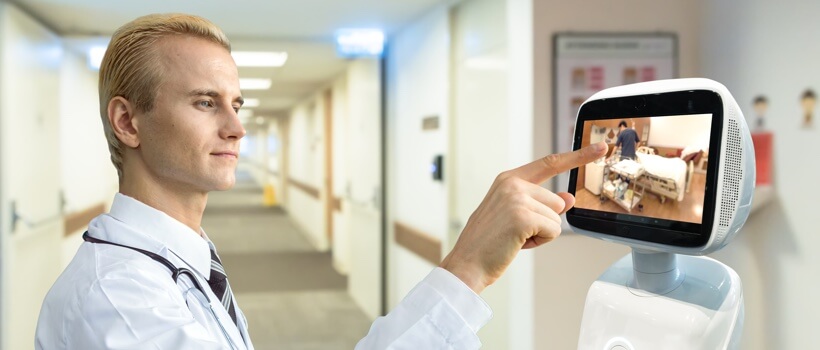 Table of Contents
The perfect customer experience in healthcare
The perfect customer experience is a set of interactions that exceeds the expectations of a customer. As a result, the customer is more likely to become an advocate for healthcare providers, generate referrals, and improve retention rates. Customers expect the best experience. Perfect experience means:
Increased accessibility to mobile appointments, better physician-doctor communication, and flexible scheduling
Ease in accessing medical records and healthcare options
Personalized care by tracking each patient
Improved patient care by leveraging data and monitoring patient health patterns.
Why is customer experience critical to healthcare companies?
Customer service experiences set the expectation for the quality of care. Happy patients are likely to return to the same doctors, clinics, and facilities for all their healthcare needs. Customer experience is an innovative approach to look at the value proposition.
When engaging with customers, they expect more than treatment. The customers want employees to care about their needs and well being, which is demonstrated during every customer touchpoint and interaction. To provide excellent customer experience, healthcare providers must pivot and need to be more customer-centric.
Customer-centricity means allowing the wants and needs of the customer. This will help healthcare organizations operate higher levels of customer satisfaction and experience. As most healthcare organizations don't consider holistic interaction that customers want, customer experience may be inconsistent and suboptimal.
By considering the customer-centric approach, healthcare companies can identify ways to create and direct a customer experience that sets them apart.
Medical device industry need to embrace customer-centricity
When it comes to medical devices like orthopedics, pacemakers, 3D printed limbs, etc, it is crucial to implement a customer-centric strategy. Customer-centric strategies can increase healthcare provider (B2B) and patient (end-user) satisfaction. It helps you retain customers as competing products arise and shifts in healthcare continue to take fold. Customers want to be heard and listened to even after the sale is completed. Engaging and surveying both healthcare providers and patients, finding out what they want, how they feel about the products, and then incorporating the feedback into the product development process. Customer engagement and feedback should drive the product and customer experience.
How technology can help achieve excellent customer experience
There is no denying that technology in the healthcare industry can improve the quality of customer experience throughout the years. Customer centricity would not be possible without the use of technology. Here are seven technology use cases to achieve excellent customer experience:
3D printing

3D printing, also known as additive manufacturing, is leading to new product developments in the medical device industry with customers in mind. Instead of waiting to get a medical device, 3D printing can create a product in no time. It has potentially revolutionized the medical device industry. Products such as prosthetics, hearing aids, glucose monitoring can build faster than ever before and is a perfect example of customer-centricity in healthcare.

Streamline administrative processes that affect patient experience

Customers expect seamless experiences throughout various touchpoints and interactions. A recent study on healthcare consumers found that 49% of the patients expressed frustration with their healthcare provider administration processes that include appointments scheduling, payments, and insurance information.

Telemedicine or telehealth refers to ways of improving healthcare based on telecommunications technologies. It can provide quick, hassle-free access to the hospitals and health-related services virtually. When patients monitor their health at home, it can save money by reducing unnecessary visits to hospitals and clinics.

Leverage AI technology to manage queues

Travel time and average wait time impact the patient experience. The impact of long waiting queues affects confidence in the care and patients' perceived quality of care. AI-based waiting line management systems can help optimize that experience with virtual queuing systems, healthcare provider matching, wait-time notifications.

BOOK A CONSULTATION FOR FREE!

Leverage automation to increase operational efficiency and eliminate errors

Sign up for a FREE consultation today

Enhance operational decision-making with healthcare analytics

Healthcare analytics affects all parts of the healthcare system and can dramatically improve patient satisfaction in two key areas: i) Operational efficiency and ii) decision making. Healthcare organizations face many challenges linked with the customer management system (CMS). They comprise hundreds of workflows, including admissions, medication, and other documentation. If any of the workflows breaks down, it leads to delays throughout the system and creates a negative impact on customer experience.

Healthcare analytics help with workflow challenges by forecasting emerging resource needs in real-time, adjusting patient, and physician schedules. Analytics can lower costs, wait time, and improve the overall experience.

Analytics enable personalized care and accelerated diagnoses by data-driven systems. The physician can optimize complex situations in which a patient is suffering from multiple illnesses, by alerting doctors about the procedures and symptoms that might trigger others to worsen.

Enhance patient experience using smart devices

During interaction with physicians, the Internet of things technology can improve the patient experience by providing access to educational materials about the illness or surgical procedure on smart displays. Patients can also access their health information on their smartphones. The use of technology can engage patients in their own personalized care resulting in better treatment outcomes.

Chatbots and AI-based customer service

Artificial intelligence and chatbots are often used on websites to help answer questions to customers. Chatbots can be quite intuitive and can engage without the need to engage with a call center. AI Chatbots support day to day operations. Customers can save time by conversing with a chatbot about appointments, updates, medical insurance information, etc.

Electronic health records to access information

AI-assisted data analysis has been widely used for patient electronic health records (EHRs). In the past, hospitals had a manual information system that was clumsy in their ability to share and transfer patient information. With EHRs, many systems have been connected, allowing faster and more integrated information sharing. These AI-based analyses help filter, organize, and search for information from multiple sources and give healthcare providers information to make quick and informed decisions.
CX best practices
Following are the best practices healthcare providers should consider:
Create a repository of customer interactionsUse technology to deliver excellent customer service by maintaining a repository for each customer interaction. This will help you get valuable insights into open, rated, pending queries, and patient information. Upshot.ai provides you with dashboards where you can get reports about the information needed.
Develop a knowledge baseThe knowledge base allows you to accomplish operational excellence. Putting the knowledge base in place ensures the smooth flow of information leads to more informed decisions.
Keep customers up-to-dateProactive engagement with customers increases retention at all stages of the customer relationship. Keeping patients up-to-date with their appointments, test reports, ticket status, and much more will improve their loyalty.
Final Thoughts
Every healthcare provider strives to support the perfect healthcare customer experience. Providers must innovate customer service technologies to improve customer experience. Creating a better experience while leveraging digital technologies will lead to enormous benefits such as high-value organization growth, improved customer retention, and increased income.
How are you taking advantage of data and technology to craft an excellent experience for your patients and healthcare providers? Contact us to know how we can help you with customer experience.