COVID-19 made history in our lives and the healthcare industry. Digitization in healthcare has increased as users demand more advanced solutions for their healthcare requirements. Statistics highlight that telemedicine has significantly improved in the past few years, including remote doctor-patient consultation and remote patient monitoring.
 As more users appreciate technological advancements, the demand for healthcare app development has become inevitable. Some surveys highlight that the mobile healthcare application industry will reach $300 billion by 2025. It means developing a mobile healthcare app can be the most significant investment. 
Healthcare app development requires a complete setup and deep market analysis. If you're considering creating a medical startup, this article is exclusively for you. Here, we will cover every aspect of healthcare app development, including its cost and benefits for doctors and patients.
Healthcare App Development Process
A healthcare app is designed to simplify the lives of doctors and patients. mHealth is a broader niche that includes a variety of mobile applications. Depending on your chosen app category, a mobile healthcare application may differ in purpose.
Steps for Building a Healthcare App
Healthcare app development is a complex process. It differs from other apps in numerous ways. Follow the steps below to develop a healthcare app by making your thorny path shorter and more accessible.
Do Through Market Research 
Statista shows you can find more than 52,565 healthcare apps on Google Play Store and 51,370 on Apple App Store. This data-driven information indicates that you must put extra effort into making your app stand out. Research your niche and identify your competitors. Competitor analysis will help you identify your competitors' strong and weak points necessary to beat the competition. 
Prioritize Your Audience 
When developing a healthcare app, you need to cater to the sensitivity of your audience's problems. The user research phase is the most significant step of healthcare app development. This phase helps you understand the users' problems and determine how your app can benefit your targeted audience.
Select an App Type 
The next step is choosing a suitable app type. You can find numerous types of healthcare apps for professionals and patients.
Design mHealth App
Create an app design that can bring more value to users. A mHealth app should be intuitive and consistent, leading the users to the endpoint smoothly. The fewer your app's interaction points, the better user experience it will deliver. 
Designing a healthcare app is the core phase, so focus on hiring a professional mHealth app development company.
Test Your App for Quality Assurance 
Once your medical care app is developed, fixing bugs and glitches that may hamper the user experience is vital.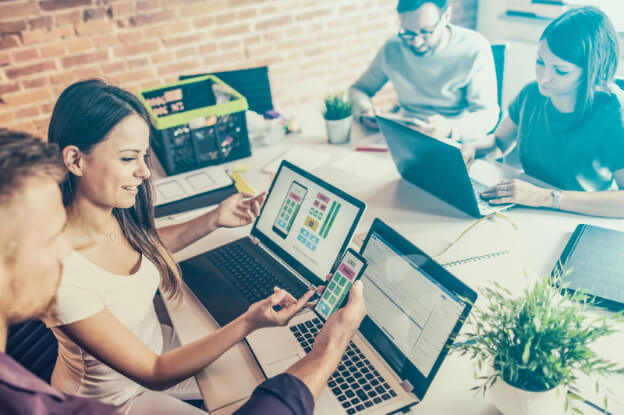 Healthcare App Development Cost
The ultimate cost of developing a mHealth app depends on the developers' rates and the features you want to add. A simple healthcare app may take 800 to 1,000 hours to complete, whereas a complex app takes about 2,000 to 2,500 hours. 
Here is a breakdown of healthcare app development costs depending on regions and complexity.
| | | |
| --- | --- | --- |
| Region  | Cost with Simple Functionality  | Cost with Advanced Functionality  |
| Germany  | $48,000 | $120,000 |
| UK | $44,000 | $110,000 |
| USA | $64,000 | $160,000 |
 Healthcare Mobile App Types and Trends 
Mobile app development has made the lives of patients and medical professionals much more manageable. Mobile app development has covered every aspect of the medical industry, from treatment monitoring and clinical documentation to maintaining health records. Healthcare mobile apps are divided into three broad categories:
Healthcare Apps for Professionals 
As the name suggests, professional healthcare apps are centered around doctors. They are used as mediators in communication between a doctor and a patient. You can choose from the following types of professional healthcare apps:
Telemedicine Apps

Networking Apps for Doctors 

Doctor Appointment Apps 

Health Tracking Apps

Medical Reference Apps

Report Monitoring Apps

Medical Health Record Apps 
The professional healthcare apps aim to help doctors interact with their patients more effectively and share health-improving tips with them.
Healthcare Apps for Patients 
Healthcare apps for patients have gained massive penetration in the healthcare sector due to their instant availability and flexibility. You can find the following types of healthcare apps for patients:
Healthcare Apps for Medical Institutions
Inventory Management 

Clinical Assistance Apps with EMR and HER Access 

Billing Apps 

Scheduling and Appointment Apps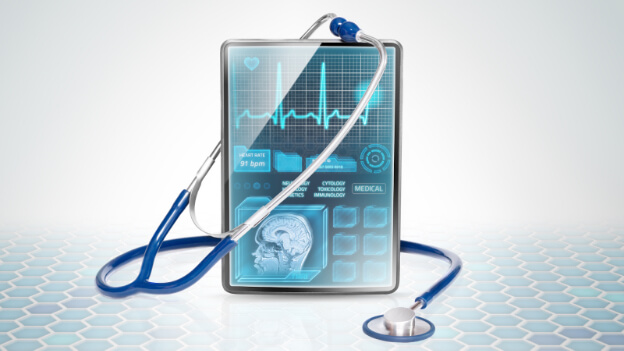 Healthcare Application Examples 
To make your healthcare app more impactful, you must tailor it to your users' requirements. You can get inspiration from the following healthcare applications:
WebMD

HealthTap 

Headspace 

PEPID

Apple Health 

Teladoc 

Medici 

SleepCycle 
Benefits of Healthcare Apps for Patients and Doctors 
Medical apps benefit clinicians and patients through the quality of services and effective communication. Doctors, patients, and hospital staff highly appreciate these apps. Medical mobile applications can change the healthcare space in the following ways:
Doctors can monitor their patient's health from a distance with mHealth apps. Mobile apps also enable professionals to get real-time access to electronic health records and share helpful health tips with patients.

Patients can track their activities, such as meals, sleep timings, and steps while running or walking. They can also measure their different body condition, such as glucose level, heart rate, and blood pressure level, with mobile healthcare apps.

App development in healthcare also offers easy and efficient payment options to make payments for you and your loved ones. 
Best Practices and Features in Healthcare Apps
Your mobile medical apps must have the following features to give a more impactful impression to your audience:
Appointment management 

Electronic health record (HER) feature 

E-Prescriptions 

Video conferring and messaging 

Staff management 

Payment Integrations

Accessibly UI/UX

Doctor and patient profiles 

Users' dashboard 
The Bottom Line 
Adopting the latest technologies, such as IoT and Artificial Intelligence, has opened new doors for healthcare app development. Developing a mHealth app can be a tedious process. Getting help from a trusted Mobile App Development Company can be ideal for creating a custom application.