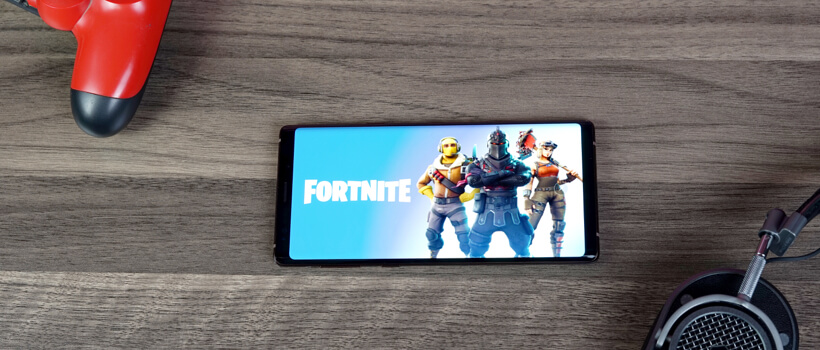 Table of contents
Epic Games vs Apple Lawsuit
Over almost a month now, Apple and Epic Games, the developer of the wildly popular battle royale game Fortnite, have been locked in a bitter feud regarding Epic's issue with Apple's App Store policies which it deems monopolistic. A dispute that has led to Fortnite being removed from the App Store. The game developer, which has earned over $600 million from the app store through in-app purchases, has termed Apple's 30% share of every purchase amount exorbitant, and has launched an active campaign across their digital channels to sensitise their followers.
What happened between Apple and Epic Games?
So why was Fortnite removed from the App Store? Well, the ongoing Apple Epic news reports that on August 13, Epic Games introduced a direct payment system in Fortnite which enabled players to bypass Apple's IAP mechanism. Once updated, the developers enticed more players to opt for this mechanism by offering a 20% discount on purchase of V-bucks (Fortnite's in-game currency). As this was in direct violation of Apple's terms of service, the Cupertino giant quickly pulled Fortnite from the App Store while putting out the following statement: "Epic Games took the unfortunate step of violating the App Store guidelines that are applied equally to every developer and designed to keep the store safe for our users."
Why Is Epic Games Fighting with Apple and Google?
Not backing down, Epic Games launched a counterattack, describing Apple's policies as draconian and accusing them of taking advantage of developers who are contributing to Apple's humongous revenues from the App Store. They were quick to launch a lawsuit, describing Apple as unfair and anti-competitive.They also went on to say that over the years, Apple has transformed into just the autocrat that it sought to fight against in its formative years.
Across their digital channels, Epic, the creator of the immensely popular Unreal engine, continued their fight. In a blog post published on August 27, Epic urged its readers to take up the rallying cry against Apple's stifling policies and introduced the tag #FREEFORTNITE. Also, in a remarkable move, Epic released a video called "Nineteen Eighty-Fortnite," parodying Apple's iconic "1984" ad. Whereas Apple's ad portrayed IBM as the evil "Big Brother," Epic Games aims to show that Apple is now the dominant power.
On their part, responding to the Fortnite dispute, Apple said in a court filing that Epic Games was seeking special status that would enable them to snatch a larger share of profits compared to other developers on the App Store. Likening Epic's behavior to shoplifting, Apple went on to say that it's akin to customers picking products off the shelf and walking out the store without going through the billing process. Additionally, Apple had provided Epic Games a period of 14 days to remove their payment mechanism and comply with Apple's terms. When that did not happen, Apple went ahead and terminated the developer account of Epic Games. Though, by dint of a restraining order, Apple can't remove Epic's access to iOS and Mac development tools.
What it means is that in addition to Fortnite, Epic's other titles such as Battle Breakers or Infinity Blade Stickers are also gone from the store and existing players will no longer be supported with updates. In recent developments, Apple has filed a lawsuit of their own, alleging that Epic Games has been deriving tremendous value from the App Store for years and though it's trying to position itself as a corporate Robin Hood, it's all part of a strategy to get away without paying the platform owners their fair share. In their lawsuit, Apple has demanded an unspecified amount from Epic Games to compensate for damages and unfounded claims.
BOOK A CONSULTATION FOR FREE!
Increase profits by up to 150% with our mobile app engagement solutions!
Find out how, from our tech experts.
Who will win? Apple or Epic Games? Will Apple Have to Unlock Fortnite?
While Epic keeps putting up a brave front, it's evident that they have little chance of winning and in light of recent happenings, Apple is not only going to come out on top, but richer at the end of it too. It's not the first time that developers have cried foul at policies formulated by platform creators that they see as overbearing, but the fact remains that if you are selling your services by leveraging an ecosystem created by others, there's no getting away with bypassing terms and conditions that you yourself had accepted.
How Epic Games' battle with Apple could reshape the antitrust fight?
This brings us to the question of what can you, as a developer, do if you find yourself balking at regulations imposed by giant corporations such as Apple and Google. For small businesses and individuals, the choice to start an independent content distribution platform is tough. Multinational organizations such as Microsoft and Samsung have tried their hands at it and failed. In addition to significant expenses, the onus of marketing it and incentivizing other developers to host their content on it can be a daunting task. Unless you are a prolific developer creating a whole bunch of new content, having a platform to just host what you create can make little sense as well.
However, for a company such as Epic Games, with several hits under their belt and a phenomenon such as Fortnite, the idea of developing their own distribution platform similar to companies such as EA and Ubisoft wouldn't be too outlandish. Epic is a company that has garnered millions of loyal players worldwide who engage with their titles and the prospect of getting access to them at a lower starting price and cheaper in-app purchases has a great potential to succeed. What's more, if they really want to take the fight to Apple, they can even try to lure other game developers to publish on their platform, promising them a more rewarding experience.
At [x]cube LABS, we were recently strategizing with a global gaming giant on just such a project. The company, a well-recognized and highly respected name which has produced many titles we grew up playing, was mulling the idea of starting their own store for distributing games. With our in-depth research on consumer demands and elaborate projections comparing ROIs that can be achieved by releasing games on their own store vs third party platforms, the verdict was in favor of going with a platform of their own. In addition to being in charge of strategizing their own policies, the organization will also be able to provide fans of their games a far superior experience with innovative features that we are in the process of detailing.
Latest Developments
Things didn't turn out so great for Epic in the long run, but looks like the movement they started has led to Apple making some considerations under pressure. The Cupertino giant has announced that it will slash the fees it charges to app developers by half (from 30% to 15%) in case the developers failed to gross $1 Million and above in App store revenues. This change will come into effect from January 1, 2021 and will surely be a major relief for smaller developers who were rallying behind Epic to keep up the antitrust pressure.
Per the latest data from Sensor Tower, a vast majority of developers (97%) they track on the App store generate less than $1 Million in annual revenue. When asked if this development was a result of mounting pressure from such developers emboldened by the Epic lawsuit, Apple refused to divulge any detail.
The Verdict
It's been over a year, and we have a verdict. While the ruling favors Apple on most of the motions, Epic's relentless pursuits bore some fruit as well.
In an 185-page ruling, the court dismissed Epic's appeal to declare Apple an illegal monopolist. While it acknowledged that Apple owns a significant market share, it observed that the Cupertino giant did not get there by any disputed means, and that success cannot be termed illegal.
Epic will also have to pay Apple 30% of the in-app revenue they have collected through the direct payment system they had introduced to bypass Apple's cut. Between August and October 2020, Epic made $12,167,719 through this method before Apple removed Fortnite from the App store. Epic will also have to pay Apple 30% of all revenue that they collected from November 2020 to the date of the verdict. Additionally, the judge ruled that Apple's removal of Fortnite was valid per the rules, and it's up to Apple whether they want to reinstate the game at a future date.
However, to Apple, the court did direct some reprimands as it concluded that "Apple's anti-steering provisions hide critical information from consumers and illegally stifle consumer choice. When coupled with Apple's incipient antitrust violations, these anti-steering provisions are anticompetitive and a nationwide remedy to eliminate those provisions is warranted."
The court also declared that Apple's "anti-steering restrictions artificially increase Apple's market power by preventing developers from communicating about lower prices on other platforms."
The judge passed a permanent injunction to forbid Apple from restricting developers in their efforts to add direct payment methods, external links and other calls to action within apps.
Now it remains to be seen whether Apple complies with these rulings or we will see this saga continue.
Conclusion
The ongoing battle between Apple and Epic may have fired shots that are reverberating around the worldwide developer community, but the fact is, being who they are, Epic will be in far better shape even if they lose. For others, however, the prospect of reaching global audiences through the App and Play Stores is far too lucrative to risk raising voices against the behemoths that control them. However, if you're like Epic and are feeling increasingly boxed in by stricter rules by the day, give starting your own distribution platform a thought.