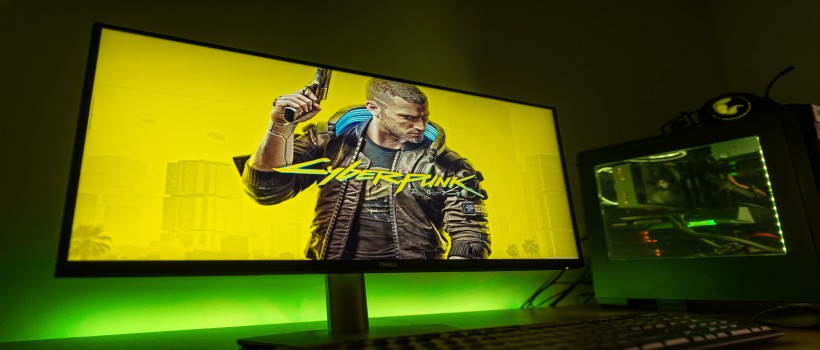 Table of contents
Introduction:
A game 8 years in the making, a much hyped launch featuring collaborations with major tech companies with themed merchandise, celebrity endorsements and PR: sounds like the formula for great success right? However, it's been proven time and again that all show and little go usually takes one nowhere, and that sad fate seems to have befallen Cyberpunk 2077. From what was anticipated to be one of the biggest launches of the year, the release of Cyberpunk 2077 has now turned into a PR nightmare, in true post-apocalyptic Night City and 2020 style.
Development Journey:
Looking back at 2012, when the project was first announced by CD Projekt Red, it barely created a ripple. With no launch date announced and the studio mainly focusing on its Witcher series, resource allocation for the new title was limited. However, over the next few years, the studio managed to consistently release teasers that began piquing the curiosity of the gaming community. Following the release of Witcher 3 in 2015, when a larger team was assigned to work on Cyberpunk, threads were started on what the game genre would be and enthusiasts started following announcements closely, assuming the release to be announced soon.
It was in 2017 when Projekt Red received a grant of $7 million from the Polish government, the largest cut of Poland's national center for research and development fund yet, that a large part of the gaming world began to sit up, take notice and actively report developments on the game, driving an increasing fan following for the title's social media accounts. Those accounts, however, were pretty dormant with no new trailers or release dates in sight. As speculations continued, the wait for official word finally ended in 2018 when the company finally began posting updates and even a peek of the early gameplay. Throughout the year, more trailers followed which gave rise to innumerable discussions, debates, memes and ultimately, a ton of interest for the product. Demand for a release date grew stronger, but the company remained tight-lipped on that till 2019.
2019 came along, and we finally had a release date, which was revealed to be April 16, 2020. The gameplay videos, characters and Night City were all receiving a great deal of attention, praise and critique by then. The art style looked good, the story relatable, Night City looked like it had just the right mix of adventure mixed with danger that you, as a cybernetic, mercenary hero, would like to explore and the studio definitely had accolades and pedigree going for them. Adding to the hype was the revelation of Keanu Reeves as Johnny Silverhand.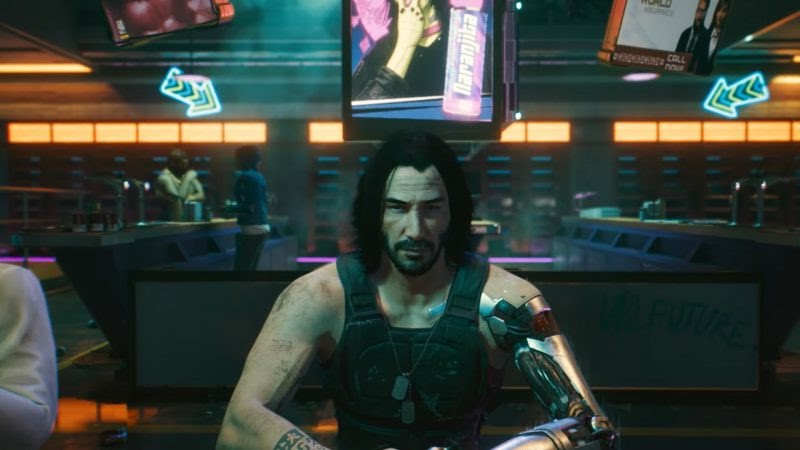 However, come 2020, in the first of multiple delays, the release date was pushed from April to September as the studio announced they needed additional time to playtest and fix bugs. With resource crunches and the COVID-19 situation adding to delays, the title was further pushed to November 19 and then to December 10. By November, themed merchandise started to appear with Cyberpunk branded Adidas sneakers, a custom, special edition OnePlus 8T mobile phone from OnePlus and others. With media blitz well and truly at its peak, we were finally able to get our hands on the game on December 10.
The Breakdown: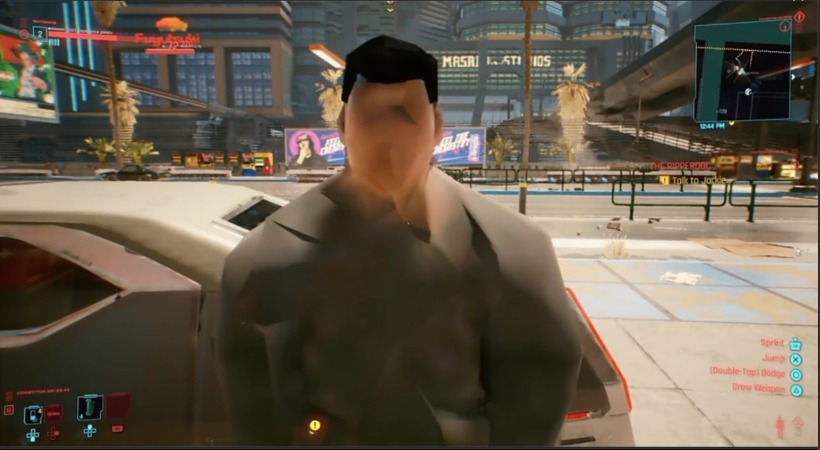 By the time it launched, Cyberpunk 2077 had amassed enough pre-orders to cover its entire development cost, making it one of the greatest hits of CD Projekt Red even before launch. However, the good news ended there as soon after release, complaints began pouring in about a host of performance issues hitting consoles, mainly the previous gen Playstation and Xbox, hard. The game, which eventually emerged as an open world RPG, received praise for story, art and gameplay but with bugs hindering progress in various ways, players were left frustrated with the evident lack of quality control for a title that's been so long in the works.
While the players on PC are having it better, performance on previous generation consoles are especially worse. Apart from weird animation glitches, players have experienced crashes, lags and areas in the game that appear literally broken and unplayable. The severity of these has since resulted in CDPR issuing an apology and refunds to disgruntled players on these platforms.
Latest Developments:
As complaints kept mounting, CDPR stock prices crashed by over 30% and Sony decided to remove the game from its Playstation store on December 18, issuing notices to players that they'll be eligible for a full refund. As for those with physical copies, CDPR says they are hard at work on patches that will help resolve ongoing issues and have their own refund programs running. While stock prices may not be the best indicators of company value at all times, there's no denying that such a high profile launch going so wrong has definitely dented confidence in CDPR in a big way. The gaming community is historically extremely vocal and unforgiving of highly anticipated titles exhibiting obvious glitches and no matter how fast the company manages to release patches, it will be a while before they can rid themselves of this nightmare.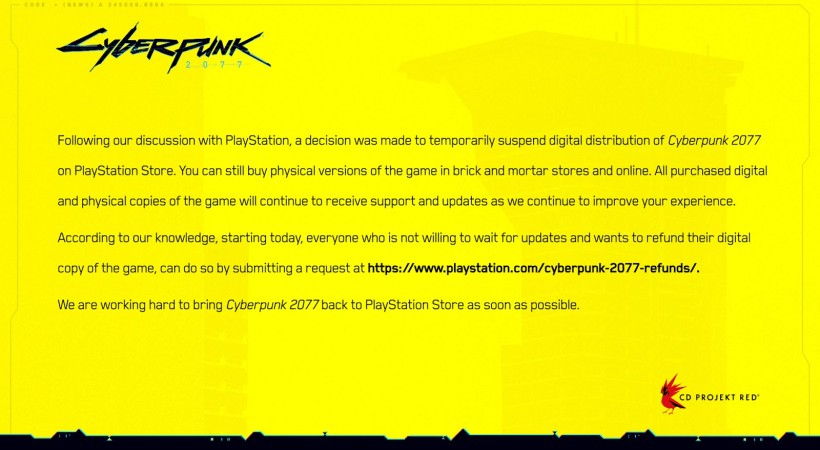 The Way Forward:
While it's unfortunate that CDPR will probably have to slog through the holiday season to work on fixes, it's in their best interest to ensure that happens. The right step to rectifying any error is to acknowledge it and encouragingly, the management has done that by admitting the rushed launch in response to growing demand was a mistake. The studio now needs to ensure players are adequately compensated with refunds, store credits and more and also develop a clear plan on eliminating the problems. Players, we're sure, would be willing to wait if the developers can demonstrate that the fixes are genuinely coming together and the eventual quality will be worth the extra time. Amidst all this, the clear message to companies, as well as product owners, is to keep the marketing hype in check till they are assured of the product quality. A broken product that brings in a ton of money initially but goes on to cause irreparable damage to company reputation and standing among loyal customers should never feature in release plans, no matter the demand.