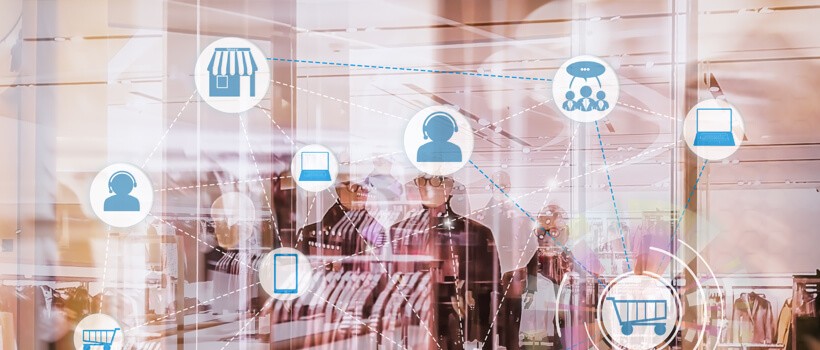 It has come to no surprise that digitization has created a massive disruption in all industries. Customers are now more digitally focused so they expect more exceptional services across all platforms. Similarly, financial service providers are also looking out for more from all the channels they use for banking transactions. To keep up with the emerging customer expectations, banks have picked up omnichannel banking approach to develop a seamless process in order to meet their demands.
According to MIT Sloan Management Review, "we found that companies that had 50 percent or more of their revenues from digital ecosystems and understood their end customers better than their average competitors had 32 percent higher revenue growth and 27 percent higher profit margins than their industry averages."
As omnichannel strategy has offered huge opportunities for bankers it is essential to build strategies that will enhance their service level as well as optimize their costs effectively. Identify customer preferred channel and the potential of banking technology and find a way to connect it to the omnichannel world.
What Is Omnichannel Banking?
Today emerging technologies have empowered customers to research and shop from multiple channels. This has compelled all the banking industries to adopt omnichannel approach so that they can supervise their customer's journey while ensuring a seamless process from one channel to the other.
Omnichannel banking enables bankers and other financial service providers to provide secure banking services at all times and from anywhere. Customers keep shifting from one channel to the other. Therefore, banks are required to merge both physical and digital channels in order to have a grip on customer's full history and offer multiple benefits to the customers like, mobile banking, online account opening, online loan applications, remote deposit, digital payment options, easy account management, and so much more.
According to PwC's  banking 2020 survey, "a growing awareness to develop a more customer-centric business model, but a significant gap in preparedness remains. 61% of bank executives say that a customer-centric model is very important. 75% of banks are making investments in this area and only 17% feel very prepared."
Omnichannel Challenges
As per the PwC's survey, only a few percentage of bankers are fully prepared for omnichannel banking and rest are still in the process to adopt this approach. Most of the banks, however, are well ordered around products. They first interpret the product and wrap up with some particular capabilities and then the channels estimate the most ways to sell the product. But when it comes to customers, it is very important for banking organizations to segment their customers based on their behaviors not with products or channels.
Maximum time most of the bankers are unwilling to handover Profit and Loss (P&L) responsibility in the hands of their customer segment owners as it may usher to a huge entanglement in the organization.
Most of the time banks fail to communicate or deliver on present-day customer needs because they are not trained on how to sell products designed by the product owners and plus they don't get paid.
Growing technologies have given customers the power to demand personalized services at a lower cost. This leads to a challenge for all the bankers to keep up with such unmanageable product development processes and expeditiously respond to the situations change.
Omnichannel Key Features
From transaction process to optimize customer interaction : McKinsey reports that 65% of consumers interact with their bank through multiple channels. Omnichannel has helped banking industries to shift their focus and funds to optimize their customers' experience. The omnichannel strategy helped them understand how customer interactions can bring real value to their channels. It also helped banking organizations to simplify the process wherein the banking leader can put up more precise points in front of their customers and provide product or services as per their demand, therefore meeting their expectations and boosting customer experience.
Became more customer-centric: Where the 61% of bankers say it is very important for a bank to focus more on the customer-centric model, most of the banking industries have shifted their priorities. Earlier traditional branches used to have a personal relationship with an individual, where branch managers used to play a key role in understanding customer's concerns and helping them with solutions. Now with so many technologies coming up, banking customers are now able to access their bank account from anywhere which is replacing the need to have a human interaction representing the bank. The omnichannel strategy has empowered bankers to provide unique and 24/7 customer experience which is leaving the traditional banking process far behind.
Big Data Connectivity: Proper use of customer data also needs to be on the bank's priority strategy list as they adopt digitization. In this digital era, data allows all the organizations to have clear insights on what they are doing well and what services need to be improved. There are billions of customer data stored in the bank's database and collecting this data is the only job. To manage or successfully run an omnichannel approach in a banking industry, the bank needs to be really fast in acquiring the data and delivering it into the hands who require it. According to the Financial Brand, "60 percent of financial institutions in North America believe that big data analytics offers a significant competitive advantage and 90 percent think that successful big data initiatives will define the winners in the future."Jim Marous is co-publisher of The Financial Brand said, "building a positive omnichannel experience remains a work in progress for most banks and credit unions. Research shows that when done well, an omnichannel experience can strengthen relationships, streamline the experience and increase profitability. Unfortunately, most banks and many customers haven't completely bought in."While digital has become the main source of customers' interactions in banking industries, it has a huge impact on their behavior and exceeding expectations. It is an opportunity for the banking industries to provide a bottom line upshot by driving meaningful insights into customers' channel preferences. Omnichannel empowers banking industries to have a sophisticated, more efficient and more pleasing customer experience.