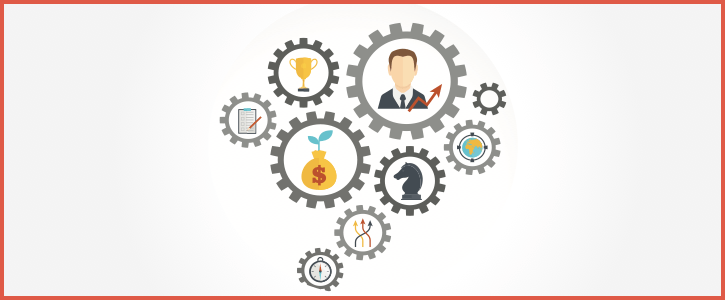 Mobile is the best way to reach people globally, to fulfill business requirements while focusing on meeting users' needs and their expectations. So, it is an immediate need for enterprises to have a great mobile app design, which is the first and the most important step in mobile app strategy.
Mobile app design if not executed properly will cost you by driving away your brand reputation and loyal customers. A solid mobile app strategy has countless number of elements that apply to a mobile app design which brings all verticals and horizontals of the business together to meet a common goal. So, it's necessary to have a thoughtful design that resonates with the business vision and user requirements.
Prioritizing And Opportunities
It's not possible to implement every feature because to every feature there are backlogs that can't be avoided. So, you need to prioritize things based on a number of criteria like risk, cost, time, resources, business value and customer need to provide a requirement for mobile applications and the mobile features to incorporate into the design.
Once you are done with the prioritizing things, the next important thing is to document the opportunities in order to determine which app initiatives has brought the highest value to your business and opportunities for future release and improvement. It will also give your enterprise a visibility into mobile applications and keeps you on a track while keeping a watch in what other competitors enterprises are doing.
Prerogatives And Simple Design
Now that you have your objectives, what you need is a simple design considering why and how a user can interact with your app? Designs which are simple, easy to navigate, gives the developer a clear understanding of potential users considering how customers use mobile devices. Every enterprise has a level of custom and standardize development toolbox to meet their objectives and a specific development tool for particular type of applications. There are four types of applications: Mobile Web, Hybrid, Native and Cross-platform having their own set of available tools, so you need to decide on a standard group for each type of application. For the e-commerce companies it is important to design their app which is simple and easy to navigate for their customers to have the best experience. Mobile app needs to have a prerogatives design to communicate the core brand offerings and opportunity to align elements in a broad spectrum, that helps you to introduce your app with an exceptional mobile experience to the users.
For example: Domino's app has a built-in pizza tracker to track the preparation and delivery process, that allows their customers to keep an eye on what stage their pizza is at and reduce the problem of customers calling up for their order status.
Consistency And Security Standards
The appearance of an app, such as colors, fonts and pixels is important, however mobile design is much more than just visual aspects. While designing a mobile app, you should be more focused on mobile app consistency and ensure a secure way to manage your app support and maintain expectations. By ensuring and evaluating mobile app securely and consistently, you will be able to understand and create tools that satisfies the end user.
For example, reusable components can be used in maintaining consistency, doesn't matter who is developing and deploying the mobile apps. This will help the mobile app strategy to remain consistent and well organized and maintain a balance between the time, scope and your budget through the organization. A human-centric design will lead to a better outcome and opportunities for business success.
Perfect Platform For Branding
Customers use their smartphones to compare prices and shop on the go, so it's essential for an enterprise to design the mobile app keeping branding in mind for a great customer engagement. Mobile app design has a major contribution towards mobile app strategy and a perfect design holds the good branding image for your organization, by providing an immediate platform for the global users under one roof.
Customers like to share their experiences in social and by adding social sharing features in your mobile app, where users can share their experiences with their friends, you are tapping into the inherent appeal of sharing via mobile device, which lets brand interaction. Also, by adding a feature like push notifications, help you to keep your user updated and also creates an opportunity to interact with your app. The most important source of information to all the app users is the App-based content. A quality content in the app will help you get a great branding.
The ultimate goal of any organization is to provide excellent mobile app experience to their end users and a great mobile app design is very essential to manage various mobile apps strategies to stand out among your competitors.