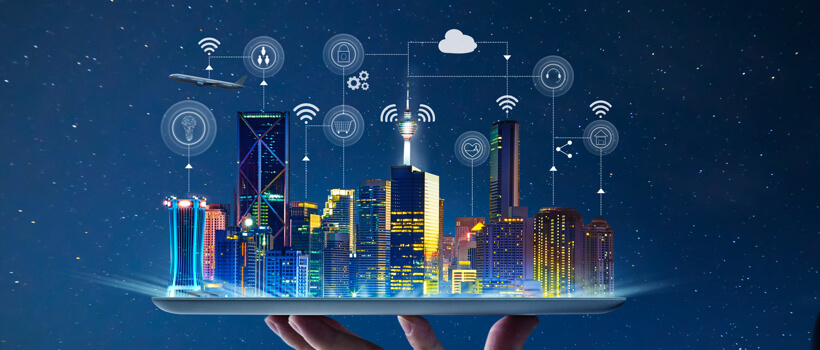 Table of contents
The Internet of Things and Smart Cities
The UN predicts that 68% of the world population will live in the cities by 2025. 
Among the top technology trends of 2020, smart cities powered by IoT is one of the most prominent. As evidenced in this post IoT predictions for 2020 & eeyond, a host of innovative measures are set to make our surroundings more informed and self-aware. 
How fast is this development? A report published by Price Waterhousecoopers, says spending on smart cities around the globe is projected to exceed US$2.5 trillion by 2025. So in about five years, expect this massive investment to bring about rapid and radical transformations all around.
Theory and numbers aside, what will the future urban life look like? What kind of new advancements and alternate processes will citizens have to get used to? What would your friendly neighborhood's makeover mean to you? Read on as we detail the many implications and impacts of smart cities on lives and landscapes. 
What do we mean by a Smart City?
A smart city is one that uses sensor-driven data collection and powerful analytics to automate and orchestrate a wide range of services for optimal use of resources, lowering costs and lessened environmental impact for more sustainable development.
Disruptive technologies like IoT are major drivers in transforming any urban city into a smart city, enabled by the smart use of data to address problems and provide solutions.

According to McKinsey, three layers work together to make a smart city. First is the technology base, which includes a critical mass of smartphones and sensors connected by high-speed communication networks. The second layer consists of specific applications, translating raw data into alerts, insight, and action requires the right tools, and this is where technology providers and app developers come in. The third layer is usage by cities, companies, and the public. Many applications succeed only if they are widely adopted and manage to change behavior.
Why do we need Smart Cities?
With the rising world population coupled with the problem of scarcity of resources, it is imperative to use technology like AI and IoT to plan smart cities that can tackle several issues in a coexistent society.
Smart cities are designed for the most conducive utilization of space and resources along with an efficient and optimum distribution of benefits. It also aims at increasing connectivity at various levels among citizens, as well as between the administration and population. The system can mitigate several redundancies in the present system and save time and money. Smart cities also aim at solving the problem of pollution and are more environmentally friendly, energy-saving, and focus on sustainability. 
Steps for Smart City implementation
The range of smart city applications is highly diverse, but the similarity lies in the approach to the implementation. 
This six-step implementation model shows what steps are needed to be followed for creating an efficient and scalable IoT architecture for a smart city.

Advantages of a Smart City
Improved Quality of Life– Similar to how a smartphone brings the entire world to our fingertips, a smart city incorporates state-of-the-art technologies to upgrade the quality of life for an entire city. McKinsey Global Institute states that smart city applications have an impact on various quality of life dimensions- safety, time and convenience, health, environmental quality, social connectedness and civic participation, jobs, and the cost of living.

The creation of a smart city is a slow and gradual process, demanding not just technological implementation into building the smart city but also technological awareness and literacy at the end of the citizens. This automatically leads to improvements in quality of life, and self-awareness enhances sustainability.
Public Safety- There is an increasing number of crimes across the globe, as the population increases, and the pressure on the resources increase. It has been seen that often police investigation is hampered, due to reasons like blind spots in video networks or low-quality imagery, or problems with the surveillance camera feeds. However, new technology is starting to become available to help police combat crime more effectively.

For eg. Predictive policing harnesses the power of big data and analytics to sift through historical and behavioral data, camera feeds, etc. predicting when and where crimes and other forms of the public disorder are likely to occur. 

Machine learning and neural networks are already being used to provide facial-recognition solutions for video surveillance footage, to assist police departments with their work.

According to McKinsey, incidents of assault, robbery, burglary, and auto theft could be lowered by 30 to 40 percent

, in the technologically empowered smart cities. On top of these metrics are the incalculable benefits of giving residents freedom of movement and peace of mind.
A Catalyst for Better Health- Smart City applications can provide some relief to the already strained healthcare system due to continued urbanization, industrialization, an aging population, climate change, and growing healthcare costs.Smart healthcare uses the latest mobile and digital technologies to make advances in eHealth and mHealth systems while also driving the growth of intelligent and connected medical devices. IoT technologies are pivotal to the healthcare revolution. Therefore, it's necessary to prioritize health and wellness goals in the early planning and architecture phases of smart cities.If cities deploy digital technologies to their fullest effect, there is a potential to reduce DALYs (disability-adjusted life years) by 8 to 15 percent, according to a Mckinsey report.
Pay-as-you-throw digital tracking can reduce the volume of solid waste per capita by 10 to 20 percent.
Air-quality can be detected with the help of sensors, information can be provided to the people and the source of pollution can be identified, so that steps can be taken to mitigate it. This can reduce negative health effects by 3 to 15 percent, depending on the current.
In an effort to contribute positively to the environment, we worked with a global manufacturer of filtration devices to augment their products with smart capabilities which enabled them to adjust air filtration processes automatically based on a continuous reading of quality indicators. Here's how we did it.
There are numerous other advantages of a smart city which we are yet to see, with the new applications still being explored. Although we can undoubtedly say that smart cities have overall better organization and infrastructure, and can be described as cities capable of using information technology to create efficiencies, sustainability, and ensuring that things available in the city are effectively used to fulfill better living.
Top 10 Smart Cities of the World
Even though 'Smart Cities' have become a buzzword, it is difficult to determine which cities are most advanced in terms of the technologies they are implementing.
This blog however, lists the top 10 cities based on certain factors, which are implementing smart city planning at a large scale.
Summing it Up:
IoT facilitates connecting cities and managing multiple infrastructure and public services. From smart traffic systems to improving quality of life, smart waste disposal, water conservation, smart health facilities, etc.- there are highly diverse use cases.
However, they are all aimed at achieving the same goal which is sustainable development, by implementing solutions that reduce costs for energy, optimize the use of natural resources, and lead to a safer and healthier environment.
Smart cities will indeed take time to realize their full potential. But the eventuality of their existence is clear. Very soon, we'll be witness to "smart cars "of the future having the ability to "talk" with each other via Vehicle-to-Vehicle (V2V) communication technology, and communicating to Infrastructure, with Vehicle-to-Infrastructure (V2I) connectivity.
All that we watch in science fiction movies, might just become a reality very soon!