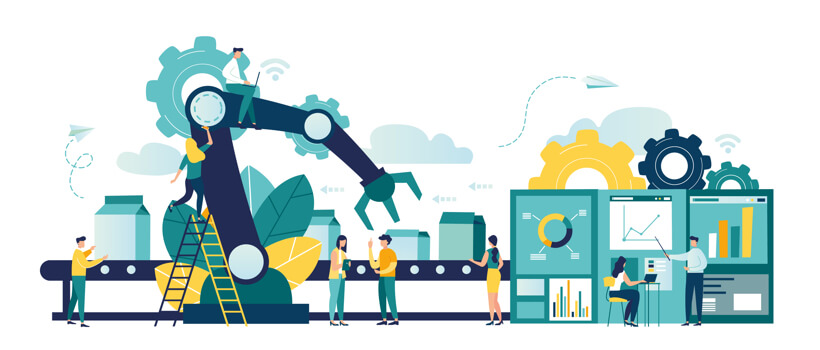 Table of contents
Introduction:
As per Gartner's prediction report "by 2022, 65% of organizations that deploy robotic process automation will introduce artificial intelligence, including machine learning and natural language processing algorithms."
Hyper-automation tops the list of "Top 10 strategic technology trends in 2020" by Gartner but what is hyperautomation and why do we need it?
How does Hyperautomation work?
Hyperautomation is a blend of advanced technology pools like:
Artificial Intelligence
Robotic Process Automation
Intelligent Document Processing
Intelligent Process Discovery
Advanced Analytics
Digital Operational Tools
Gartner's research says "Business driven hyperautomation refers to an approach in which organizations rapidly identify, vet, automate as many approved Business and IT processes as possible through a disciplined approach. Hyperautomation involves the orchestrated use of multiple technologies, tools or platforms."
Hyperautomation further refers to the sophistication of the automation such as:
Hyper-automation Is Different From Automation:
In automation, a bot or robot is trained to perform certain tasks and optimises a process but in hyper-automation the same tasks are performed with an extra skin of intelligence, where the augment human brain.
How Hyperautomation is used in Digital Transformation?
It has affected many industries since most of the companies are already using digital technology to transform their business needs. A few of the examples are listed below:
Some hospitals have started using the Digital Nurse concept to interact with patients, at the initial stage where doctor support is not required. The Digital Nurses ask patients relevant questions about their health and symptoms to properly guide them to care centres.
Medical transcription uses Machine learning algorithms that allows voice recognition systems to transcribe speech requests into texts. ML models can be trained with thousands of different speech requests to work more efficiently and effectively.
Also, billing and claims can be automated with hyper-automation using AI where it can collaborate bills and claims from different departments and consolidate them and RPA can then submit claims with necessary supporting documentation.
A quick overview of Artificial Intelligence.
Banking institutions have started using advanced analytics in application screening, for assessing the repayment capability of a customer by looking at various parameters which is usually impossible via manual screening. This can help banks in identifying non performing assets.
How Hyperautomation leverages automation technologies?
Hyper-automation is an extension of automation tools used to automate & optimize the process by leavering various advanced technologies together.
Augment your business processes with AI to accelerate hyper-automation. An organization can start by integrating DigitalOps tools with intelligence:
Artificial intelligence (AI)
Machine learning (ML)
Natural language processing (NLP)
Optical character recognition (OCR)
Conversational chatbots
The DigitalOps toolbox offers a wide array of technologies beyond RPA, such as BPM, workflow engines, decision management suites, process mining, low-code application platforms (LCAPs) and others.
It's important to plan a way ahead in the journey, lay out a roadmap for your desired outcome and areas that need to be optimized. Once the roadmap is ready, an organization can start exploring their ways to implement hyper-automation.
Below exhibit provides an insight towards the approach to implement:
How Hyperautomation has emerged as a digital transformation strategy for organizations?
Hyper-automation results in creation of dual twin of the organization (DTO)
It can reduce lead time by completing tasks in a short period of time
It can help reduce extra workforce which can be placed to address other tasks that need human intervention
It can free top management who can focus on strategies formation
It fetches great revenue by decreasing cost
It eliminates risks
By optimizing process, it can industrialize and scale the business
At present, Oil & gas industries, mining sectors, healthcare and utilities are attracting hyper-automation.
Gartner projects that by 2024, a minimum of 30% of operational costs will be lowered if companies adopt hyper-automation technologies.
It's high time that industries take a quantum leap to the future by implementing hyper-automation.
However, working with the right innovation partner can take a lot of overheads off your plate and enable you to build quickly, go to market faster and stay ahead of the competition. If that's the kind of help you are looking for, get in touch.