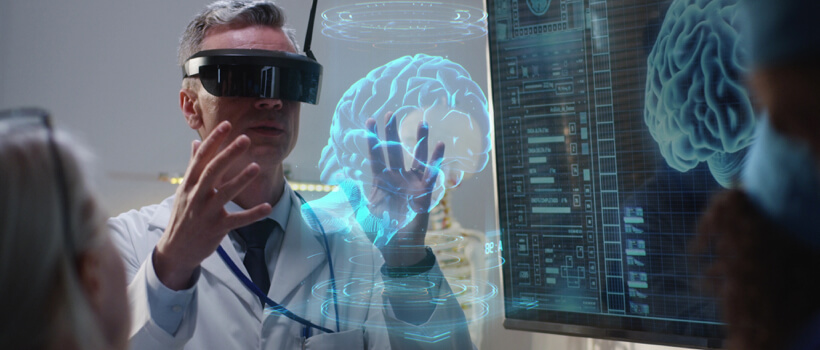 Table of contents
From fancy tales fit for enthralling sci-fi enthusiasts only a while back, virtual reality has firmly established itself as a transformational technology for various industries. Healthcare, suddenly the main focus area owing to the ongoing COVID-19 pandemic, has been one of the main beneficiaries of VR innovation across multiple areas. So what can VR do to increase efficiency, accessibility and testing in healthcare? What would the future look like as the technology evolves and offers more novelty? Let's take a look. 
The VR Landscape:
The global spending on VR in the healthcare market is projected to reach $30.40 billion by 2026, exhibiting a CAGR of 42.4% during 2019-2026.
According to another report by Statista, "by 2020, the virtual reality industry will reach revenue of USD 21.5 billion." These reports show that virtual reality in the healthcare industry will be a sizable chunk of the total market. 
It has truly not just moved the imagination of science-fiction fans, but also clinical researchers and real-life medical practitioners. This field is relatively new, however as the technology grows and richer VR content is generated, it will see even greater adoption and better results. It is set to have an increasingly positive effect on patients' lives and physicians' work.
The VR that lets you pretend to be a star quarterback or space pirate can also help train young professionals or even provide pain and anxiety relief to patients. The AR that puts Pikachu in your city park can also assist physicians with real-time information to use in diagnosis or even surgery.
What makes VR invaluable is the innovative ways in which it addresses some of the problems faced by the healthcare industry.  A few among such problems being:
Ground-level problems, as the situation seems to be in a permanent state of demand greatly exceeding the supply
Logistical issues with limited access and availability of equipment which is often outdated, not even nearly as effective as it should be.
And the permanent problem is with the lack of available personnel in many local institutions. The real situation is that they are often struggling to handle intense workflow not to mention emergencies.
Below are some of the pioneering  virtual solutions aimed at changing the face of healthcare:
Medical training: 
Virtual Reality has the ability to transport you inside the human body – to access & view areas that otherwise would be impossible to reach. VR technology allows trainees to learn human body structure, create a real-life situation to help them practice and guide professionals to become a successful surgeon. It gives a real control, the trainee can rehearse on it as many times as he/she gets their hands on and of course, it involves less cost as it doesn't require expensive trainers, equipment, etc. trainees can just put on the VR headset and start practicing.
Treatment: 
Robotic Surgery
Robotic surgery is a recent innovation in which surgery is performed using a robotic device, e.g. robotic arm which is controlled by a human surgeon. This means fewer risks of complications during surgery and a faster procedure. The robotic device is accurate, meaning smaller incisions, reduced blood loss and faster recovery.
Patient Education
The ability to view the inside of the human body in Virtual Reality is not only useful for doctors, but also for patients. VR allows patients to be taken through their surgical plan by virtually stepping into a patient-specific 360° VR reconstruction of their anatomy & pathology. The outcome is an enhanced understanding of the treatment and therefore higher patient satisfaction.
Battling phobias
This is one of the most inveterate forms of VR therapy to help patients overcome their fears. The therapy is like graded-exposure therapy, where the doctors help their patients to discover their anxiety and slowly allow them to grab control over their anxiety problems one step at a time.
Therapy for people with disabilities or chronic conditions
Virtual reality in the medical field has also been used to help people with disabilities or with chronic conditions experience things they may not be able to experience otherwise. They have helped paralyzed people learn to walk again and helped terminally ill cancer patients experience their bucket-list wishes. Similarly, the Fove headset has been used to help children with physical disabilities play the piano by tracking eye movement in an app the company created called "Eye Play the Piano". And these are a few examples of the therapeutic uses that VR technology
Pain Management & Physical Therapy
VR's healing capabilities aren't just limited to psychological issues but have been proved to work for pain management & physical treatment too. A study showed that full VR immersion for those undergoing physical therapy after a skin graft acted as a distraction and subsequently reduced pain levels for the patients. VR for physical therapy has also been shown to be effective in speeding up recovery time. Allowing the patient to do their prescribed daily exercises in a virtual environment makes the activity more fun, keeps the patient-focused, and helps them keep their spirits up during what can be a long recovery period.
Personal fitness
There are many ways virtual reality is improving healthcare by reaching patients directly. VR personal fitness apps can gamify your workout or transport you to virtual environments to make workouts more fun. There are a wide variety of these programs already available. These programs can improve patients' overall health and prevent future health problems.VR fitness programs can help teach you workouts and give you feedback on your movements, make exercise into a series of games or encourage you to work out even when the weather is bad by providing scenic backgrounds for running on a treadmill or riding a stationary bike. These VR experiences could also play a role in physical therapy.
Future of VR :
Given the evidence for an expanding market and growth in the field of emerging technologies in healthcare, it has been estimated that health care uses of virtual reality will be the second-largest share of the VR market by 2022. 
Overall, VR offers revolutionizing ways to advance patient care as well as medical procedures, training and many more opportunities. These virtual environments also help healthcare in achieving targets such as streamlined costs, more efficiency.  In times to come, the technology will provide a healing touch to patients while sharpening the skills of medical practitioners, thereby adding value to the entire healthcare ecosystem.