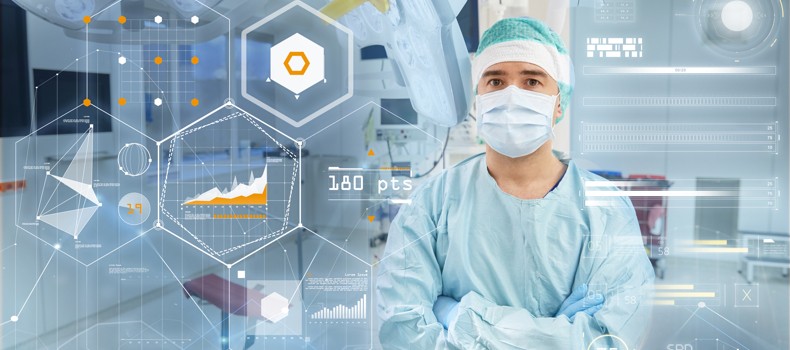 You're floating in nature's paradise. You see a clear sky, the stars are shining bright and you feel like holding it all up in your hands. When you look down, you see peaceful waves hitting the sands. You're walking on the seashore, and feeling the majestic waves crashing on your legs. Isn't it a beautiful experience and sound like paradise? Now remove your virtual reality (VR) headset, where are you? You're at your workplace and your manager is calling you for a meeting.
Virtual Reality is engaging many industries apart from gaming. Among the numerous industries such as retail, manufacturing, air, and space, travel, real estate; healthcare was the early adopter of this new technology. They have a clear vision of how virtual reality (VR) is going to add benefit and bring in untold opportunities to the healthcare industry. According to Key Market Insights, "the global augmented reality and virtual reality in the healthcare market are anticipated to reach $5.6 billion by 2022.
The healthcare industry is using 'virtual reality' technology in medical applications, educating, training new interns, and also treating patients. For example, immersion therapy is already under practice with the help of which patients are able to overcome their fears. Also, Emil Salazar, an analyst at Kalorama said, "the term 'virtual reality' is used in different contexts. Broadly, virtual reality is the means or capability to visualize and manipulate, or otherwise interact with, digital data representative of a real-world entity or environment. These digital data representatives are called virtual environments or VEs. VEs in healthcare could be an operating room, surgical site, patient anatomy, or therapeutic simulation."
The extension in the use of virtual reality (VR) in healthcare is unstoppable. As per Kalorama Information, "the US market for virtual reality in healthcare has seen a growth from $525 million in 2012  to an estimated $976 million till the present day.
VR in the Healthcare Industry
Beating Phobias
We all fear something like water, heights, snakes, open or crowded spaces, dogs and the list goes on. This is one of the most inveterate forms of VR therapy to help patients overcome their fears. The therapy like graded-exposure therapy, where the doctors help their patients to discover their anxiety and slowly allow them to grab control over their anxiety problems one step at a time.
Virtual reality is the best way to beat any kind of phobia as it can be adjusted accordingly and the treatment can be done anywhere as per the preference. Let's say the most common spider phobia. The medical center has introduced an application called Spider World, the very first medical application that is used by doctors to treat people who have this phobia.
VR Fitness Insider interviewed Maples-Keller, Ph.D. of the University of Georgia who explained, "Virtual reality is potentially a powerful tool for the psychiatric community. It allows providers to create computer-generated environments in a controlled setting, which can be used to create a sense of presence and immersion in the feared environment for individuals suffering from anxiety disorders."
Training Healthcare Professionals
Virtual reality has also drawn the interest of healthcare professionals. Doctor's job is not an easy one, it requires years of study and mainly proper training from experienced professionals. It has always been challenging plus a time-consuming process, however, VR technology allows trainees to learn human body structure, create a real-life situation to help them practice and guide professionals to become a successful surgeon.
It has taken the classroom training to the next level. It gives a real control, the trainee can rehearse on it as many times as he/she gets their hands on and ofcourse, it involves less cost as it doesn't require expensive trainers, equipment, etc. trainees can just put on the VR headset and start practicing.
Control Pain
Virtual reality has played a major role here by helping the patient to control their pain. David Patterson designed the first method of applying VR for pain control in 1996. SnowWorld was the first VR application introduced to minimize the pain caused due to burns.
Augmented on a mirror therapy, surgeons can trick the patient's brain by placing a VR headset and distract them from physical pain such as operating amputee. VR applications excellently aid to relax and divert the patients from distress situation to a pleasant place that allows patients to tolerate their pain or uneasiness.
Physical Therapy
Patients can do their physical therapy by using virtual reality technology and proofed as the most effective treatment method in the healthcare. It adds fun and motivates patients to do movements. It traces the body movements and gives instant feedback to the patients. For example, physiotherapist uses VR headset to boost their patient's confidence to do therapy exercises. The patient will be given virtual things which they are asked to touch by lifting their hands or legs. While doing the exercise, the patient will also be given feedback if they are doing it correctly or need improvement.
Future of Virtual Reality Technology
As per the PwC survey report, 86% of healthcare CEOs see technology reshaping their industry in next five years.
As more innovation moves forward, virtual reality technology will span in all spaces of medical and patient treatment. The technology has revolutionized the entire healthcare sector by increasing the doctor-patient engagement and amplify their digital experiences. This technology has the potential to grow even more in future, where there will be multiple healthcare applications to help doctors and patients.
The technical director of Ready Set Rocket, Gareth Price predicted, "VR is going to witness the biggest reach in training and virtual surgery. Virtual reality opportunities are going to revolutionize the healthcare industry with its post-traumatic stress disorder and phobia treatment. VR is estimated to have a high impact on the medical field."
With so many opportunities of VR in healthcare, this is just the beginning. You need to keep an eye on VR healthcare solutions to amplify, investigate, invest and integrate VR technology to enhance users interactions.