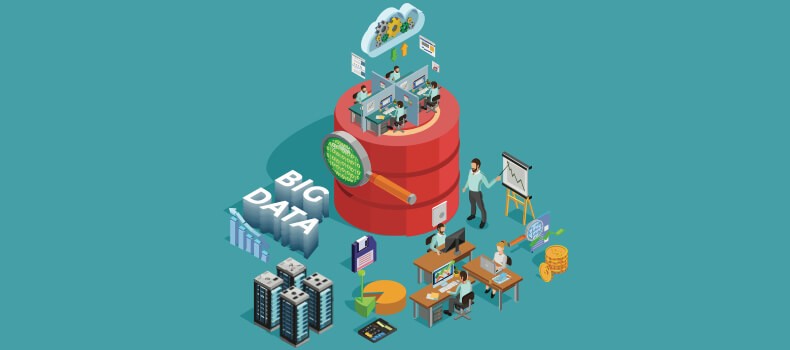 Big data helps an enterprise to understand their customers. It steers a service provider to utilize the data in more innovative and stable way when designing a product for a potential customer. As the world becomes more digital, enterprises have enormous data to deal with. Big data pulls out all the valuable data that can trigger company's benefits.
Enterprise who uses customer analytics on a large-scale is going to witness 126% profit upgrade over their competitors.

-McKinsey research,
The Role of Big Data In Digital Marketing
Enterprise management and maintaining big data are going to have more accurate and advanced strategic marketing decisions. This will allow digital marketers to acquire better insights and transparency in an organization.
Big Data plays a key role in digital marketing strategy. It is an immense group of data that is analyzed computationally to release conclusions and show the company's ongoing discovery. It has transformed how businesses use to evaluate their customer's behavior around the world.
Along with the potential of analyzing the past trends, it can also envision the upcoming customer behavior and unbar numerous new opportunities for an enterprise. Marketers are continuously focusing on predictive analytics as it provides significant insights into the end-consumer base, which helps them to keep a track on the demand flow. Also, it helps to plan how they can successfully engage their customers by using the data from their company's database for achieving accuracy in demand forecasting, optimal fleet utilization and drive benefits.
According to the B2B Predictive Analytics Technology Report published by TOPO, there is going to be a rapid growth, with 36.8% of high growth companies investing in predictive analytics over the next 12 months.
The Impact of Big Data In Digital marketing
According to Research and Markets, "the market for global cognitive computing is expected to reach $12.5 billion by 2019."
Personalized Targeting
As marked by the researchers one of the notable value brought by big data in the digital marketing is that marketers saw a decline in their expenses plus were able to increase their product development process. Besides the ability to engage the customer on a large scale, big data can also be used in creating personalized campaigns targeting individuals – marketers can recognize significant patterns of customer behavior which will help to engage audiences at the individual level. Therefore, knowing it's potential and integrating it into the operations has helped organizations discover how to build an advanced branding for the long run of their business.
For example, all the e-commerce sites use big data to accumulate information from a simple online registration form to have a deeper insight into their customers' shopping behavior. This marketing strategy is to have a tailored content and a personalized customer experience for all the shoppers based on their web searches and their shopping history.
Enhance Equipped To Target
Big data is powerful when it's used with internal research and insights and it's also equally essential for a company to look at various sources like third-party companies' analytics. Human element also plays a major role to incorporate big data with insights gathered from outside sources like directly interviewing people, surveys, feedback from the target audience. This improves the research endeavor as well as secure the research to upgrade the relevancy to achieve the desired goals.
Once the marketer successfully gains an accurate and deep understanding of their audience's behavior they can strategize how to make use of the existing data and insights and how to impart it into their digital marketing operations.
Uplift The Sales Chart
Big data has automated the entire sales activity and helped marketers to create more effective algorithmic marketing model for their business. The model uses self-directing and advanced data examination to establish an appropriate and valuable customer relationship.
This approach helps marketers to set campaigns targeting the right audience by using behavior match analytics. It also empowers digital marketing leaders to spot the prime time and different ways to reach their potential and existing customers. Besides each customer, their specific interactions are stored in the organization backend. This data can be used to retarget based on the purchase history and also enhance sales opportunities with cross-sell or upsell approach.
For instance, online retailers use big data to perform the effective pricing approach. Also, based on shoppers behavior they recommend them with the similar product they may find interesting and buy it.
Future of Digital Marketing with Big Data
Big data has transformed the way businesses use to spend and generate the revenues. According to International Data Corporation (IDC) report, "total revenues from big data and business analytics will rise from $122 billion in 2015 to $187 billion in 2019. And enterprises who invest in big data and obtain the power to quickly analyze the large-scale data and extract actionable information can get an additional $430 billion in terms of productivity benefits over their competitors."
The enterprises are going to evidence lots of investment in big data in the coming year. Though the investments might vary from enterprise to enterprise, the investments on big data are going to discharge a higher return on investment (ROI).
McKinsey studied how different sectors will withdraw significant financial benefits from big data.
US healthcare will generate $300 billion value per year.
US retail will see 60% increase in their net margin.
Manufacturing industries will notice up to 50% decrease in product development and assembly costs.
Big data has raised the opportunities for organizations to use data to track benefits, customers' and company's activities across the world. According to NewVantage Partners Big Data Executive Survey, 48.4% of corporate executives say that their firm has achieved "measurable results" from their Big Data investments.
The question now for the digital marketers is how to affiliate such new potential into their performance strategies to build a meaningful insight and enhance their efficiency.