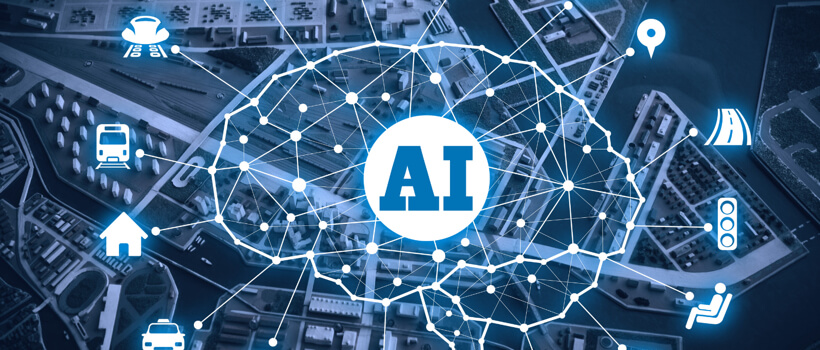 Table of contents
Transportation, the industry that deals with the motion of passengers and commodities from one location to another, has gone through several examinations, analyses, tests, and polishes to reach where it is now. Today, the transportation sector has developed to navigate and move without human assistance. Technical improvements have enabled the transportation sector to progress in its journey of creation and development. One new-age technology that has made it prominent in the industry is AI. Leveraging AI in transportation enables the sector to increase passenger safety, lessen traffic congestion and accidents, decrease carbon emissions, and minimize financial expenses.
Before we proceed further, let us understand
What is AI?
Artificial Intelligence is a technology that strengthens machines with human intelligence. Machines with AI abilities can mimic humans, automate manual jobs, and learn like humans.
With automation, repetitive and time-consuming tasks go into the plate of AI. Realizing this unique potential of AI, enterprises in the transportation industry are making considerable investments to enhance revenue generation and stay ahead of their competitors. According to studies, the global market for AI in transportation will reach 3.5 billion dollars by 2023.
Artificial intelligence(AI) is transforming the transport sector. It is being applied in different transport fields, from helping cars, trains, ships, and airplanes function autonomously to smoother traffic flows. Beyond making our lives easier, it helps to make all transport methods more intelligent, safer, and more efficient. For instance, AI-led autonomous transport will assist in reduction of human errors in many traffic accidents. However, with these opportunities come real challenges like unintended consequences and misuses like cyber-attacks.
Now, as we have understood AI, let's dive in to comprehend the use cases.
1) AI in Road Transportation
Road transport is one of the areas where AI is successfully implemented, opening up exceptional levels of collaboration between various road users. Technology firms, Automotive manufacturers and research groups are researching AI technologies to develop and design automated vehicles for commercial and personal transportation. Like- Cars, based on sensors (such as GPS, cameras, radar), combined with actuators, control units, and software. Technologies like these can only take over specific driving actions (like parking); others will soon replace the human driver entirely. In general, it is complex to try automated vehicles in urban areas, as there are a lot of various factors, complicated road systems and infrastructure, where the car needs to predict unpredictable signs of movement. AI technologies are also being used in road traffic management, allowing the analysis of traffic patterns, volumes, and other aspects. These can provide drivers with data on the shortest route to relieve traffic congestion. AI technologies also help keep traffic flowing via traffic signals and traffic lights that rotate in real-time to meet on-the-ground traffic flow demands.
A report by Stanford University states that self-driving cars will reduce traffic-related deaths and injuries.
The graph below shows that Autonomous Car Sales will Surge by 2035
AI will be mainstream in a few years because it will eliminate the prospect of an error on the road and make traveling a delightful experience. Elon Musk's Tesla introduced driverless cars on the market, and many other companies are currently engaged with the same technology.
2)Artificial Intelligence in Aviation
AI is not unknown to the aviation industry; they have been using it for decades in various operations and across the value chain. Yet, we are now moving into a new era where AI abilities reach heights and will significantly impact the aviation industry. AI in air traffic operations is in its infancy. Advancement in automation and computing power, utilizing technologies related to machine learning and data analytics models, is being used to improve growing air traffic volumes.
What we understand as advanced business intelligence can substantially alter the way airlines run their business in distribution, marketing, sales, distribution, pricing, and fleet management.
Another place where AI can make a difference with regards to speed or processes is ground handling. Some instances of high potential use cases include aircraft movement operations (pushback and towing) safety checks, aircraft turnaround operations that provide for loading, fuelling, catering, unloading, anti-icing, de-icing, and ground transportation on the ramp like passengers, baggage, cargo and mail.
3) Artificial Intelligence in Railway Transport
Railways are among the most innovative and prominent aspects of the Industrial Revolution. With the rapid growth of road and air transport, rail lost its leading part in innovation. The extensive data generated by digital technologies will be a helpful tool, letting rail corporations modify their organizational system, enhance their performance and design new added value. To reap the full advantages of digitalization, railways can rely on AI. AI will improve operations, manufacturing and maintenance for rail operators and infrastructure managers.
Therefore, it can be sensed as a lever to enhance management, lower costs, and improve competitiveness. Intelligent train automation is one of the most indicative examples of uses of AI in rail technology and its contribution to the Automation of Train operation (ATO).
ATO transfers responsibility for overseeing operations from the driver to the train control system, with varying autonomy. Today, AI can use the potency of data powered by sensors positioned on trains or infrastructure components to pull information at the right time and recommend actions for safety and maintenance.
The French operator SNCF  says it will forecast 80 % of incidents on catenaries, which supply electrical power to the trains to display some AI applications. According to their research report, predictive maintenance reduced incidents involving train switches by 30%, and this technology is applied in numerous train systems and subsystems today. One of its ongoing AI projects is developing the possibility for a train to share its 'health diagnostic' to a fleet manager, who can then remotely supervise maintenance using voice recognition software.
4) Artificial Intelligence in Navigation, Shipping and Ports
Over the past few years, sea and inland waterway transport has had a few significant developments.  traffic has grown more rampant, which has raised the stakes of marine protection and has called for advances in maritime surveillance. The further growth of container traffic has called for adaptations to port terminals and better connections with their hinterland. Ever-growing vessel sizes have amplified ships' pressure on ports and cities.
Digital technologies such as the internet of things, big data, and automation are game-changers to this industry. Building on that data, AI is making it possible to analyze the information and gain insights that facilitate decision-making, that help to improve safety, power efficiency and optimize logistics. The different AI applications used or tested prove the sector's focus on the introduction of such enabling technologies.
Detection of oddities in marine procedures can enhance safety at sea. Automatic identification systems (AIS) helps transfer data like a ship' identification number, position, course, speed and destination. With recorded ship movements and advanced image recognition, vessels can be identified even if they turn their AIS transmitters off. Insights gained from analyzing such data can be utilized to carry out maintenance and technical functions, thus making a ship more energy-efficient and also helping it meet emission control standards.
The Autonomous Ships Market size will reach $165.61 billion by 2030, registering a CAGR of 6.8% from 2020 to 2030.
Conclusion
The AI Market in Transportation (AITS) is estimated to grow from USD 1.21 billion in 2017 to USD 10.30 billion by 2030, at a CAGR of 17.87% during the forecast period. Artificial intelligence is changing the transport sector. It is applied in multiple transport domains, from helping cars, trains, ships and airplanes to function autonomously to making traffic flows smoother. Further making our lives easier can help make all transport modes more intelligent, secure, more hygienic, and more efficient. Artificial intelligence-led autonomous transport could help reduce the human errors involved in many traffic accidents.