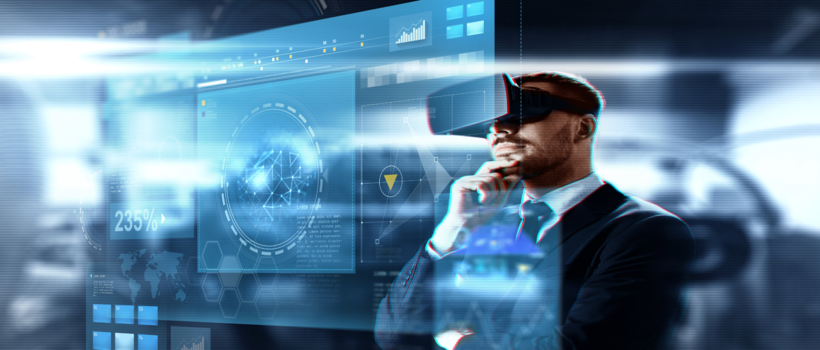 Table of contents
Extended Reality Business Applications for Industries in 2022
Introduction to Extended Reality
Extended Reality(XR) is an umbrella phrase that consists of all real and virtual environments generated by computer technology. It comprises Augmented Reality(AR), Virtual Reality(VR) and Mixed Reality(MR).  All immersive technologies grow the reality we experience by creating a fully immersive experience by blending the real and virtual world.
Research reveals that more than 60% of respondents believe XR will become mainstream in the coming five years. The Extended Reality(XR) market will grow from 33 billion dollars to 125.2 billion dollars by 2026. Visualize yourself walking on the moon or diving into the deep sea, all while you are sitting on your couch at home. Just as we spoke, Extended Reality(XR) makes all of this possible.
To know more about Extended Reality, we need to understand the three components of Extended Reality, which are Augmented Reality(AR), Virtual Reality(VR) and Mixed Reality(MR).
Let us have a look at the three remarkable components;
Three Remarkable Components of Extended Reality(XR)
Augmented Reality(AR)
As the word suggests, Augmented Reality(AR) takes the existing reality and overlays it with different types of information, thus enhancing the digital experience. It can be classified as marker-based, marker-less and location-based.
To experience AR, we have to use glasses or screens using tablets or smartphones.
Examples of AR are 'Pokemon Go' games where digital structures are created and placed in the real world and a Snapchat filter that lets you put on the hat or glasses.
Virtual Reality(VR)
In contrast to Augmented Reality(AR), Virtual Reality(VR) fully immerses users in a simulated digital environment. Individuals must put on a VR headset or a head-mounted display to get a 360 -degree picture of a synthetic world. This artificial world tricks the brain into believing they are swimming under the ocean or walking on the moon, letting them step into a new world created by the Virtual Reality developers. The entertainment and gaming industries were the early adopters of this technology; however, companies in engineering, Digital Healthcare, construction, and more are researching their way of implementing it.
An example of Virtual Reality use case implementation is Volvo. Volvo introduced VolvoReality that lets customers experience a complete VR test drive with their phone.
Mixed Reality(MR)
Mixed Reality(MR) is the latest immersive technology, often referred to as hybrid reality. In mixed Reality, real and digital-world objects co-exist and interact in real-time. It needs more processing power than VR or AR to avoid speed problems and latency. We can experience Mixed Reality with an MR headset or glasses.
5 Powerful Real Time Business Applications
Healthcare
Imagine exploring human anatomy virtually. What if there is a life-size 3D model right in front of you where you can walk and interact with it- that's what XR can do- it creates a virtual experience. Extended Reality in Healthcare is paving the way for new opportunities for medical practitioners. Extended Reality solutions own the potential to assist surgeons in the operation theatre. To understand it in detail, let us have a lookup into the best 3 uses of XR in Health Care :
1)Building surgery simulator to train medical practitioners 
Immersive technologies help doctors conduct surgery simulations. We can create a surgery simulator with the support of extended Reality. We can also use it for training medical practitioners.
2)Helps Surgeons Prepare before actual surgeries 
With the help of Extended Reality(XR), we can generate 3D replicas based on patient scans that let surgeons study and collaborate with the team on surgical tactics. An XR immersive headset is used to showcase the draw, cut measure tools, and develop an actual operation procedure.
3)Better Diagnosis of Health Conditions  
What if doctors can scan a patient's body and point out health problems straight away? As fascinating as it sounds, it is now possible with an XR application. Immersive technologies are brought together with the help of 3D models to help detect patients' illnesses.
By 2025, Augmented Reality(AR) and Virtual Reality(VR) market value is forecasted to be $10.82 billion.
Retail
One of the most thrilling areas where XR is set to make a mark is retail/eCommerce. The line is clouding between online and in-store shopping experiences; like today, more brands are experimenting with Virtual Reality(VR) and Augmented Reality (AR) to build innovative customer experiences.
But why should we imagine a virtual shopping experience when you see it in person in the store? All of this was true until customers couldn't go to the store anymore due to pandemic restrictions.
In January 2020, 8% of retailers stated they were interested in AR/VR. Six months later, that number increased to 20%. Today, retailers see the opportunity of Extended Reality in a different light.
Top 3 Examples of VR and AR bring used in the Retail Sector
1)Nike– Nike used Virtual Reality and Augmented Reality in their physical stores so that Customers can scan items like clothes or shoes to view information.
2) IKEA developed The Place App, which lets shoppers use augmented Reality with their smartphone camera to position furniture items in their houses to visualize exactly how the thing will look.
3) BMW's augmented reality experiences let car shoppers head into showrooms and customize cars with various colours or styles using their phones or tablets. They can even put on virtual reality goggles and experience driving cars to understand their options better.
Gaming and Entertainment
Gaming
With its share in the XR market being 34%, the video games industry has been XR's early and foremost user. Many game designers are now creating interactive 3D experiences, using different devices and frameworks to build Extended Reality games that let them feel like they are playing in a real environment. Like being in a Star Wars environment where Darth Vader is present? Vader Immortal is a VR game that gives an immersive experience of how it truly feels to be in the Star Wars world. You can play this VR game using the Oculus Quest headset.
Research emphasizes that the VR market for gaming was worth $5.12 billion by 2019 alone. Further forecasts state that the numbers will grow at a CAGR of 31.8% by 2027, by which the VR market size is about to reach a net of $45.20 billion.
Entertainment
Virtual Reality plays a dominant part in the entertainment industry. It focuses mainly on producing and improving video-based immersive media like TV shows, movies and numerous other forms of video content. Virtual rides are designed for Theme parks which are usually difficult to simulate in Reality.Beyond this, Virtual Reality is also being executed in art galleries and museums to make it interactive with a contextual background and to provide a rich user experience. Other AR entertainment mobile apps like PokemonGo have transformed the real world with a simulated overlay attracting and engaging audiences.
While Virtual Reality(VR) is liable for gathering a lot of traction due to its highly immersive characteristics, Augmented Reality(AR) is now becoming a game-changer. It is a lucrative immersive technology that will benefit the Gaming and Entertainment sector in the long run. AR technology is used daily in smartphones via camera filters on social media platforms like Snapchat, Instagram, and Facebook. The filter utilizes computer vision technology that relies on an active shape model categorizing features and a human face-recognizing feature; filters are applied accordingly through the camera. The VR and AR media entertainment market is expected to grow at a CAGR of 48.8% from the year 2018 to 2023.
Marketing
Extended Reality(XR) empowers marketers to give their customers a shot before purchasing the product. It lets customers immerse themselves into that environment and convince them to discover it. For instance, Cathay Pacific used a 360 video to help clients understand the brand.; This raised customer consciousness by 29% and brand favorability by 25%.
From a marketing point of view, let us understand what XR brings to the table?
Product Showcasing With XR, consumers can experience new developments in new ways like never before. Imagine trying out a shoe or a smartwatch before you even pay for it! That's the pulse that the marketing strategists want to target.
Interactive campaigns XR is all about building an immersive experience for the consumer. Thanks to digital transformation, the calibre of hardware available to the average customer have improved vastly. Every smartphone is capable of processing AR tech, which empowers marketing strategists.
Education & Training
XR holds great potential to change how we get education and training. XR will help get trained and educated in low-risk, virtual environments to master the skills fast and without spending a significant amount. Employees can efficiently focus on the task in a simulated environment built using XR. Remote learning is another vital aspect of XR that will solve the problem of distance barriers.
Benefits most from using XR solutions in Education & Training
 NASA is vigorously experimenting with XR to train its repair and maintenance workers in the space station.
The electrical technicians at Boeing aeroplanes use AR-headsets to check maintenance checklists, which are reducing their inspection time by 25%.
The US Marines have used an "Augmented Immersive Team Trainer" system that trains soldiers virtually by adding different fire effects and enemies that has enhanced their performance in real-world scenarios.
Real time Examples
Walmart uses Oculus VR headsets to augment employee training. Positioning staff through training with VR boosts the confidence and retention of the team, enhancing test scores by 10 and 15%.
The Coca Cola Augmented Reality(AR) app allows users to point their camera phone at any Coca Cola can and make one of the twelve stories come to life.
Ford's new technology, HoloLens, lets designers wear wireless headsets and see digital designs and parts as already incorporated into the physical vehicle.
Jaguar generated 3D models of every car part, letting them picture every element of the vehicle and fit it all together. The model will simulate the performance of components and systems.
Extended Reality Challenges 
Screen Door Effect- This visual effect allows fine spaces between pixels to be seen due to a large image scale. However, this can be solved with advances in both lenses and screens.
Motion to photon latency– It is a delay between the user's head movement and the change in the display of the XR device imitating its movement. This can cause motion sickness. Researchers have designed a freedom model for user movement prediction, lowering positional rendering error.
Safety Concerns– If the app uses an Extended Reality controller, then the user may clash with other objects provoking harm at both ends. Moreover, the user may trip over an obstacle while moving around, causing them to lose their balance. Intel has put together guidelines on creating a safe, comfortable, and immersive VR experience.
Conclusion
Extended Reality (XR) is creating breakthroughs in finding unique ways to interact with clients. XR solutions are augmenting and increasing the productivity of many industries, including real estate, retail & eCommerce, education & training, entertainment, and more. We may see a world where virtual interaction prevails over real-life experiences in a more distant future.