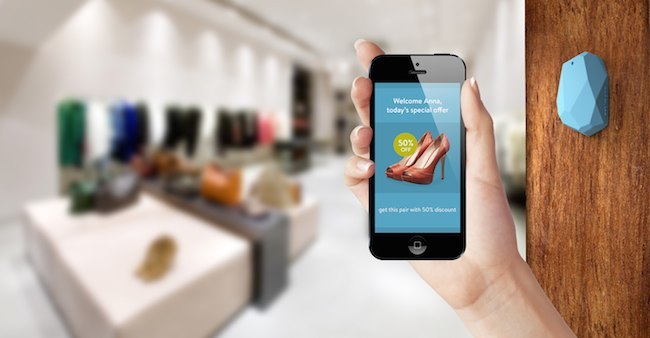 As the world of business advances, the competition amongst the retailers is reaching a saturation point. Retailers are finding new ways to reach out to their customers, to keep them engaged in the stores and regulate their buying decisions. Picture this: Whenever a customer walks into your store, they get a notification on their mobile phone – a welcome message, offers/coupons, promotion or a reminder of their shopping list. Isn't that a delight to your customer and, help you take your business to the next level? All thanks to beacons! Let's see how this technology helps your business transform.
What is a beacon?
Beacons are small, battery operated devices that enable more accurate location within a limited range. They are attached to a wall or countertop inside a store and transmit small amounts of data via Bluetooth Low Energy(BLE) up to 50 meters. Due to it's low cost, even small businesses may want to try this new beacon technology.
Reasons to use Beacons
Track movements: Beacon makes it easy to track customer movements around the store and, provide coupons, discounts and information for that department where the customer is. Also, by using beacon technology, retailers can attract customer attention, by sending messages like new arrivals, discounts, rewards, etc.Let's see how Macy's used Beacon: Last year on Thanksgiving Day, Macy's installed beacons in nearly 800 stores, in partnership with Shopkick, a location-based coupon provider, to better utilize on an offline data-driven retail experience. This technology tracks customer movements with their store, push product recommendations and discounts and to inform shoppers about relevant sale items.
Best experience: Meeting up with the customer's expectation became a priority for all retailers, because there are so many retailers in the market competing with each other. Now this gives a customer the power to informed decisions and creates a need for a business to deliver the best experiences to their customers. For example: iBeacon technology for Apple devices, which are used by the retailers to get an alert on their apps or websites, which detect when someone approaches or leaves a location. So at any given moment they can send messages to the customer promoting their products.
Personal Touch: Beacon collects data based on the shopping behavior and product references of the customer, creating a more personalized experience. Let's say a customer comes to the store and buys a blue shirt and now, a week later the retailer can send out an offer to the same customer on a black trouser that'll go along with blue shirt. Retailers have an option to send their message notification automatically on their customer's smartphones whenever they triggered customer passes by the store. This will increase the chances of getting the customer visit the store. Lord & Taylor used their beacon program for a more personalized approach. They targeted their users based on their shopping history, with specific sections of the store sales, targeting right customers with the right product. Hudson's Bay Company (HBC), which owns Lord & Taylor, has rolled out beacons at 50 stores in the United States and 90 Hudson's Bay locations. Using beacon technology, retailers can create an individualized campaigns for each department, focusing more on customer satisfaction which makes the shoppers experience interesting. For example: customers will receive messages in their smartphones with the offer up to 70% off on certain items, in certain departments with some specific code to use.
Engaging Customer: Rule To Follow
Beacons and their related apps can do multiple things, in an automated way, which makes it easier to engage customers for a longer time. The ultimate goal is to build a strong relationship with your current customers, because it is important to let them know, that the effort they made to come to your store is appreciated and valued. More engaging in-store experience can engage current customers using beacons, helping them to navigate through the store and help them decide what to buy and notify them if there is any offers running in the store. This allows a retailer to understand the customer's behavior and serve them with the information needed. Information that is provided to the customer are accurate and specific to where they are in the store, here contextual information, gives customers access to rich product information such as videos at the right time. For example; GameStop an electronics retailer company is experimenting where, customers can voluntarily wave with their smartphone in front of them to receive some type of offers or information with prominently displaying beacons in stores.
Challenges
When the retailer has multiple stores with beacon technology installed, maintenance becomes one of the most daunting task.
Limited range to target customer. It can only send push notifications to the customers within a location perimeter. For example, if a retailer wants the beacons to broadcast over a large space, they have to increase the range. The challenge here, each time the broadcasting power is increased beacons become less energy efficient, resulting in a faster battery drain.
Use of beacon technology in retail has transformed in-store retail experience and is no longer an experimental technology. Beacon devices brought much interest to retailers as well as customers to take the shopping experience to next level and by the end of year 2016 beacon will soar to new heights.