A study by Juniper research predicts enterprise applications with augmented reality elements to account for the third-largest proportion of revenues by 2015.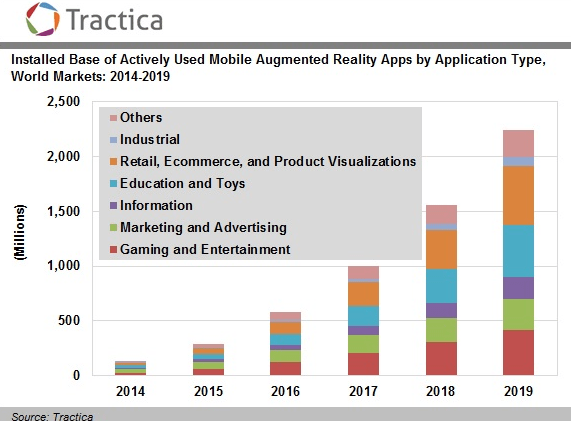 Augmented Reality (AR) has gained a lot of lot of traction, in recent times, as an enabling technology in the mobility space. The proliferation of powerful smartphones and later tablets has presented AR with the right vehicle to take center stage in enterprise and consumer mobility. As a result, we are witnessing a huge interest in AR technology and its growing adoption in enterprise-level app development and there is much more in the near future.
Our cover story, this month, focuses on Augmented Reality with specific reference to enterprise mobility and endeavors to explore the seismic shift, drivers, opportunities and challenges of adopting the new technology. We also look into the future to understand how AR will shape-up mobility in the coming days.
What is Augmented Reality?
Ronald Azuma's widely referenced definition of AR explains Augmented Reality as systems that have the following three characteristics
1) Combines real and virtual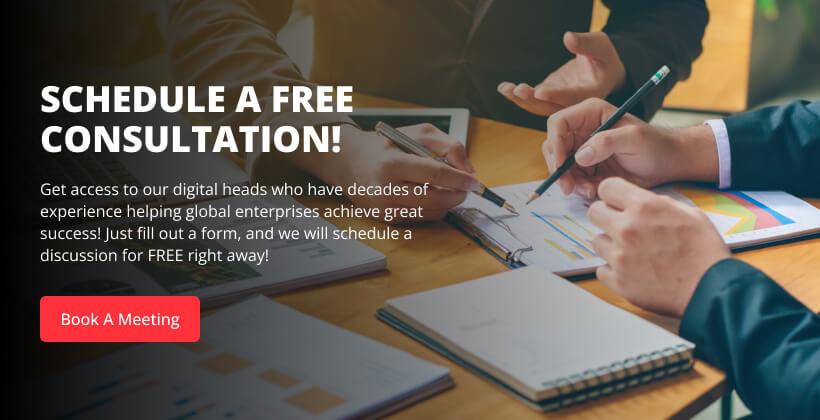 2) Interactive in real time
3) Registered in 3-D.
In simpler words, AR refers to a technology that blends real and virtual world in real-time through suitable computing interfaces. For a user, it offers a real-time view of the immediate surroundings improved or enriched with digital information. One example of Augmented Reality use in enterprises can be a medical equipment manufacturer launching an app that allows its sales team to provide 3D demonstrations of its entire product range to doctors on a smartphone or a Tablet. Similarly, AR can be used by car manufacturers to visualize and design a car body and engine layout. A mobile AR app can be built that allows employees to try and build digital mockups of the car body and work on its design, share it with other relevant people and then arrive at the final design.
The Transformation
Augmented Reality failed to took-off in enterprises for many years due to lack of supportive infrastructure. The advent of smartphones and Tablets provided it with an appropriate platform for its mass usage. But still, most of the usage was restricted to location based and navigational applications. However, evolution of image recognition technologies and further advancements in mobile computing powered the development of a wider range of applications that promises to take Augmented Reality in enterprises to next-level and dilate their usage across the ecosystem. Today AR has its usage across every industry vertical- from military to industrial, and from education to entertainment.
The Key Drivers
There are several factors that are driving the AR usage in enterprises.
The advent of AR-supportive smartphones and Tablets in enterprises is the major driving force that provided the necessary infrastructure for the technology to grow.
With the costs of AR capable mobile devices going down and advancements in the AR technology, the costs of employing AR into apps has also considerably reduced, further encouraging enterprises to try it out.
Increasing mobile internet speed and adoption is another factor that is encouraging the usage of AR apps beyond limitations of time and space.
In the last few years, we have also witnessed the rise in m-commerce with every big and small brand making its presence felt in the mobility space and providing consumers with access to their products and services. Brands in search of providing interactive and superior shopping experience to consumers are leveraging on AR.
The Benefits
Provides rich, interactive and engaging user experience.
Aids in boosting brand perception among customers.
Helps in customer buying decisions.
Provides access to the soaring smartphone markets.
Relatively economical in comparison to other media alternatives.
Detailed analytics and data to understand user behavior.
SELLING WITH AUGMENTED REALITY
Likelihood To Buy?
After viewing the 2D printed display advert, out of 100 parents, 45% would consider buying the toy for a child. Out of those who viewed the augmented reality experience, 74% of the parents would consider buying the toy for a child.
Attitude To Price?
Out of those parents that viewed the printed advert, the average price of £5.99 was attributed as the estimated retail value of the product. Of those parents that engaged with the augmented reality experience, they estimated a higher average price of £7.99.
Advertising Engagement?
Parents spent an average of 12 seconds actively engaged with the print advert. Those parents using the augmented reality experience did so for an average of 1 minute 23 seconds.
The Challenges
There are, however,a number of social,economic and technical challenges that need to be addressed for AR apps to gain any significant traction in enterprises. It is early days for AR apps in mainstream and hence there is little public awareness on its usage and benefits. Brands releasing AR apps have to educate its audience so that they can make complete use of the AR capabilities in apps. Secondly, AR is heavily hardware dependent i.e. it requires good-quality cameras and sensors; which in a fragmented smartphone market with varying device sizes and capabilities would be difficult to standardize. Moreover, to boost the usage of AR apps, challenges like user interface, demand for engaging content that can provide value to consumers etc., too need to be addressed so that AR moves beyond the gimmick to fully engage the customers.
The Opportunities
Augmented Reality offers tremendous opportunities for enterprises to leverage from it both, internally and externally. Here a few ways through which enterprises in different sectors can use mobile AR apps
Travel & Tourism: AR based GPS apps can provide directions to tourists. Translations apps can help them read and interpret signboards and menus in foreign locations. Sightseeing apps can be built that provide location-based information on the display of the device. The tourists can walk through historical sites and museums with key facts & figures presented on the screen of their smartphone or Tablet.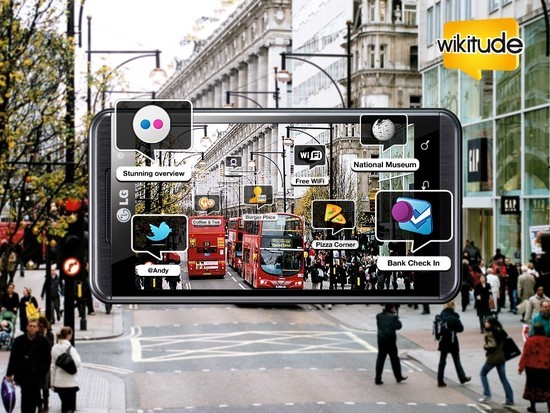 Source: Androidcentral.com
Healthcare: AR apps can enable medical students to use surgical techniques on virtual body parts of the patients. 3D visualization aids in the apps can be used to see and explain complex medical conditions. AR can also be integrated with other medical equipment like X-ray, MRI scanners etc., to provide comprehensive details of a patient's condition.
Source:augmentedrealitytrends.com
Manufacturing: AR can help in creating a simulation environment that can assist in product designing process. Simulated environment can also be used to train employees. The maintenance team can get superimposed images and relevant information to help detect defects in big machines.
Education: AR capable navigation apps can provide directions to various places in the campus. Schools can use AR generated 3D visual models to explain science and mathematical concepts. Markers can be used in text books which provide additional information or play supplementary videos when scanned with AR capable smartphones.
Source:personal.kent.edu
Commerce: AR apps can provide complete preview of products and customization of options. For example, apparel stores can provide preview options through which buyers can actually see how a particular apparel design looks on them. For promotion, AR supportive materials can be designed which when scanned through a mobile device provides additional information about the product.
Source: augmentedrealitytrends.com
Sports & Entertainment: In sporting events, AR can be used to overlay advertisements into the playing area. AR imagery and markers can be used to explain the techniques and strategies involved in the game. AR based games can provide gamers with real-life experiences in combatting an enemy or while racing cars. The use of AR in movie-production can result in a unique viewing experience with viewers finding themselves amidst the characters.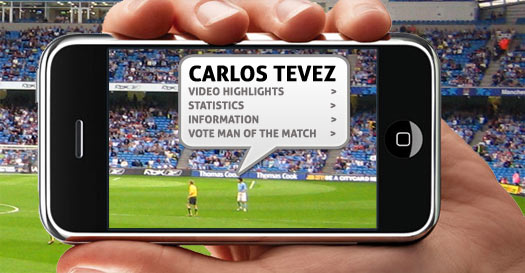 Source: augmentedpixels.com
Our Recommendations…
AR is the future: Be it for internal usage or external , enterprise apps will surely become AR capable in the days to come.
Understand the technology: AR apps have their own advantages and limitations. Build an effective strategy that optimally and effectively utilizes the technology without compromising on your brand strategy.
Focus on user experience: Ensure an engaging, user-friendly and interactive experience.
A long-term roadmap: AR technology and its application in enterprises are swiftly advancing. With time, the benefits from it will also improve. Allow it to gain critical mass.
The Future
Being an enabling technology, AR can take enterprise level apps into the next level. In the next few years, as the usage grows and further advancements in the technology are made, novel ways of deploying AR in enterprise mobility will be explored and experimented with. In the future, innovations like integrating brain-wave data with the AR environment, Google's Project Glass etc., if successful, will give birth to more meaningful and effective utilization of AR in mobility. What we are seeing today is just the tip of the iceberg. There is much more to come.