Marc Cecere, vice president and principal analyst on Forrester's CIO role team said, "When companies were considering a digital transformation, they were looking for somebody who knew technology, who had a lot of clout in the organization, and who touched the bulk of the organization. It comes down to either the head of marketing or the CIO."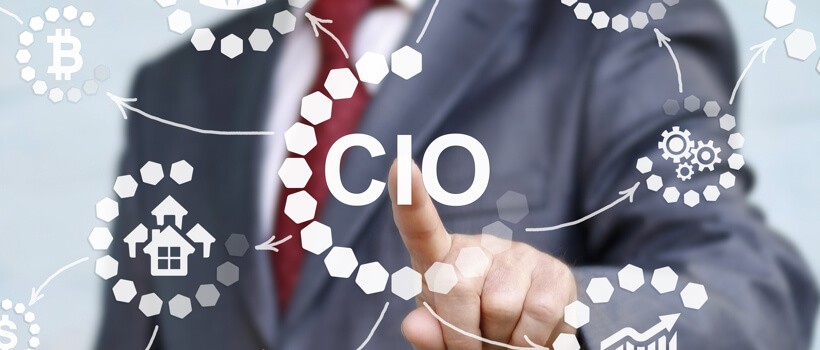 Digital technologies are transforming workplaces by bringing IT innovation and evolving business culture to adapt to these changes. As it continues to evolve business, digital transformation is becoming more imperative and companies who are embracing the change are taking over the market. According to a research,  125,000 large organizations are launching digital initiatives. International Data Corporation (IDC) predicted digital transformation initiatives to double from 20% to 50% by 2020.
Here's the thing, one cannot integrate digital transformation without a plan or a leader. It needs good understanding and knowledge of technology. It requires experts who can use the tools to digitally transform all the processes and reinvent platforms. That's when CIOs play a vital role in the technology section of the digital transformation process. Industries like healthcare, finance, etc., are already accelerating adoption of digital technologies to engage customers and CIOs are responsible for offering essential IT assets and equipment to support the change.
As per Gartner's 2017 CIO survey, CIOs are investing 18 % of his/her budget in digitization which is expected to increase 28% by 2018.
How Can CIOs Lead Digital Transformation?
As per IDC research, by the end of 2017, over 70% of the Global 500 will have dedicated digital transformation/innovation teams.
CIO focuses more on IT agility and IT exploration to enable digital transformation. They have to consistently look for the opportunities that extend the company's digital capabilities by embracing "Bimodal IT". This helps CIOs to support the business with exploratory (new) digital innovation mode, and simultaneously operate in the traditional mode.
CIOs, offer digital solutions to the company with a clear understanding and vision of what IT can contribute to the business. Gartner's recent survey has found that 75% of executives expect digital to help double the revenue, which creates an enormous opportunity for the CIO to become a key source of wisdom and advice. They are responsible for retaining discipline and operational excellence in the enterprise while changing the IT culture and becoming more flexible. It requires a remarkable skill to lead digital transformation and CIOs are the valuable assets that drive value to the organization by leveraging technology. They point out technology trends to all c-suite leaders and help them make strategic decisions with the real-time insights. At the top, they are expected to furnish steady IT solutions to all departments and ensure IT security by protecting company's data and utilize it to bring maximum benefit to the enterprise.
Opportunities For CIOs
Digital transformation is shaping and enhancing the market with a significant touch and almost all enterprises are becoming an IT company. It is increasing the efficiency of customers as well as enhancing employee experience. This creates a huge opportunity for CIOs to envision the transformation's bigger picture and provide security, reliability, and scalability to the organization. Expert research says, 52% of companies surveyed, CIOs and CTOs are responsible for creating the organization's digital vision.
CIOs have a distinctive opportunity to usher the digital strategy with the right skills and leadership quality. With a vantage to see the company's position, they know how digital can alter the fundamentals of their company and participate in generating value by strongly shaping and improving the process.
CIOs with a goal to drive digital innovation in the organization are pushing the limits of their traditional responsibilities to become more than technology experts. Since digital is a capability, IDC predicted, 75% of CIOs will recognize the limitations of traditional IT and embrace a leadership approach that embodies a virtuous cycle of innovation by 2019 and 45% of CIOs will shift their primary focus from physical to digital and move away from BPM and optimization by 2018 to deliver the scale, predictability, and speed.
Challenges For CIOs
Leading digital transformation with so many disruptive technologies encountering the business world brings a massive challenge for CIOs. Chris Howard, Vice President and Distinguished Analyst at Gartner said, "the biggest challenge is reaching escape velocity. CIOs must apply energy to reduce technical debt while converting innovations into scalable capabilities, all of this while resisting the gravitational pull of the pre- transformation organization. Top-performing CIOs use bimodal techniques and renewed influence to accomplish these goals."
The most common challenges CIOs must be prepared to address
Gaining Tech Talent
Tech talent is one big concern of CIOs today to accomplish their goal and more than 28% of CIOs agrees. It has always been a company's priority to retain and attract new talent and with the rapidly evolving technology, CIOs are finding difficulties to address this skill gap. Understanding the trends and adapting new technology is a challenge every CIO has, which needs to be foresight to add value in the future.
Drive Digital Environs
Driving a digital environment is substantially different from driving a tech environment. Culture and employee mindset is key and integral to a digital environment and hence would require a different approach and holistic leadership vision. Research report states that CIOs that have taken the "digital leader" challenge is booming, but still under 40%. 2017 has been the ideal time for CIOs to take over the challenge and drive digital transformation in their enterprise.
Security
This is the biggest challenge for CIOs to keep up with the security breaches. The more devices are connected, the more is the threat from hackers stealing company's data. More than 36% of CIOs pointed security as their top concern and growing use of the Internet of things are bringing up a new aspect of risks for them. They are struggling to keep their organization away from a security storm. Cybersecurity firm McAfee reported 2.5 million IoT devices were infected by malware Mirai botnet in Q4 2016.
Innovate To Grow
Gone are the days when CIO's only priority was cost savings. With the evolving technology, their priorities have also expanded to bring efficiency, improve processes and drive innovation in the enterprise. As the priorities expanded it requires more resources which are essential to growing innovation. Here's where CIOs are facing a big challenge to keep up with the speed of innovation. But it's not innovation, it's the resources that are needed to bring innovation and the pressure to do more with less. They have to think about the innovation and calculate the risk of investing in new technologies while keeping the company's budgets in mind.
Despite all challenges in digital transformation, enterprises are focused on their digital investment. Gartner's 2017 CIO Agenda Survey says, 38% of CIOs are keeping analytics, cloud services, digital market management and security as their top priorities to invest in and enterprises who have already embraced digitization in their business models are spending 34% of the IT budget and will increase to 44% by 2018. With top dollars being spent on digital transformation, the role of leadership in digital transformation becomes crucial. The old style will bring limited results. CIOs need to reinvent to take successfully drive their digital transformation initiative.