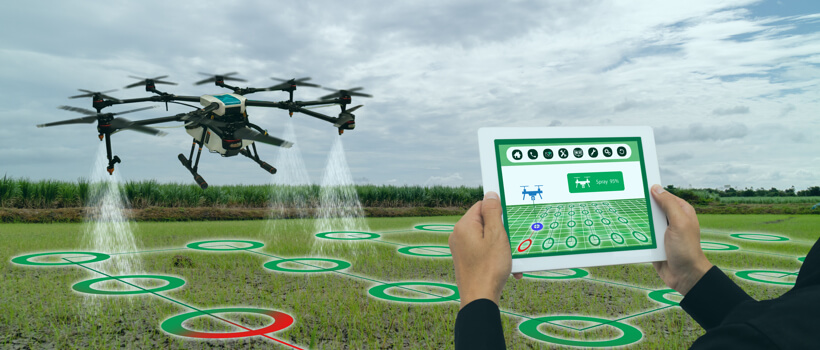 Table of Contents
Impact of COVID-19 on agriculture- complex and varied
The impact of COVID-19 on the economy has been devastating and it's long term impacts can't be ascertained yet. Every sector has been affected by the pandemic, but its impact on agriculture has been more complex and varied across different segments. From supply chain disruptions and unpredictable demand-supply of food across the globe, the unforeseen and unexpected challenges created by the pandemic created an environment of vulnerability, uncertainty, complexity and ambiguity. But amidst all the other challenges, the most critical one was the lack of manpower due to movement restrictions in lockdowns.
Work from home for farmers?
With a constant or upper side fluctuation in demand for food, farmers and other agriculture stakeholders are concerned that in such events, how can they ensure that farm activity continues without getting affected. The answer, of course, lies in digital technologies. That's right, a model similar to work from home for corporates can be applied to farming operations and related agriculture activities as well. All you need is a mix of right technologies- sensors, IoT, drones, cloud, mobile apps and whichever technology it takes to enable smooth and uninterrupted farm operations.
Digital technologies to the rescue, again.
Let's have a look at some ways in which farmers can manage their fields remotely in the event of a lockdown or other emergencies that may restrict the availability of manpower.
Agritech solutions for farmers by [x]cube
The longest and most complex route in a supply chain is between the company and the farmer. Companies are heavily dependent on their sales representatives for information dissemination to farmers. The situation gets more tricky if the company doesn't have a strong distribution network and depends on retailers to do communication on their behalf, which may be unreliable, considering that retailers sell their competitor's products as well.
[x]cube LABS has provided farmer-centric solutions to leading agriculture companies worldwide. For one of our clients, we developed a mobile application that allows farmers to access vital information related to our client's products, crops, seeds and best practices even when they are working in remote fields where the availability of Internet is limited. Farmers can select any category based on the information that they need such as the best activity to perform based on time of the day, weather forecast, how to use the company's products and a lot more. This has led to significant improvement in farmer engagement and helped the company to establish trust among farmers regarding their products.
Recently, [x]cube LABS also worked on a government initiative, Ryuth Bharosa Kendra, that enables on-demand delivery of agri-Inputs for farmers. Using a digital kiosk or mobile application, farmers can order agri inputs at fair prices and receive them within 24-48 hours. Additionally, the digital platform also provides:
Information dissemination from government to grass-root level, especially to the remote villages through Digital Kiosks
Access to information on market intelligence, real-time market data, and procurement centers information
Information on weather & pest forecasting to farmers
Details of agri & allied supplies at the village level to the farmers
Latest technology videos on crops through offline storage
Relevant localized information required for the village
In our experience of delivering agritech solutions, we have seen agriculture companies leveraging tech effectively to improve their sales, achieve good farmer engagement, access ad provide real-time information, create brand value for themselves and more.
Agritech is the future- irrespective of COVID-19
If you're thinking that the above solutions will come in handy only in times of crisis, then think again. While most of the solutions above may seem to primarily address the shortage of manpower on farms, there's a lot more than they're assisting with. Even when the impact of the pandemic cools down, the other challenges facing the agriculture industry will continue to exist. There will still be pressure to increase food production, the supply chain will continue to suffer, stakeholders will seek more ways to operate efficiently, farmers would want to spend their efforts on priority tasks and the shortage of natural resources will increase. In all these cases, digital solutions discussed above would still be relevant and in the face, will be needed more than ever before. The current situation is, therefore, an opportunity to fast track and upscale farm operations using digital technologies- because agritech is undoubtedly the future.