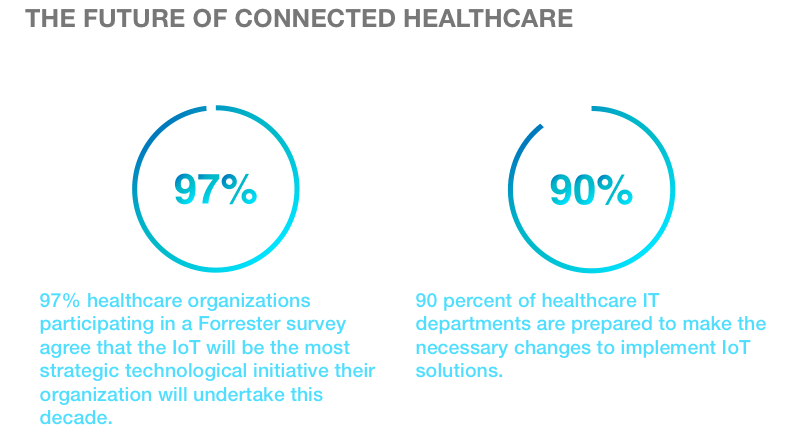 Internet of Things is changing the face of healthcare by completely redefining the way people, devices and apps connect and interact with each other in the ecosystem. From personal fitness and wellness sensors, implantable devices to surgical robots – IoT is bringing in new tools and efficiencies in the ecosystem resulting in more integrated healthcare. It promises to enable providers to better patient care, improve treatment outcomes and reduce healthcare costs. IoT offers hundreds of opportunities for hospitals and providers to promote wellness, boost patient care and save lives while optimizing resources through process excellence and automated workflows.
The key benefits of IoT for healthcare organizations are
1. Reduced Costs
By leveraging connected healthcare solutions, patients can be monitored on a real-time basis, thereby cutting down unnecessary physician visits. Advanced homecare facilities will cut down hospital readmissions and stays.
2. Improved Treatment Outcomes
Connected Health enables caregivers to get access to real-time information resulting in data-driven, informed decisions and evidence-based treatments can help provide timely care and boost treatment outcomes.
3. Real-time Disease Management
With continuous monitoring of patients and access to real-time data, diseases can be treated proactively before their condition worsens.
4. Minimizes Errors
Automated workflows, accurate data collection and data-driven decisions cut down wastes, minimize errors and reduce system costs.
5. Improved Patient Experience
Connected Health genuinely focuses on patient centricity. Better accuracy in diagnosis, proactive treatments, timely physician intervention and improved treatment outcomes lead to accountable care resulting in high trust among patients.
The Internet of Things (IoT) is set to play a transformational role in healthcare. However, winners will be organizations that are better prepared to manage digital disruption caused by IoT and are successful in integrating it with their overall care environment to build integrated healthcare ecosystems.
Read our latest eBook to understand how your organization can leverage IoT to disrupt market, improve treatment outcomes and be at the forefront of excellence.
download ebook