"The global robotic process automation market is projected to reach $6,247.1 million by 2023, growing at a CAGR of 33.8% during 2017 – 2023."

-P&S Market Research
Nobody would have imagined that technology would bring about such massive changes in the digital world before entering the 21st century. Digital leaders must stabilize their strategies such that they can make the most use of the opportunities presented by automation. It has become vital for the digital workforce to keep themselves equipped with the continuous emerging technologies in order to make their back-office operations streamlined.
Robotic Process Automation (RPA) empowers the organization to drive existing software application in a way a human employee would perform. When the RPA software is trained to identify and interpret existing applications, it can automatically monitor the end-to-end process of a  business. The software smartly enables multiple applications to initiate new actions and interact with other systems autonomously.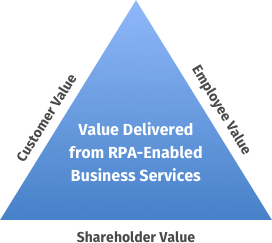 -Mary Lacity and Leslie Willcocks
The research by Mary Lacity and Leslie Willcocks in Smart Service Automation: Benefits, Cases, and Lessons, outlined the RPA as "triple win" that comprised three values such as, Shareholder Value, Customer Value, and Employee Value. They explained, RPA benefitted shareholders by increasing the operational productivity, ROI, versatility, and enhance scalability. Customers are also benefited from RPA by boosting service excellence, 24/7 facility availability, personalize customer journeys. The employees are getting relief from everyday tedious assignments, they get to learn new skills and increase the job satisfaction level.
The robotic process automation (RPA) market — a space sometimes called the robotic digital workplace, among other names — would grow to $2.9 billion by 2021 from a base of $250 million in 2016.

-Forrester  
5 major advantages of Robotic Process Automation
There are a lot of benefits that RPA provides to an enterprise which includes delivering a competitive advantage to remain at the top and helping enterprises to excel in this digital era. Let us take a look at them.
Cost
Robotic Process Automation (RPA) has a potential to reduce the company's cost roughly by 70-90%. Implementing RPA will automate the complete process, which means more work in less time, also it can operate 24/7 at a much lower rate. One major bulk of these savings arise from the diminution of full-time employees (FTEs).
According to the World Economic Forum, "5.1 MN jobs will be lost to automation by 2020 in 15 major countries, 2/3rds of which will be in the office and administrative sectors."
For example, when an employee is hired, the company has to ensure that the employee gets his pre-fixed annual leaves each year and salary on time. But robots, they don't go on any vacations nor they work on a salary basis. They work round-the-clock and have the ability to rapidly deliver results with efficiency.
Accuracy
Human employees after doing monotonous tasks all day, get exhausted which may lead to an error. They can enter wrong data, there can be a typo error, and with one wrong data entered, 100% accuracy from human employees is next to impossible which has always been a concern for a very long time. Sometimes the organization has to pay a huge cost for a single error.
Robotic Process Automation (RPA) implementation in a business process has enhanced services by eliminating the possibility of human error. The works are accomplished without breaks and with 100% accuracy. Software robots minimize the re-work pain and amplify the yield quality, which boosts the customer experience and helps an enterprise to multiply its organizational potential.
Enhancing Productivity
A human employee working for 9 hours in a day can perform limited given tasks. For instance, they take 10 minutes to finish one task, while the same task can be done by robots in less than a minute. Here, Robotic Process Automation (RPA) is doubling up the productivity plus saving a lot of production time for an enterprise.
Mckinsey Company estimated that automation could raise productivity globally by 0.8 to 1.4 % annually. Therefore, it becomes vital for an enterprise to embrace the opportunity from the productivity growth potential and encourage investment and innovation.
Employee Engagement
Robotic Process Automation (RPA) has the flexibility to simply adapt to the changes as and when business go through. RPA frees the employees from their tedious work and provides more hours to innovate. It helps an enterprise to emphasize on the areas which need more human touch, like, client and customer interaction, relationship management and focus on human-centered activities.
"Using robots to perform tax related activities in our shared service centre has not only resulted in a better work product, but also less frustrated people in the Tax department."

— Joe Chirichella, Becton Dickinson
As per PwC, the key benefits from RPA to the employees are,
Scope to focus on higher order, more complex, intelligent tasks.
Outsourcing monotonous, manual and repeatable tasks.
Simplifying workflows and expediting processes.
Boost Customer Experience
Forrester predicted the RPA future in the digital world, "automation won't destroy all the jobs, but it will transform the workforce. Humans will find themselves working side by side with robots. Infrastructure and operations (I&O) leaders must make sure these technologies not only cut costs but also drive customer value."
Robotic Process Automation (RPA) has an ability to boost customer's experience by producing high-quality tasks. RPA has cut down the customer's file processing time period. For instance, if a customer met with a car accident and had to claim an insurance, the customer was asked to fill out multiple forms, submit required documents, and so on. Once the complete file was filled then it used to be sent for processing, which included investigation and approval or disapproval according to the insurance company policies. All these processes used to take roughly a month's time for a customer to get the claim amount. With RPA implementation in the process, a software robot can complete the whole process in a few days or less.
Organizations will encounter enormous transformations where humans are going to interact more with robots. In near future, the entire operating models are going to be automated. HBR report says Commerzbank planned to digitize 80% of its processes within three years. It is estimated that robotization, digitization, digital self-service, distributed digital advice and sales, and robo-advisors could result in a 60-70% reduction in the workforces of service providers, from financial services to telecom.