From smart watches and smart glasses to fitness gear and headsets, the penetration of wearables in our lives and the umpteen possibilities it opens up for enterprises seems baffling. Wearable technology not only connects the dots between online & offline channels while bridging the gap between these channels and the mobile platform, but also reaps heaps of benefits to brands.
The biggest advantage of wearables is that these products let users go hands-free, thereby increasing their usability tenfold. High-tech smart wearables will prove to be particularly beneficial to technicians in the construction industry, miners, search and rescue teams, sales teams, firefighters, and disaster management teams, among others.
Below are a few examples where businesses are using wearable technology to entice their customers.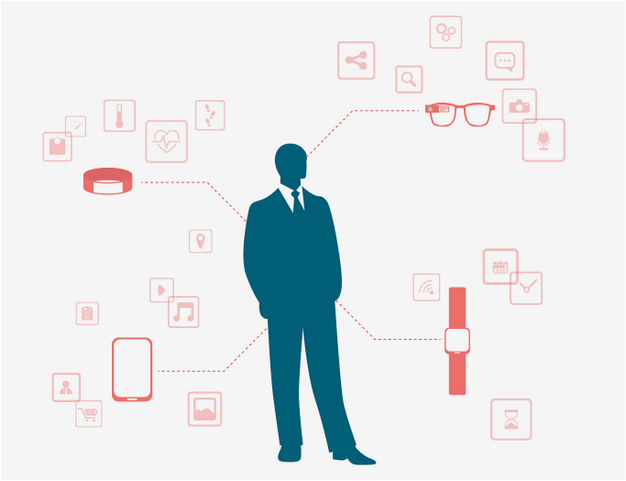 1. Fitness: If you're a fitness enthusiast, then there are a bunch of wearables for you in the market. Look, for instance, at fitness trackers like Fitbit Flex, Nike+ FuelBand and Jawbone Up which help you track your all-day activity, monitor your fitness 24X7, check your progress, share statistical data and tidbits with friends and family, keep tabs on your food with calorie estimator by logging the calories consumed through the day, record your workout sessions and set goals based on current data. Fitbit Flex takes the idea of fitness to a newer level by recording your sleep and indicating your sleep patterns as well.
With a long-lasting battery life, these wrist-worn bands let you stay connected wirelessly to your smart phones. While Nike+ FuelBand syncs easily with iPhone 5s or above versions, Fitbit Flex connects to all smart phones across different platforms . With other players like Under Armour now tying up with HTC to bring out an entire range of wearable gear, fitness trackers have now become a most-sought-after commodity and consumers can now expect good products in the market and stay motivated.
2. Healthcare: Wearables have definitely changed the way we look at healthcare. Be it Augmedix using Google Glass to transmit patients' health reports and related data to their smart phones or tablets, or Droiders connecting Google Glass and augmented reality via their MedicAR app that can assist surgeons during complex and complicated surgical procedures, or other renowned healthcare companies helping patients tackle chronic illness like diabetes, and heart diseases by promoting self-management of diseases using healthcare apps.
And then there are apps like Director, a post-operative healthcare app by Wearable Intelligence, that takes care of procedural checklists by providing a digitized workflow system for therapists who can use the camera to record the specific set of exercises that patients are made to do as part of the physical therapy during their post-surgical recovery period to speed up their recovery process. From monitoring heart and pulse rates to tracking personal health data, from bringing all Emergency Health Records of a patient together under one app to bridging the gap of distance and time between the doctors and their patients, the possibilities and the miracles that wearables can do in the healthcare sector are unimaginable and endless.
3. Sports & Athletics: With the launch of their biometric shirts, Ralph Lauren paved the way for sporting goods retailers to think disruption. The fashion brand's new smart sporting wear, the Polo Tech smart shirt, was launched in time for the US Open Tennis Tournament 2014 and was worn by ball boys. OMsignal's technology renders the outfit the capability to transmit data about the wearer's heart rate, respiration, performance, stress levels, etc., to a connected device like a smartphone or a tablet. The information is collected and relayed by a small recorder which can be removed before washing the smart shirt.
4. Gaming & Virtual Reality: With the launch of its virtual reality headset, Oculus Rift takes gaming to a whole new level. Thanks to the headset's custom tracking technology, gamers can now be part of their virtual worlds. The Rift provides ultra-low latency 360° head tracking enables users to look around the virtual world by tracking even the subtlest head movements in real-time. Its stereoscopic 3D view presents unique and parallel images for each of the user's eyes, making his/her visual experience as natural and comfortable as in the real world, besides offering a wider view by widening the scope of the virtual world beyond one's peripheral vision.
5. Retail: Britain's leading fashion retailer Topshop has gone a step further in using wearable technology to offer its loyal customers a thrilling experience. The retail brand partnered with Intion to design a headset that enabled customers to watch the Topshop show at the London Fashion Week without moving out of its Oxford Street store. While the five lucky winners won a chance to have a front row experience in virtual reality, the brand got a chance to boost its sales by gently coaxing users to buy clothes, accessories and makeup worn by models during the catwalk, just with the click of a button.
6. Travel & Hospitality: The hospitality industry has so far offered us a few digitized experiences like smart access cards and keyless entries. However, Disneyland's MagicBand holds your key to a pleasurable dream vacation and a carefree visit. Now visitors can choose to travel light as the MagicBand – a colorful, waterproof wristband – comes with a number of benefits. The sensor-based wristband is an all-in-one device that allows users to unlock their Disney Resort hotel room, secure an entry into theme and water parks, check in at FastPass+ entrances, purchase food and merchandise – all this as quickly and easily as touching the keypad of your smart phone.
Users can customize their MagicBands by creating a Disney account and linking their Reservation or Annual Pass, and their MagicBand, to their account. The wristband also strengthens Disneyland's relationship with its customers via personalised interactions – the MagicBand uses the collected/saved data not only to send customers personalized offers based on their choices, preferences, and behaviour but also enables Disney characters to greet visitors by name.