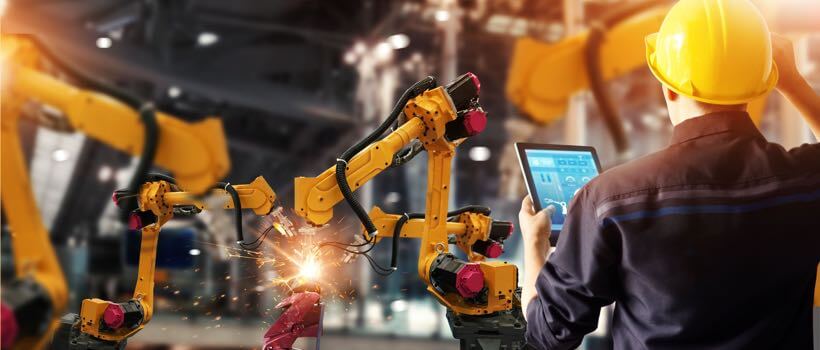 Table of contents
Introduction
Manufacturing in the future will look quite different from what it is today. The new era will be marked by extremely agile organizations that leverage digital technologies as they employ human skills and machinery to deliver products to the markets.
The first industrial revolution marked the journey of development that transformed the world of manufacturing. Today, what we are experiencing is the fourth industrial revolution (Industry 4.O), also known as the era of smart digital factories.
Industry 4.O 
Industry 4.O encompasses smart manufacturing systems, production processes, automated machines, digital communication technologies, internet of things (IoT), cloud computing, artificial intelligence, 3-D printing, and new forms of human-machine interactions.
Present Landscape
To understand how the future of manufacturing looks precisely, we need to understand it's present landscape.
We are at the nascent stage of industry 4.O; there is a wide gap between the vision of industry 4.0 and the reality. Today, manufacturing companies struggle to embark on their digital journey due to a rapidly changing business environment, uncertain regulation and standards, connectivity issues, security threats, and dysfunctional process integration.
To achieve Industry 4.O, manufacturing organizations should harness digital technologies.
6 Manufacturing Technology Trends to Watch: 2020 and beyond
Additive manufacturing
Additive manufacturing, also known as 3D printing, builds products by adding material layer by layer. It was primarily used for prototyping but, this technology has evolved so much that it is now possible to produce any part using metal, plastic or mixed material at a larger scale. According to PWC, more than two-thirds of US manufacturers use 3D printing. It will become one of the essential technologies that enable you to design products using less material, at lighting speed, and with greater flexibility. By leveraging 3D printing, you can reduce product development costs by eliminating out-sourcing projects to third parties.
Cybersecurity
As more and more connected devices are being used in manufacturing, there is always a vulnerability to cyber intrusions such as malware and ransomware attacks. It is critical for manufactures of all types and sizes to be aware of these risks to build safeguards that are as robust and innovative as their manufacturing operations and products.
IoT
The Internet of Things (IoT) is an arrangement of electronic devices that are being connected to the internet, capable of receiving and sharing data without any human or computer interaction. Industrial IoT is bringing significant disruptions in the manufacturing industry. IoT-enabled predictive maintenance can prevent machines from breakdowns.
For example, if machinery failure happens, the embedded sensors will locate the issue and automatically send a message to the manufacturer. Another great use of  IoT devices is to track inventory locations. Usually, manufacturers bring inventories on a massive scale; searching and organizing these goods could take a while, causing inefficiency in the production process. By leveraging IoT, manufacturers can use these resources efficiently.
AR-VR
When it comes to leveraging Augmented Reality (AR) and Virtual Reality (VR) in manufacturing, the possibilities are endless. These technologies impact areas like training and maintenance the most. AR- VR technology can be used with cameras and sensors for training, creating a much safer and lower risk process. These technologies allow maintenance technicians to carry out procedures from a remote location. Both AR and VR enhance efficiency by providing more significant insights and visibility to the multiple manufacturing processes.
Robotic Automation
Robotic automation has gained momentum in various areas of manufacturing, such as welding, assembly, and product packaging. Robotic automation allows manufacturing companies to achieve maximum efficiency, safety, and competitive advantage in the market. The rise of robotics is described in a report published by the International Federation of Robotics (IFR), which highlights that 1.7 million new industrial robots will be installed in factories worldwide by the end of 2020. It is no surprise as robots save money, time and efforts by speeding up operations and making the manufacturing process smarter.
Cloud computing
Cloud computing is a network of internet-connected remote services that store, manage, and process data. Manufacturers are increasingly executing cloud computing software to share data with their manufacturing facilities located in various geographical areas in real-time.
But why do you need to invest in cloud computing services?
Because manufacturing is evolving, not only do you need to be more efficient, but you also need to be fast and responsive. To keep up with changing customer demands, modern manufacturing, and supply chain, you need a cloud platform to access your business and operation data. Investing in the cloud platform reduces operational cost, increases speed, and facilitates reliable insights.
Emerging Manufacturing trends: 
Manufacturing is entering a dynamic new phase that will provide substantial opportunities for the world. Looking ahead, we have identified some emerging opportunities that have significant implications for the industry.
Manufacturing as a Service (Maas)
Manufacturing as a service (MaaS) is a platform that relies on 'cloud network manufacturing,' which provides on-demand access to shared computing resources. It provides real-time data about the manufacturing equipment such as machines, software to produce better goods at reduced costs. Customers can submit project requests to the shared network of manufacturers who review the requirement and provide faster solutions. It enables better utilization of production capacity and resources. Machines that would sit idle can be used to meet the demand for products from other companies.
Agile Manufacturing
Agile manufacturing aims at improving business efficiency via a flexible, parallel problem-solving method. It focuses on cross-functional collaboration, revenue growth, and customer satisfaction, thereby enhancing productivity and quality by iterating processes faster.
Manufacturers are bringing agility to their business processes by adopting the right technologies such as 3-D printing to prototype more quickly, augmented, and virtual reality to amplify training programs. Agile manufacturing is a business approach to connect organization staff, technology, and processes.
Predictive Automation
Predictive maintenance is at the core of the success of manufactures. It predicts impending breakdowns and mitigates downtime in manufacturing activities. It enables manufacturers to optimize maintenance tasks in real-time and help to avoid any disruptions to operations. It reduces overall maintenance costs and increases equipment uptime. Manufacturers should apply artificial intelligence to predict machine health and usage patterns that translate into predictive maintenance.
Sustainable manufacturing
There has been a strong pull for the manufacturing of products through environment-friendly methods that minimizes negative impact on the environment. Due to climate change and an increase in consumer demand for eco-friendly products, has enabled companies to provide proactive products. Sustainable manufacturing improves operational efficiency by reducing cost and waste, boost sales by reaching new customers, increase competitive advantage, build long term brand recognition and success. Organizations are minimizing the use of hazardous substances and considering green technologies to produce products.
Customer-centric
The future of manufacturing will be highly customer-centric. There will be a shift from mass production to mass customization. Since customers are demanding more and more personalized products, manufacturers need to invest in technology heavily, such as 3D printing, artificial intelligence. Leveraging such technologies will improve the manufacturing process, reduce waste, and market players can quickly provide the products that customers desire.
Conclusion
Technologies will dominate the future of manufacturing. We'll experience a paradigm shift from factory bound to interconnected devices, hypothesis-driven to data-driven, less waste to no waste manufacturing.
Manufacturing is entering into a dynamic new phase, which is governed by a rich pipeline of innovations in manufacturing processes from 3D printing to collaborative robots. The future production processes will be customer-centric; every product manufactured will be eco-friendly and would leave no negative impact on the environment. In a nutshell, the manufacturing landscape is changing, and digital transformation is driving the growth of manufacturing industries.
Take this opportunity to define your success and blaze your trail through the new landscape of manufacturing by leveraging digital technologies.