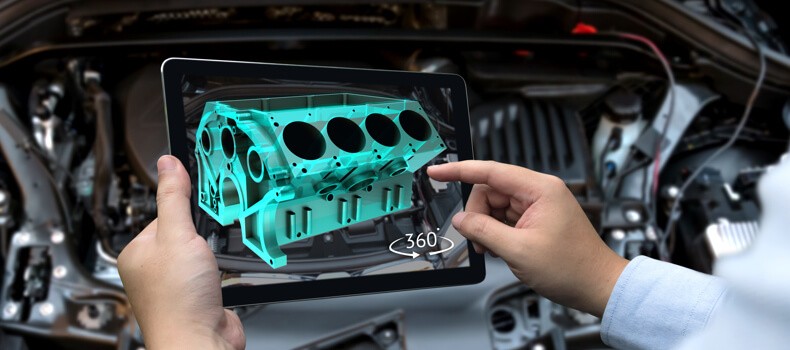 Augmented Reality (AR) has evolved from a futuristic idea to reality. AR is allowing us to turn our surroundings into digital-enabled, interactive environments. The various specialized applications of AR are allowing manufacturing companies to boost production capacity, decrease production time, and, importantly, introduce greater precision in the overall manufacturing process.
From 2016 onwards, advances in AR in terms of hardware as well as software have taken the technology mainstream, leading to the increasing adoption of AR by manufacturing firms. Manufacturers have shifted their gaze and now rely on AR to drive efficiency and innovation. Let's look at some of the use cases for AR in the manufacturing context:
1. Using Augmented Reality in Product Design:
Traditionally, design involves understanding and visualizing situations that are the closest to operating conditions; this process is essential for creating better, market-relevant products. Similarly, BAE Systems uses AR technology to build warships of various classes. AR is an incredibly powerful technology when it comes to modeling and validation process of product design which also undergoes the phases of simulation, prototyping, and testing before it is ready for mass production.
2. AR in Production Lifecycle Management:
Production life-cycle management is all about speed and accuracy to rule out any machinery or equipment failures. AR enables technicians and assembly line service workers to visualise and identify problems by overlaying the contextual, relevant information in the technician's field of view. With precise information at hand, AR helps the technician by offering real-time diagnostic data, labelled parts for easier identification, easy collaboration, and contextual safety warnings to carry out necessary checks and repair or maintenance tasks. Using Augmented Reality applications, resource conditions can be analysed accurately and corrective actions suggested to ensure the production targets are met in the manufacturing industry.
Caterpillar, ThyssenKrupp, Mitsubishi Electric to name a few, use AR to design their products; this helps them resolve their customer queries and equipment issues in an efficient manner.
3. Using AR for Technical and Talent Development in Manufacturing Industry:
50% of companies across the US plan to increase production by 5% in next 5 years. To ensure consistency, and reduce the shortage of skilled workforce, AR is the technological disruption that could bridge the skills gap in the manufacturing industry for staff training, instruction, or education. Rolls Royce, Boeing in aerospace and beverage majors like Coca-Cola use AR for technical and talent upgrades as they have production facilities which are not only huge in size but also require top-notch skilled workers who need to continually update their skills. Instead of referring to a voluminous book or sitting through lengthy sessions, trainees can wear headsets and smart eyeglasses for Augmented Reality application services that broadcast relevant information and hone the skills that boost quality, consistency and accelerates productivity.
AR facilitates learning in an interactive and precise manner, enabling companies to attract, retain, and develop the next generation of talent.
4. Achieving Quality Assurance through AR:
Augmented Reality has the capability to provide support for quality assurance. Porsche uses AR apps to detect any manufacturing defects and then compare them to their standard specifications stored in their database. This initiative, when it started back in 2016, was a first of its kind using high-end lasers to scan full vehicles and compare them to the specifications listed to detect any manufacturing defects.
AR has eliminated the tedium of manual processes by augmenting and enhancing the task at hand. Critical insights, streamlined collaboration, and removal of back and forth communication that many systems require have been completely done away with and replaced by this new technology which is intuitive, precise, and less prone to errors.
5. Streamlining Logistics with the help of AR:
Emerging AR technologies have the potential to streamline the warehouse and goods fulfillment duties, which are substantially inefficient. Employees have to multi-task to manage their duties which at the time could be in a total disarray. However, the same worker could avail the services of a connected system that is designed to propagate the order information and precisely tells us where the goods are. All that the worker needs to do is fetch, sign- off and dock it for delivery to the concerned party.
Shipping and freight major DHL is already using Mobile AR systems in their local deliveries for real-time object recognition, navigation, wayfinding, barcode reading, and more.