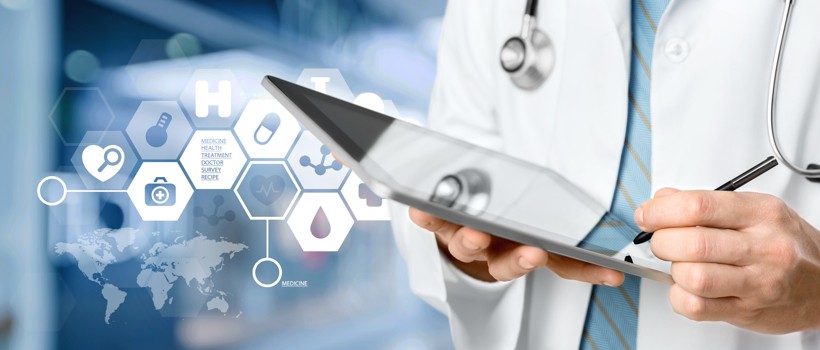 As the world is getting digitized healthcare industry has embraced plenty of technology trends in the past few years. Emerging technologies are creating a huge impact on healthcare deliveries and patient experience. Patients are able to engage and interact with their physician using their smartphone or use it as a medical device, which tells you what to eat, your medicine schedule, and when to exercise. The unfolding opportunities of the digital world are offering the medical industry with the potential to excel the impact of medical care and patients to have a safe and healthy life.
IDC predicted, "by 2019, more than 50% of life science and healthcare companies will have dedicated resources to support accessing, sharing, and analyzing real-world evidence for use across their organizations."
Looking at the growing speed of technology trends and increasing faith of doctors and patients, 2018 will see some significant progress and it is going to offer advance, secure and complete care. Let's check out how these five trending technologies are transforming healthcare industry in 2018.
Augmented Reality (AR)
The growing fascination of people in augmented reality (AR) has become a driving force in the healthcare industry. In the coming years, the technology is going to be routine in healthcare and offer quicker and personalized care to patients worldwide. It is estimated that in the next 3 years, more than 5% of the global healthcare expenses would be consumed by the digital healthcare services.
This is one of the most impressive technologies that overlaps a user's view with a computer-generated image while being grounded in the real world. These unique features help surgeons to detect a tumor in any part of the body and perform surgeries more effectively. It also helps patients to have better visualization of their problems and how the treatment is helping the recovery.
Artificial Intelligence (AI)
The progress of artificial intelligence (AI) in healthcare is advancing rapidly and is going to have a greater impact this year. The technology is helping healthcare industry decode various problems for both hospitals and patients. More than 80% of healthcare industries are using AI today and by 2020 it is expected that the industries are going to spend an average of $55 million on this technology.
Artificial intelligence is helping healthcare providers to manage or examine their patients' medical reports or data which empowers care management to offer a faster and more orderly service. AI technology has evolved to treat patients who need chronic care, diagnostic counseling, personalized attention, and so much more. Witnessing the potential of AI to enhance our healthcare quality and take control of our own health, 2018 foresees even more developments in the healthcare industry.
Blockchain
As humans are trusting more on new technologies such as AI, it is driving our focus on aggregating and managing huge data to secure patients confidential data. There's a lot of buzz around blockchain technology. HIMSS (Healthcare Information and Management Systems Society) has an exclusive work group who examine blockchain distributed ledger technology and its potential implications for the healthcare information and technology community. The team is more focused on evaluating the thought leadership, best practices, and key use cases for how blockchain technology might affect the healthcare ecosystem and challenges the technology might impact in the future.
Blockchain technology is a progressive data management system which is designed to systematize, store and share critical data across different collaborators. All the data is recorded in an unchangeable ledger. 2018 will see a plenty of blockchain solutions in care management as healthcare providers and payers have identified the huge potential of this technology and have already started adopting blockchain solutions in medical care.
Internet of things (IoT)
Introducing new tools and applications, yes! IoT is transforming the healthcare industry. IoT has fortified the whole health tech by ensuring advanced healthcare and treatment results, delivering unique abilities that are cutting down healthcare costs.
Connected devices that allow real-time monitoring is helping the remote patient during emergency cases. For example, a physician who is on a vacation can use a smartphone that allows him to collect his patient's health-related data. This data is transferred from a smart medical device connected to the patient's smartphone app and save the patient's life in case of medical emergency. Along with the patient care, IoT allows interoperability, data exchange, M2M communication which helps medical provider to deliver more effective healthcare solutions. More than half of the healthcare industry has already adopted the technology and in the coming years, almost 80% of healthcare industry would be implementing IoT solutions in various areas of their organization. According to the predictions by Forecast, IoT is just into its beginning phases and will expand to an overwhelming volume of 75 billion devices till 2025.
Robotics
This is one emerging technology that is managing time-consuming tasks, minimizing human interference so that human workforce can focus on other priorities. For example, nurses in the hospitals can use such tools for operating room schedule, to know which rooms and nurses are assigned to which patients. IDC's worldwide health industry predictions for 2018 states that "by 2020, one hospital in four with 200 or more beds will have deployed robotics to handle time-consuming tasks, reduce labor and prevent errors to enhance the sustainability of its business operations and improve patient safety."
Adoption of these technologies is automating current healthcare processes, therefore, boosting productivity by keeping patient's comfort in mind and at the same time reducing the costs related to the medical workforce. It is predicted that one in four large hospitals will have robotics to automate their tedious tasks and advance patient security, by 2020.
Final Takeaway
According to Gartner prediction, "by the end of 2020, 40% of large health systems will shift from digital health pilot programs to full-scale rollouts, up from less than 5% in 2017." As there are so many new technologies out there, these trends are most likely to have a huge impact on the healthcare industry in the coming days. 2018 is expected to bring a new wave of technological changes in our digital world, benefiting everyone in medical care including patients.