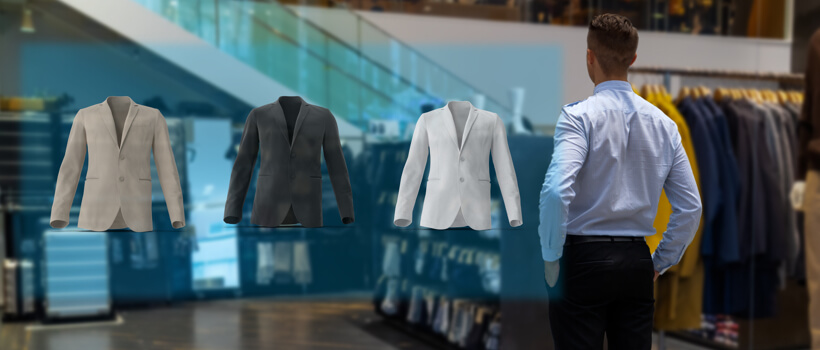 The retail industry is subjected to continuous innovations and changing trends that require the latest technologies to back up these innovations and to also keep up with the ever-rising competition and consumer demand. Customer experience is key here, in the retail industry and it has to constantly evolve in order to enhance and make the experience richer every day. With everything from groceries, to fashion to home decor products, now being available and sold online via the internet, the opportunities to experiment and bring in newer technologies has been on the rise. Like many other technologies, AR/VR is helping revolutionize the retail sector. According to Businesswire, the application of VR and AR in the retail market is projected to reach US$ 17864.86 million by 2028 from US$ 3790.94 million in 2021 at a CAGR of 24.8% for the forecasted period. Popular brands such as Loreal, Ikea, Burberry are already creating headlines and offering delightful experiences to their customers with the adoption of these technologies. The idea of exploring a store from anywhere in the world is definitely amusing to most out there, isn't it? Also, with uncertain situations such as the Covid-19 pandemic, digital shopping has been on an all-time rise and thus the demand for AR/VR. Here are some AR/VR trends in retail to look forward to in 2022 and beyond. 
Virtual try-before-you-buy
Even though this trend has been around for a while now, and has gained much-needed attention, it is still quite sparingly adopted(majorly by big established brands only) and needs a further push. Virtual shopping has taken the online shopping experience to a whole new level. This allows you to have an entire look at the collection and the store virtually, eliminating the need to do it physically. Convenience and eliminating the hassle of shopping are the key advantages of VR shopping. The big advantage for the furniture industry is allowing customers to be able to create an entire room or space according to their wish, and also be able to actually see how each item of furniture looks. Furniture giants like Ikea are already doing so, emphasizing the need for others to join in and get further more creative with it. Even among the makeup/cosmetic brands, only a few companies have adopted AR/VR by giving customers the option to choose the shade of lipstick majorly, and thus more innovation with other products can be something to look forward to. It will be interesting to see how different sectors in retail adopt these technologies to make the shopping experience furthermore delightful. 
Enhancing in-store experience
In-store- AR mirrors/Smart mirrors help customers try on clothes virtually which leads to saving time and effort of trying them on and also makes it an experience to remember. This feature also helped deal with pandemic-related issues such as social distancing and stepping out of home unless essential, and thus can be helpful if any such uncertain situation ever arises in the future as well. Having unique features around the store and innovations that bring comfort to customers can also catch their attention. For example, Hyundai came up with an AR-based user manual. This eliminated the need to go through the boring, thick user guide and turned it interesting with this advanced AR version of it.  According to Grand View Research, the virtual fitting room market size is expected to grow up to USD 15.43 billion by 2028 at a CAGR of 25.2% (2021-2028).
AR-Enabled Smart Navigation
Often happens that in physical stores, it takes us quite long to search for the desired product if the store is huge in terms of square feet, or other possible reasons. This AR-powered mobile app helps us navigate through the store to our desired location/product. It also gives a complete map of the store. This also reduces the need for human intervention in terms of people working at the store to just guide customers to the whereabouts of the products. The same app also helps display details of each product that is i.e. product information which is very useful for customers. 
Enhancing marketing capabilities
What better than being able to give potential customers the feel of the product with a virtual experience? Exciting and delightful experiences shape the way for better brand recognition, word of mouth, and eventually sales. Customer engagement is the main driver for sales and customer satisfaction. Sephora is known for its amazing AR/VR solutions and innovation and has gained the kind of brand name it has due to it. Filters are a new way of promoting branded content. Instagram's new feature allows companies to promote brand logos and events with AR filters. This is a way to keep millennials and other social media users to get their attention towards the brand. One plus also provided an innovative unboxing feature to their users to get an actual feel of the product. Pepsi, for their famous "Live for now" campaign had used AR technology at the London bus stops along with digital signage that almost brought the experience to life for the people passing by. Thus, possibilities with experimenting with AR/VR solutions are endless and have immense potential to enhance one's marketing strategy online and offline. 
Product Customizations
AR solutions allow customers to view products from all angles, change layouts, size and color modifications, and more to be able to figure out their best choice and ask the retailer to customize the product for them accordingly. Customers nowadays love the personalized feel of the product and wish to have their own touch to designs whether it be furniture or shoes or more. This feature allows for no wastage of products as they can be designed once for all post the requirements of the customer and need not be made in a variety of colors and sizes to try and suit the choice of everyone. Nike's famous experience at the "Nike by you studio", used AR to the best capacity and allowed you to create a shoe of your choice that would be ready within an hour. 
Conclusion
Brands are benefitting from the adoption of AR/VR solutions and one example can be the 400% increase in inbound interest for companies such as Tommy Hilfiger and Charlotte Tilbury post implementing VR shopping solutions (Vogue). The apparel brand GAP has created its own app called the Dressingroom that allows you to try clothes through a virtual mirror. Luxury brands like Gucci to affordable furniture giants like IKEA are all immersed in AR/VR solutions now! AR/VR solutions are bringing in brand name, loyalty, and recognition and thus make it an integral part of brand strategy. Asian paints leveraged VR for enhanced learning and internal operations. This VR application provided interactive learning sessions for their sales representatives and also delivered learning to the dealers involved in the distribution chain of Asian Paints. With advanced and exciting technologies such as AR and VR, newer innovations are always on the rise and push the boundaries of what's possible in the retail sector.