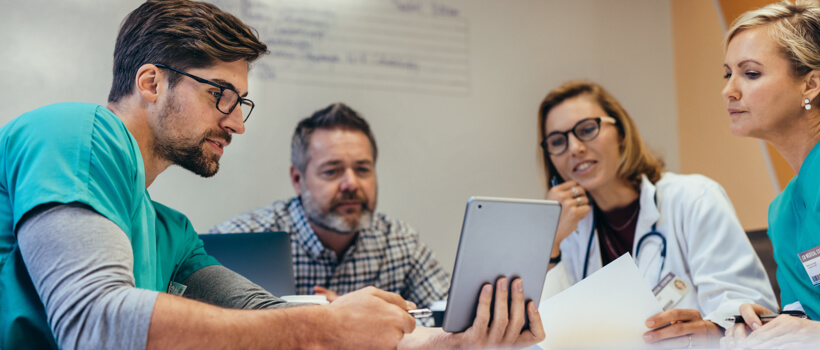 Table of contents
Overview 2019: What has been happening?
2019 continued to witness the growth in healthcare demand and expenditure which were fueled by factors such as growing aging population, increasing chronic diseases, rise of advanced digital technologies and other drivers. With the rising demand and challenges, different stakeholders have been struggling to achieve a sustainable healthcare ecosystem that leverages the latest digital technologies to create a business and care delivery model that is not only operationally and financially viable but also makes quality healthcare accessible and affordable.
Challenges faced
Reports suggest that key issues faced by global healthcare sector in 2019 included- need to create financial stability in an uncertain economy; adapting to changing consumer needs, demands, and expectations; using new care delivery models to improve access and affordability; maintaining regulatory compliance and cybersecurity; Investing in digital innovation and transformation; and recruiting, developing, and retaining top talent.
Achieving financial sustainabilityThe current financial performance of the healthcare ecosystem is witnessing challenges in the form of personalized medicine, new payment models, entry of non-traditional disruptors, rising technologies and much more. This has created an environment of instability where margins are shrinking and costs are rising.
Changing consumer preferencesHealthcare consumers' demands are changing and they seek more convenience, affordability, transparency and quality. They show dissatisfaction with many aspects of traditional healthcare and are increasingly choosing non-traditional healthcare services that also offer digital capabilities.
Making healthcare accessible and affordable What follows from changing consumer preferences is the need for making healthcare accessible at the consumer's convenience. The percentage of younger consumers with access to a primary care physician has been on a decline. They cite accessibility at convenience as a primary reason for this. Additionally, the rising costs of traditional healthcare create a need to eliminate unnecessary workflows and increase efficiency to reduce cost.
CybersecurityWith the increasing dependency on connected healthcare, data ranging from patient records and lab results to radiology equipment and hospital elevators is vulnerable to cyberattacks- The 2017 WannaCry attack, for instance, that hijacked thousands of hospital computers and diagnostic equipment, forcing doctors to ship lab results across hospitals by hand and cancel nearly 20,000 patient appointments.
Investing in Digital transformationThere is an exponential increase in the speed and scale with which digital healthcare innovations are emerging and influencing business operations. These rapid advances are further driving an increase in consumer expectations that has made "being digital" a necessity for all healthcare organizations.
Meeting the demand for skilled staffThe rising demand for healthcare services, an aging workforce, and reduction in physician working hours are driving shortages of skilled staff across the world.
The World Health Organization predicts a shortfall of up to two million health professionals (15 % of the workforce) across the European Union by 2020.
While part-time employees can cover most shortages, hiring them is typically expensive and may compromise the continuity of care.
Handling challenges the 2019 way: How healthcare converted them into opportunities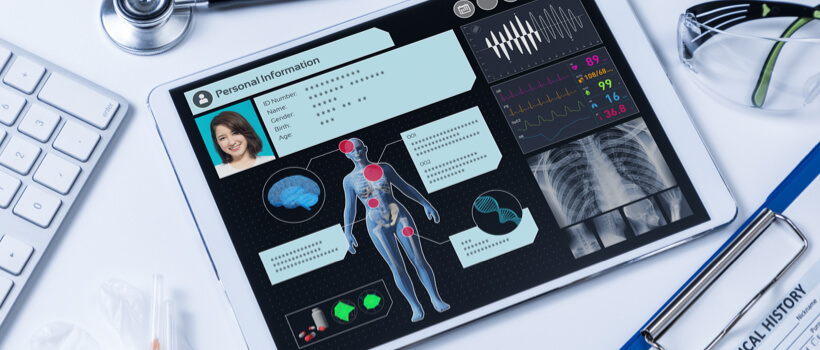 2019 witnessed some innovative solutions in the form of healthcare technologies that showcased how companies could rise above challenges and use them to their advantage.
Cutting costs and optimizing profits through increased efficiencyBy automating routine tasks, reducing workflows, providing virtual healthcare support, the companies are bringing down healthcare costs. One of our clients, Vios Medical, reduced operational costs by remotely monitoring services, applying big data approach to profitably manage the oversight of patients across the entire continuum of care, and automating common patient clinical workflows. Similarly, healthcare companies across the world are finding innovative ways to use technology to their advantage. An example of increasing efficiency through innovation is Pulsara, a solution that enhances treatment time outcome by improving communication and care coordination through the entire healthcare system.
Improving accessibility and affordabilityRemote doctor visits, AI doctors, remote monitoring, personal health apps are making healthcare accessible and affordable. About 10% of doctors in the US practice in rural areas with more than 19% of the American population living in rural locations. This creates a major problem. Telemedicine solves this issue by offering remote medical consultations which allows patients to connect with a doctor through phone or video. Telehealth technology is empowering patients in even the most remote locations to access quality healthcare and receive life-saving diagnoses.
Meeting customer expectationsTalking about improving customer experience, it has been found that with AI and deep learning, body scans have been shown to analyze CT scans up to 150 times faster than human radiologists, detecting acute neurological events in just 1.2 seconds- which means no more waiting upto weeks for results. Healthcare companies are driving innovations wherever required. One of our clients, Dr Lal PathLabs, uses a solution that closely monitors and derives the time of report delivery so that patients don't have to wait for reports or can easily track the estimated time for delivery.
Creating disruption through digital transformationBlockchain, RPA, cloud, artificial intelligence, and robotics virtual reality are some of the ways technology is disrupting health care. These technologies are helping with diagnosis and treatment, helping with speed, quality and accuracy, and improving the patient experience. Consider VR, for instance. Its use has helped in reducing anxiety in cancer patients undergoing chemotherapy and made injections and other painful procedures less distressing to children. Going a step ahead in disrupting the normal way of treatment, AR and VR are now being used to help Alzheimer's and dementia patients retrieve memories and feel a sense of joy by immersing them in an environment that recreates a time, experience, or sound that was important to them in the past. Talk about creating disruption in healthcare through digital transformation!
Blockchain for cybersecurity in healthcareData breach is a growing concern with increasing amount of digital transactions and the increasing data from various connected medical devices. The solution to this concern lies in blockchain. Since blockchain is Immutable and traceable, patients can send records to anyone without worrying about data corruption or tampering. Similarly, a medical record that has been generated and added to the blockchain will be completely secure. The patient can also exercise control over how their medical data gets used and shared by the various members involved in the chain. Anyone who wants to get medical data about a patient would need to get the necessary permission. According to a recent report, blockchain in healthcare market is expected to reach $890.5 million by 2023.
Balancing demand-supply of health professionals through automation Statistics revealed that doctors spend one-third of their time, their remaining time goes in handling records and other routine tasks. This is a significant loss of productivity and is a critical issue, considering the current shortage of skilled professionals. The problem is being solved effectively by automating tasks and switching to technologies that could reduce workflow and eliminate bottlenecks that would otherwise consume a lot of time. Additionally, telemedicine, virtual monitoring, and personal health apps also aid in balancing the demand-supply of medical professionals. Healthcare industry is also making a shift from sick-care to preventive care measures, thereby reducing the number of patients.
Opportunities 2020: What digital healthcare stakeholders should know
Stakeholders of digital healthcare have a lot to look forward to in the near future. While we witnessed some significant breakthroughs in 2019, the next year seems promising as well. For every challenge, the scope for innovative solutions is vast. The idea is to sustainably and profitably meet the challenges in the most optimal manner. Having said that, here are some takeaways from this year that we think form the foundation for what to expect next year.
Hospitals are shifting certain services to alternative points of care, including virtual environments, to benefit from a cost and accessibility perspective.
Investments in telehealth and virtual care is likely to expand through horizontal service offerings to help hospitals cut down costs.
With manpower shortage, healthcare providers would seek more opportunities for automation in clinical workflows. AI-powered robots and virtual assistants will provide personalized health care guidance.
With growing health consciousness of today's consumers, there will be ample opportunities to establish more direct and personal relationships with the consumer and drive patient engagement strategies.
The demand for highly skilled resources, augmented by digital innovation capabilities will increase and the focus will shift to value-based and patient-centric activities.
Cybersecurity has become a priority for healthcare organizations but the steps to protect themselves from data breaches have been insignificant, this means organizations will start looking for robust solutions that can secure them against cyberattacks.
Conclusion
Despite various challenges to the current healthcare environment, digital healthcare companies have leveraged a mix of technologies to drive innovation and convert challenges into opportunities. Investments in digital technologies are rising- 77% of healthcare executives reported that their organizations are increasing investments in big data analytics; the global healthcare market spend on blockchain is expected to hit $5.61 billion by 2025; virtual reality in the healthcare market is growing fast and is expected to reach USD 6.91 Billion By 2026; AI in the healthcare market will cross $1.7 billion by 2019; this and much more.
The end goal, however, is to achieve both operational and financial viability, while maintaining the sustainability of healthcare ecosystem; digital technologies are only means to it. Organizations have a long way to go before achieving sustainability because just like every challenge gives rise to opportunity, every innovation brings more issues to address- the security vulnerabilities that came along with interconnected systems, for instance.