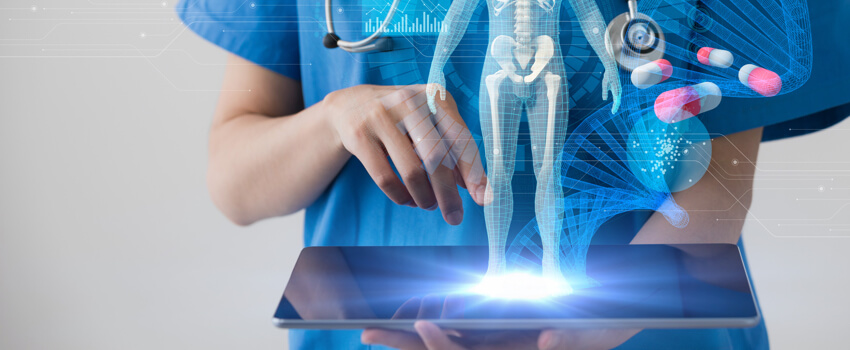 Table of Contents
Introduction:
Internet of things (IoT) is a giant network of physical devices connected to the Internet, which is always collecting and sharing information. The Internet of thighs is creating waves in the healthcare industry by improving the care and maintenance of the healthcare assets. No wonder, IoT in healthcare was included in top technological trends 2020 by Gartner Analytics.
Healthcare is a vast ecosystem that provides for personal healthcare, the pharmaceutical industry, healthcare insurance, healthcare building facilities, robotics, biosensors, smart beds, smart pills, and other healthcare specializations. The list of IoT applications in healthcare is limitless.
Here are the top 10 applications of IoT in healthcare:
Cancer Treatment

Curing cancer has always been a top preference for healthcare professionals. Medicine and implementation of advanced healthcare equipment like activity trackers assist doctors to improve the medical conditions. Activity trackers track a cancer patient's movements, fatigue levels, activity levels, appetite, and more. The patient should wear a tracker a week before initiating treatment. Data collected from before and after treatment will help healthcare professionals to gain useful insights and recommend a better treatment plan. IoT devices that leverage artificial intelligence can help prevent cancer by analyzing abnormal patterns indicating disease.

For instance- Cyrcadia health wearable technology identifies patterns within the cells and monitors breast health. It also provides you and your doctor with advanced information to diagnose cancer at an early stage.

Smart Sleep

Sleep monitoring IoT apps provide real-time monitoring of your sleep-associated troubles. Sleep monitors demonstrated to be an effective healthcare solution for the detection of disturbing symptoms related to human sleep. Sleep monitor enables consumers to measure and manage their sleep by retrieving insightful data through automatic and accurate sleep time tracking. Patients and medical experts have access to full knowledge about a patient's sleep, including the number of sleeping hours, stress level, heart rate, and environmental conditions during sleep. IoT enabled sleep mattress by Eight Sleep analyzes and automatically regulates the temperature. The eight sleep app can control smart lights and door locks.

Ingestible sensor

A swallowable pill with sensors can track and improve how regularly patients take their medications. Sensors embedded in the pill generate an electrical signal when it comes in contact with the fluid. Information is sent to the mobile app that ensures patients take the right medications at the right time and in the correct dosages. Ingestible sensors also assist in diagnosing conditions like cardiovascular disease, colon cancer, diabetes, and infectious diseases. Proteus is one of the prominent companies in this space. Proteus Discover helps patients get better and faster by providing access to data such as medication-taking, health patterns to make informed healthcare decisions.

Connected Inhalers

Asthma is a condition that affects the lives of hundreds of millions of people across the world. Connected inhalers provide insights into and control over a patient's symptoms and treatment. A smart sensor that attaches to the inhaler can inform patients and physicians about what might be causing asthma attacks by transmitting information to their smartphones. One of the benefits of using a connected inhaler is that it notifies patients when to take their medications.

Real-time Health Monitoring

Connected devices can save lives by leveraging real-time monitoring of events like heart attack, asthma attacks, etc. Real-time mentoring means a smart medical device connected generally wearables to a mobile app. Connected devices can collect health data such as blood pressure, oxygen, blood sugar levels, weight, ECGs, and transfer them to the physician. In the case of an emergency, the doctor gets access to the patient profiles way before their arrival and can deliver the essential care to the patient on time.

Along these lines we have developed a solution that enhances treatment time outcomes by improving communication and care coordination through the entire healthcare system. Using this application, users can share information like health data and pictures about patients with other intended healthcare staff, alert other healthcare users about patient arrival, and allow secure video calling.

Bluetooth Coagulation Testing

Coagulation is the ability of blood clotting. Roche launched the Bluetooth-enabled coagulation system, which allows patients to check how quickly their blood clots. It has proven results in helping patients stay within their curative range by lowering the risk of stroke or bleeding. The Bluetooth connectivity allows patients undergoing therapy to self-monitor their blood coagulation with a finger-prick, and then send those results wirelessly to their healthcare provider.

Streamlining Hospital Care

Infrastructure is a common issue for the majority of hospitals. Paperwork, long and frustrating lines affect most nurses and doctor's experience. Integrating IoT solutions means electronic databases, a management system to track staff member's activities and patient's health, and remote monitoring of medical equipment. Such innovations can help significantly reduce in-house costs for hospitals and make both patients and medical staff lives more manageable.

Research

IoT for healthcare enables us to collect a vast amount of data about the patient's ailment. IoT leverages valuable data and information through analysis, real-time monitoring, and testing. IoT has a significant impact on medical research as it can leverage useful and reliable data, which yields better solutions. It enables innovation in medical treatments.

Location Tracking and Alerts

An on-time alert is crucial in the event of life-threatening circumstances. Medical IoT devices collect essential data and transfer that data to physicians to track the health. Reports provide the doctor with a patient's condition. IoT enables real-time alerting, tracking, and monitoring, which permits hands-on treatments, better accuracy, quick intervention by doctors, and improves complete patient care delivery results. Wheelchairs, scales, nebulizers, pumps, or monitoring equipment, can be tracked with IoT sensors, making it easier for staff to track them down.

Connected Contact Lenses

Connected contact lenses can scan your glucose level, which comes with smart sensors. The lenses benefit diabetic patients as they no longer have to prick fingers with a needle; instead, 'their tears' can test the glucose levels. The monitored glucose levels then get stored in the mobile app, which can be shared with doctors. Presently connected contact lenses are reading glucose levels of diabetes patients. But soon enough, they'll be able to help restore the eye's focus and improve vision.
Conclusion:
We believe the applications of IoT in healthcare listed above are just the beginning. IoT will transform the healthcare industry by redefining healthcare solutions and upgrading the digital healthcare landscape by bringing the benefits of innovations to doctors and patients. As more and more devices are entering the market, digital healthcare will become the rule rather than just the exception.