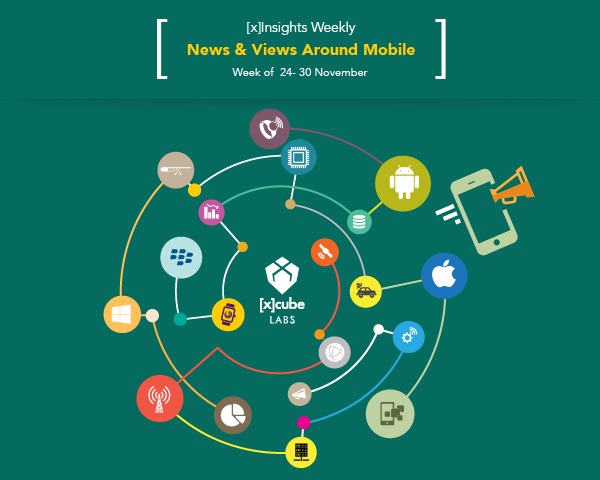 Welcome to [x]insights weekly! Here we bring to you a weekly roundup of news, views and insights, that you are interested in from the mobile world. From enterprise app development, big data to Internet of Things- we have it all covered here.
The CIO who fails in mobile will lose his job.
Mobile has changed the way people shop, access information and take buying decisions. And this is impacting businesses in a big way fundamentally shifting their approach and compelling them to reimagine their strategy. The current business environment calls for enterprises to be at the top of their mobile game to succeed. To win the battle, CIOs have no choice but to get their mobile strategy right and think mobile as a catalyst to digital transformation and market success. It's simple- succeed in mobile or lose your job. Read more
How to secure your Internet Of Things?
While Internet of Things is going mainstream in its adoption, security remains its key concern. How to ensure data integrity and consumer privacy in an environment wherein hundreds of devices are interconnected and continuously emanating data? The security threat-if not addressed to customer perception- may result in loss of millions of dollars pouring in by companies. Dealing with network connectivity threats, on-device data security, device isolation and other steps is necessitated to strengthen IoT security. Read more
Leverage cloud to sharpen your mobile strategy
Enterprises are adopting mobile to boost employee productivity and keep them connected anywhere, anytime. However, devices and apps are just the first step to mobility. The real value of enterprise mobility can only be achieved when it is responsive and contextual to user needs. PBX is relic. Today you need cloud to keep pace with the changing business environment and your employee needs. Read more
Mobile & Wearables: Where should CIOs focus on?
Mobile is completely embedded in business. The latest entrant, wearables too have serious use cases in business. And many enterprises like healthcare, manufacturing etc., are employing it to their advantage. In the current scenario, CIOs should focus on ascertaining how they can mix different tech and tools to optimize benefits, understand how mobile, wearables and IoT etc., is changing the work-style of their users, build a foundation for tech enabled change and be bold to experiment with new ideas to see what works. Read more
9 cyber threat predictions in 2016
These are challenging times in the digital world. Enterprises are not just adopting technology but building ecosystem connecting various devices, apps and networks. The scale is getting bigger and bigger. And with it the challenge to strengthen your security. In 2016, business are predicted to face threats around ransomware, attacks on wearables, infiltration on automobile systems, attempts to exploit weak cloud environments, sale of stolen data and integrity attacks on financial sector. Read more