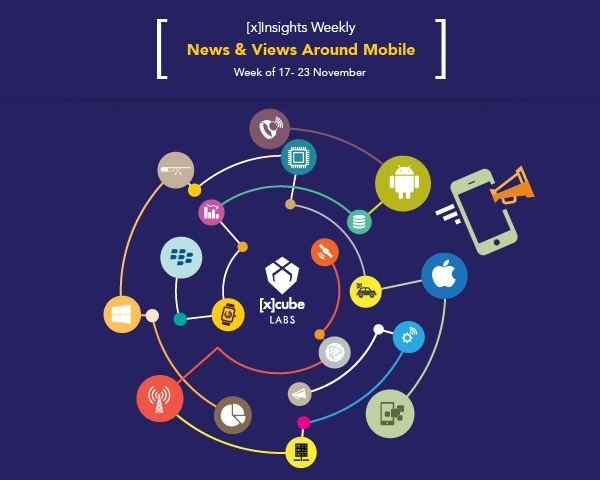 Welcome to [x]insights weekly! Here we bring to you a weekly roundup of news, views and insights, that you are interested in from the mobile world. From enterprise app development, big data to Internet of Things- we have it all covered here.
How IOT driven real-time maintenance is changing the game?
Preventive maintenance is good but suffers from a major shortcoming- it is based on accepted practice rather than on real conditions. But all that is changing as manufacturers leverage IoT for real-time maintenance. Data emanating from their products is helping them predict maintenance issues remotely, diagnose it and improve customer experience. Read more
5 tips in building enterprise apps that your employees will happily use.
Enterprises are significantly spending on building mobile apps for their employees. However, many of them fail to inspire usage resulting in losses. Understanding your brand, thinking design and user experience and other critical elements play a major role in inspiring app usage and boosting its success.Read more
3 ways big data is transforming healthcare
Big data can be a real game changer for the healthcare industry. As quality of care becomes the focus, big data analytics can help hospitals and physicians in driving innovation, enabling real-time innovation, creating better patient-physician engagement and enhancing security. Read more
Plentiful options but how to select the right cloud provider?
Creating the right cloud environment is paramount for enterprises seeking to seize new opportunities offered in the digital economy. The market today offers a range of choices in enterprise cloud computing. However, it is important that the right cloud provider is chosen. While service offerings is blurring with most of cloud providers, it is the experience of the provider that is emerging as a differentiating factor for building a cohesive cloud environment.Read more
What it takes to become a digital enterprise?
Enterprises seeking to transform into a digital enterprise are hitting in the dark and struggling to find the right path. From 'where to begin' to 'Have we reached there yet'- the questions capture businesses' digital dilemma. While there is no 'a one size fits all' solution yet but still there are 6 strategic factors that can take any enterprise to their destination in the digital landscape. And there are 6 signs also to tell you whether you are becoming a digital enterprise.Read more