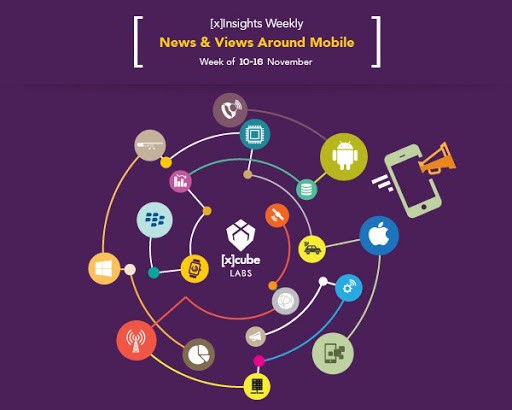 Welcome to [x]insights weekly! Here we bring to you a weekly roundup of news, views and insights, that you are interested in from the mobile world. From enterprise app development, big data to Internet of Things- we have it all covered here.
Enterprise mobility trends predictions for 2016
2015 has been an excellent year for enterprise mobility with wider adoption, cutting across industries, and many innovative deployment of mobile tech in business. In 2016, enterprise mobility consisting of mobile, wearables, cloud, big data and Internet of Things will be prominent tech force with integrated computing as the strategy. The lines will blur. And with it, mobile will replace desktop as primary computing platform, enterprises refocusing on apps and increasing focus on mobile security. Read more
3 ways big data can improve quality of home healthcare
The Affordable Care Act has put tremendous pressure on providers to reduce readmissions and keep costs in check. Under the new policy, healthcare providers can leverage big data to improve their home-based healthcare services and address new challenges. Big data can help in constant monitoring of patient-diagnosis of diseases, keep it in check and prevent hospitalizations and emergencies. Read more
How to reduce cost of risk by governance at app level?
Enterprises implementing cloud systems need to implement governance at all levels. However, most businesses implement governance at physical infrastructure and virtualized cloud, ignoring the app level putting their data to risk. App level governance can help you to cut down cost of risk associated with unauthorized and malicious app usage in addition to providing other benefits.Read more
How mobile app testing can save your app from draining your customer's device?
One thing is clear – customers don't like apps eating up battery life of their devices. Secondly, apps don't perform well on low-battery devices. So one of the prerequisites for the success of your app is – low battery consumption and performance. Mobile app testing can help you detect battery-related issues of your app and address them before it becomes your customers' and your businesses' nightmare. Read more
Now robots to rev up brick and mortar retailing, cut $450 billion 'out of stock' loss
Speed, automation and analytics have been the major reasons behind internet retailers eating market share of high-street retailers. However, things are swiftly changing with automation and analytics making their way to physical stores. A retail robot launched last week seeks to bring shelf auditing and product analytics to the stores helping them reduce $450 billion annual loss worldwide due to out-of-stock items and empty shelves.Read more